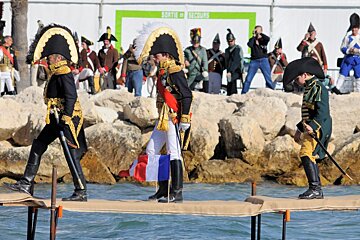 Napoleon's Landed, Golfe Juan
Annual re-enactment of the landing of Napoleon on his return from Elba
Fans of Napoleonic history won't want to miss this re-enactment of the landing of Emperor Napoleon after his exile in Elba. On March 1st 1815, Napoleon arrived with his army, and the scene is played out each year on the beach in Vallauris Golfe-Juan.
Many events are organised, including a reenactment of the battle and music concerts. A mini Napoleon market has stalls selling memorabilia and there is a chance to learn more about this historical episode from experts who arrange talks over the weekend.
Venue
Beach in Vallauris Golfe-Juan
History
Exiled to the Italian island of Elba in 1814, Napoleon escaped and landed on the beach at Golfe Juan with 1,200 men at 15:00 on 1st March 1815. He then made his way to Cannes, then onto Le Cannet, Mougins, Mouans Sartoux and Grasse. It was whilst he was crossing through Provence to Sisteron that he made his way to Laffrey, where he was met by royal guards sent by King Louis XVIII to arrest him, who instead supported him.
He continued on to Paris, arriving at the Tuileries Palace on 20th March, 1815. Briefly returned to power during his 'Hundred Days' campaign, after a crushing defeat to the English at the Battle of Waterloo he abdicated the throne and was exiled again, this time to the island of St. Helena where he died at the age of 51.
Location