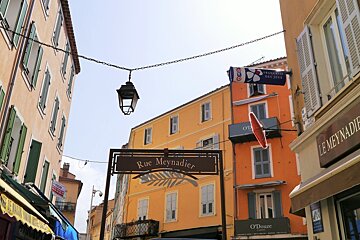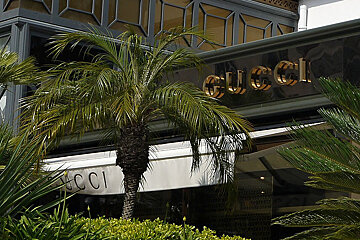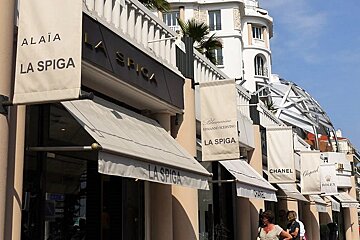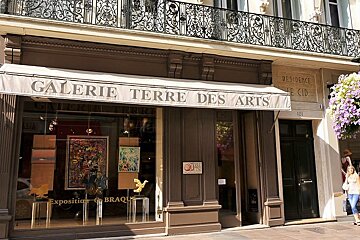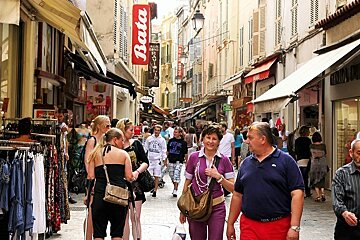 Shopping in Cannes
Discover the top Cannes shops and shopping areas
If you like shopping and spending money then Cannes is sheer heaven! Upmarket shops can be found on La Croisette, the most famous of shopping districts in Cannes, as well as throughout the city and on Rue d'Antibes and Rue Meynadier. Perfumes, cosmetics and fashion are all popular purchases, with many visiting tourists enjoying duty-free shopping.
The main shopping strip can be found on Rue d'Antibes, which is the road that runs behind and parallel to La Croisette on the seafront. You'll find a mixture of upmarket high street shops, trendy fashion brands, perfumeries and boutiques. This street can get busy in high season but there always plenty of cafes and wine bars to punctuate your walk along!
In the La Bocca area you will find department stores in large shopping centres where you can park your car more easily and get all your shopping under one roof. This area is close to the motorway and the airport and these 'malls' host a variety of shop types from fashion and sporting goods to furniture and household items.
For the serious shopaholics, you might like to know that Cannes hosts a shopping festival every year where shopping, fashion and parties take centre stage. See Cannes Shopping Festival for further details.
Where are the best shops?
Rue Meynadier is behind the main shopping street of Rue d'Antibes and has a selection of more local shops and delicatessens. It is pedestrianised and so offers a more relaxed environment to browse, and is especially pleasing for a bit of window shopping or people watching. This is the place to go for fashion at a reduced cost...the local boutiques can often offer a more quirky and unique twist on fashion but at a fraction of the price!
Luxury & designer
For designer shopping, stick to the Boulevard de la Croisette. Here you can find all the major French luxury brands plus famous names such as Gucci, Armani and Prada. This is the strip to be seen on, you can enjoy a walk along the promenade whilst you window shop and there are always options to stop and enjoy a glass of wine or a cocktail in the sunshine.
Markets
There is also a market on daily in Cannes. A large covered market, Marché Forville, is open every morning and is a great place to experience traditional day-to-day shopping. Vegetables, fruit, freshly caught fish, oysters, paté and olives are all available and very fresh. A flower market is also part of this area. On a Monday, Forville is transformed into a popular flea market, selling all manner of bric-a-brac.
Shop opening times
Normal shop opening times in France are Monday to Saturday between 10:00 and 19:00, although hours can vary, and Cannes is no different. Many of the smaller shops will close for two hours during the middle of the day and again this is very typical of France as they enjoy a long lunch break to spend with family and friends. Some shops, particularly those that attract tourist trade, do open on a Sunday.