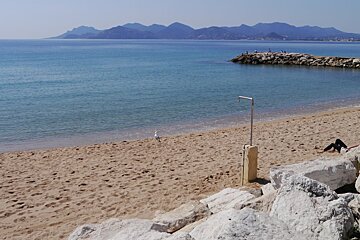 Family friendly beaches in Cannes
Our guide to the best family beach experiences in Cannes
Palm trees and promenades, soft sand and sparkling sea: the Mediterranean resort city of Cannes delivers a family beach holiday with heaps of fun in the sun and a splash of celebrity sparkle.
From the young to the old, every member of the family will love a Cannes beach holiday and the Cannes coastline has over 7km of beach to explore. Yet when it comes to the best beaches in the area for kids, not all beaches are created equal, and much of the Cannes seafront is roped off with private beaches, some of which are very child-friendly.
To ensure your family beach holiday comes off without a hitch, here's our round-up of the top family-friendly beach experiences to be found in and around Cannes.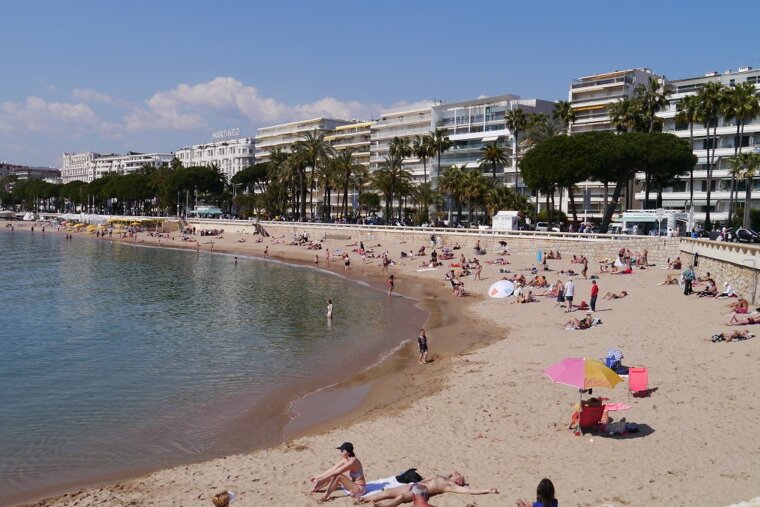 Best Public Beach: Plage du Midi
Plage du Midi is a long sandy beach with a mix of public and private space, easily accessible from the train station, bus stops, and town centre.
The beach clubs are all clustered up one end before you come to a wide sandy expanse where families can spread out a towel and relax. There are beach volleyball courts, lifeguards, watersports, disabled access, and food kiosks, and there are lots of cafés on the promenade if you want to take a break from the sun for lunch.
Midi Beach is one of the Cannes beaches with the colourful 'totem poles' for the kids to go to if they get lost. Considering these beaches get so busy in summer, it's a good idea to get your children all set up with one of the wristbands and tell them to head to a totem pole, where someone will help them find their family again.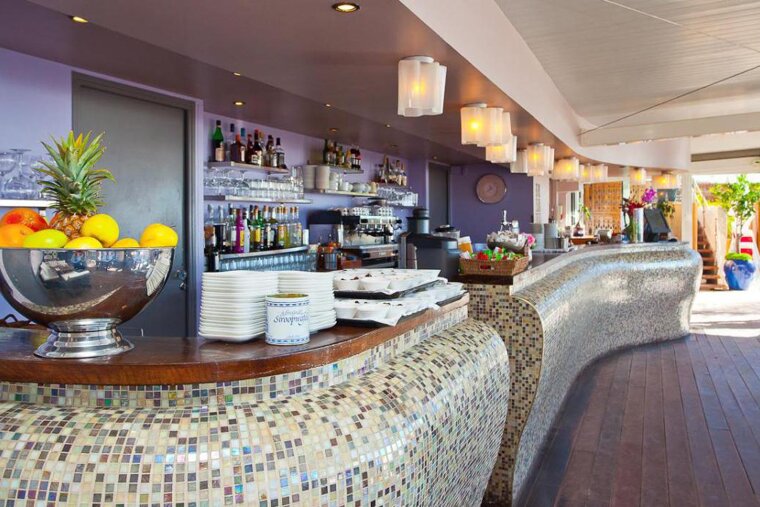 Best Private Beach: Vegaluna Beach Club
There are lots of private beach clubs to choose from along the beachfront in Cannes, where you can rent deckchairs, drink cocktails and eat a lovely lunch at tables in the sand.
However, some are a bit too refined to be able to really relax with the kids. Our pick of the family-friendly beach clubs is Vegaluna Beach, which has a kindergarten, a baby club, watersports, beach swings, slides and a play area on the beach. Not only that, but the place is gorgeous, the staff are friendly, and the food (think burgers, seafood, and fresh healthy salads) is rather good.
It's not cheap, but it's not wildly expensive either.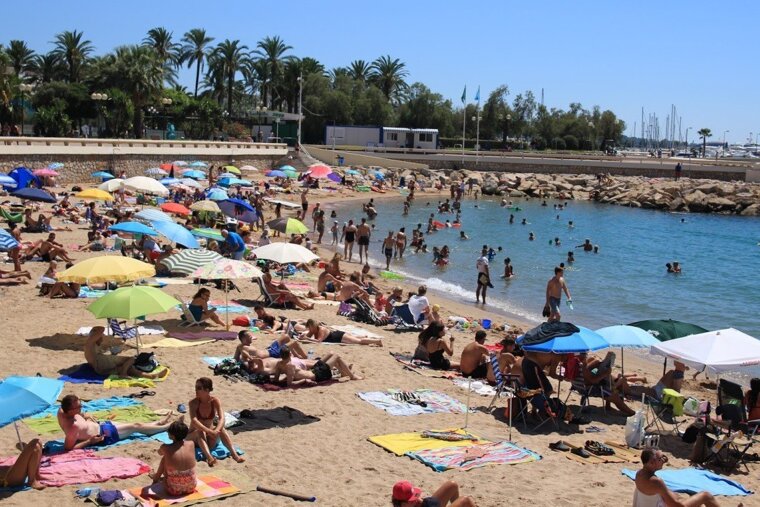 Best Municipal Beach: Plage Zamenhoff or Plage Mace
The council of Cannes also manages two municipal beaches, Plage Zamenhoff near Port Canto, and Plage Mace on the Croisette.
These municipal beaches have deckchairs, umbrellas and lockers for rent at a fraction of the price of the private clubs (but there's no-one serving food and drink).
Of the two, Plage Mace is much larger, and has jellyfish nets as well as a beach lending library with a few English books. There are lifeguards, toilets, hot showers, a food kiosk, and lockers at both beaches, and there's a large underground car park and bus stop very close to Plage Zamenhoff, making access to this beach in particular a breeze.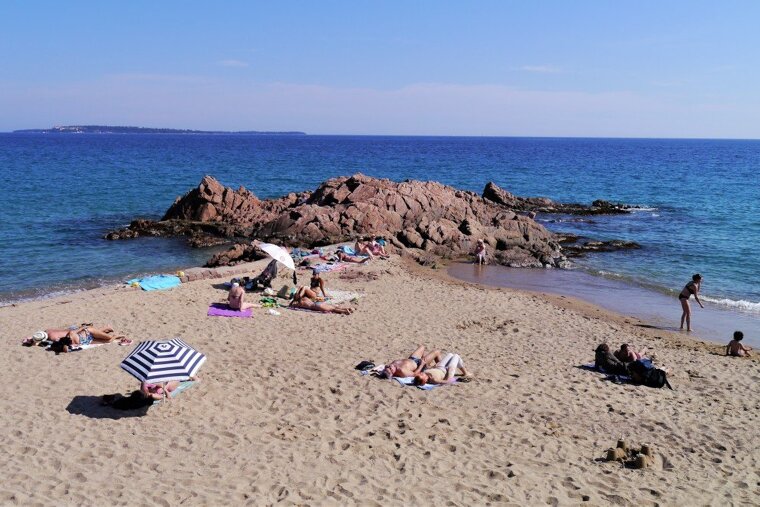 Best Snorkelling Beach: Les Rochers
If your family likes to snorkel, head a little bit further down the coast to Cannes la Bocca, where you'll find Plage des Rochers just opposite the train station.
There's some decent snorkelling in the crystal clear waters here, and it's a much quieter beach than you'll find in Cannes proper so it's a great spot for those wanting a respite from the summertime crowds.
Best Quiet Beach (with watersports): Palm Beach
Tucked away on the west side of Pointe Croisette, this is a great beach for families and not just because it has nice clean sand that slopes gently away into shallow waters.
Port Palm Beach is definitely the best beach for paddleboarding, kayaking, windsurfing or kiteboarding. There are toilets, a big parking lot by the beach and a kiosk selling food, drinks and ice creams. There are a few trees for shade and a lovely view across to the Cannes Islands. However, there are a few rocks in the water so keep an eye out for those soft little feet.
This is normally a quiet, relaxed beach with space for families to enjoy themselves. Unfortunately, there are no lifeguards or showers here.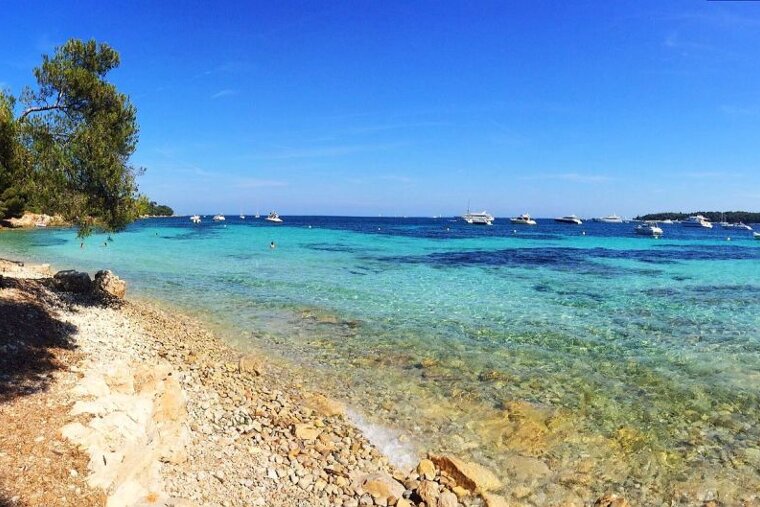 Secluded Island Cove: Ile Sainte Marguerite
This option takes a short ferry ride to get to, but it's one of the truly great experiences of visiting Cannes.
Ile Sainte Marguerite is one of the Cannes Islands that lie just off the coast, and it's a tranquil place of secluded rocky coves and pine forest with walking paths. It's also the site of the fort where the real Man in the Iron Mask was imprisoned in the 17th century, and there's some great birdwatching to be found by the lagoon.
Take a Provençal picnic from the Cannes markets or buy something from the snack bar on the island, then find your own secluded cove for a day of relaxing, eating, and snorkelling. The beaches are fine pebbles, but it's a stunning spot nonetheless.
More inspiration...
Whether it's lunch in family-friendly beach club or a rustic picnic on an island cove, Cannes definitely has the family beach experience you're looking for. Have a look at our choice of family-friendly hotels and plan your next family holiday to Cannes.