Bus Services in Cannes
Discover & book Cannes bus services
The Cannes bus system is run by Palm Bus who provide the bus network throughout the towns of Mougins, Mandelieu-la Napoule, Cannes, Le Cannet and Théoule-sur-Mer.
The main bus station in Cannes is situated on Place Bernard Cornut Gentille beside the Mairie de Cannes (town hall) at the west end of Le Vieux Port. It is open from Monday to Friday 07:00 to 19:00, Saturday from 09:00 to 18:00 and closed on Sunday.
Scenic trips
Palm Imperial
A red open-topped bus, the Palm Imperial is a great way to travel the Croisette to Palm Beach and back whilst enjoying the views and some of the iconic sites of the city. It costs €1.50 single or €3 for the circular trip and tickets must be purchased directly from the driver. The service runs every 15 minutes between 09:00 and 19:00 from Monday to Sunday.
Timetables
When looking at timetables be aware that they're in French so L = Lundi / Monday, M = Mardi / Tuesday, Me = Mercredi / Wednesday, J = Jeudi / Thursday, V = Vendredi / Friday, S = Samedi/ Saturday & D = Dimanche / Sunday.
Palm Bus offers the following services in and around the city of Cannes:
Navette City Palm
This small green shuttle bus circles the city centre of Cannes. It runs from Monday to Saturday from 09:00 to 19:15, every 10-15 minutes. Tickets are bought on board and are €0.75 for a single journey.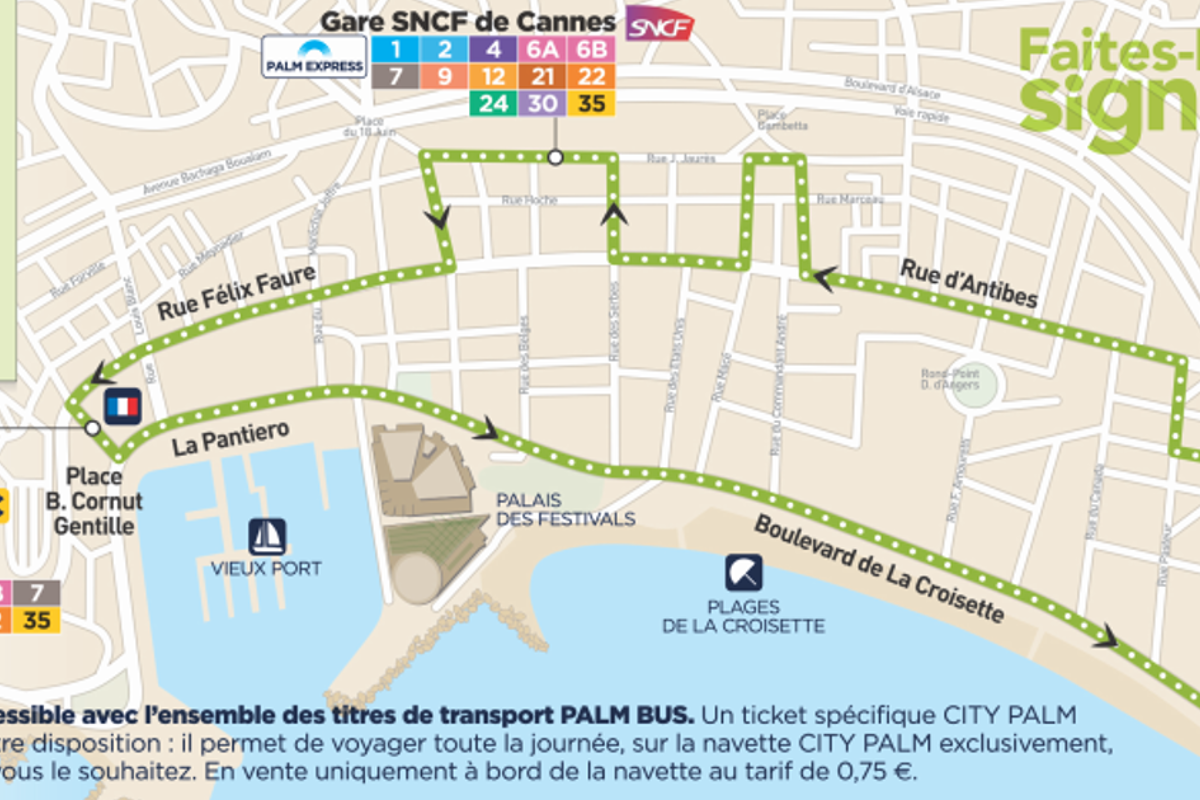 ---
Palm Bus
Bus 4 Cannes Hotel de Ville - Gare SNCF - Le Cannet
Bus 9 Cannes Gare SNCF - Vallauris
Bus 21 Cannes Hotel de Ville - Gare SNCF - Notre-dame des Pins - Californie - Pont des Gabres - Pont Republique - Hotel de Ville
Bus 24 Cannes Gare SNCF - Mougins
These are regular bus lines, servicing Cannes, Le Cannet, Mandelieu-La Napoule, Mougins and Théoule-sur-Mer. The buses are yellow and the most useful lines for getting around the city itself, to Mougins and Vallauris are noted in the table above. Visit the Palm Bus website (available in English) for a full list of routes and timetables.
---
Palm Express
An express bus that links Cannes to Mandelieu-la-Napoule, easily identified as they are blue buses. You can use the same ticket for this service as for the regular bus lines and find the timetable on the Palm Bus website.
---
Palm Night
The company also run a night bus service, Palm Night. Bus numbers 1, 2 and 20 all circle the city centre as part of their routes. Check the timetable for dates and times that the service is available.
---
Palm a la Demande
An on-demand service that complements the Palm Bus network and offers a service to people with disabilities. The service is activated exclusively by booking. Details on how do this are here.
---
---
Cannes Regional Buses
Line 200 - Cannes - Vallauris - Antibes - Cagnes sur Mer - Nice
Line N200 - Night bus Cannes - Antibes - Nice
Line 210 - Cannes - Le Cannet - Nice Airport
These services are provided by Ligne d'Azur in conjunction with the Department des Alpes-Maritimes and connect Nice to neighbouring cities on the Cote d'Azur. You can find the timetables here.
---
Once on the bus you will need to use the red button to request the correct stop. This will alert the driver and light up a red sign above him that says 'Arret demande'. If no one pushes the button and there are no passengers waiting at that particular stop then bus will not stop.
---
Note that these timetables may vary throughout the year and during holidays so please contact the bus companies in advance to avoid disappointment.
How to get passes
You can pick up bus timetables and maps, plus purchase tickets at the office at the Cannes bus station. You can buy single journey tickets in advance or on the bus from the driver, these cost €1.50. A 10-journey card can be purchased in advance from the Palm Bus sales office for €12, a saving of €3.
All tickets are valid for 1 hour, so you can change buses using the same ticket. You cannot, however, use the same ticket for your return journey.
Children under the age of four years old travel for free.