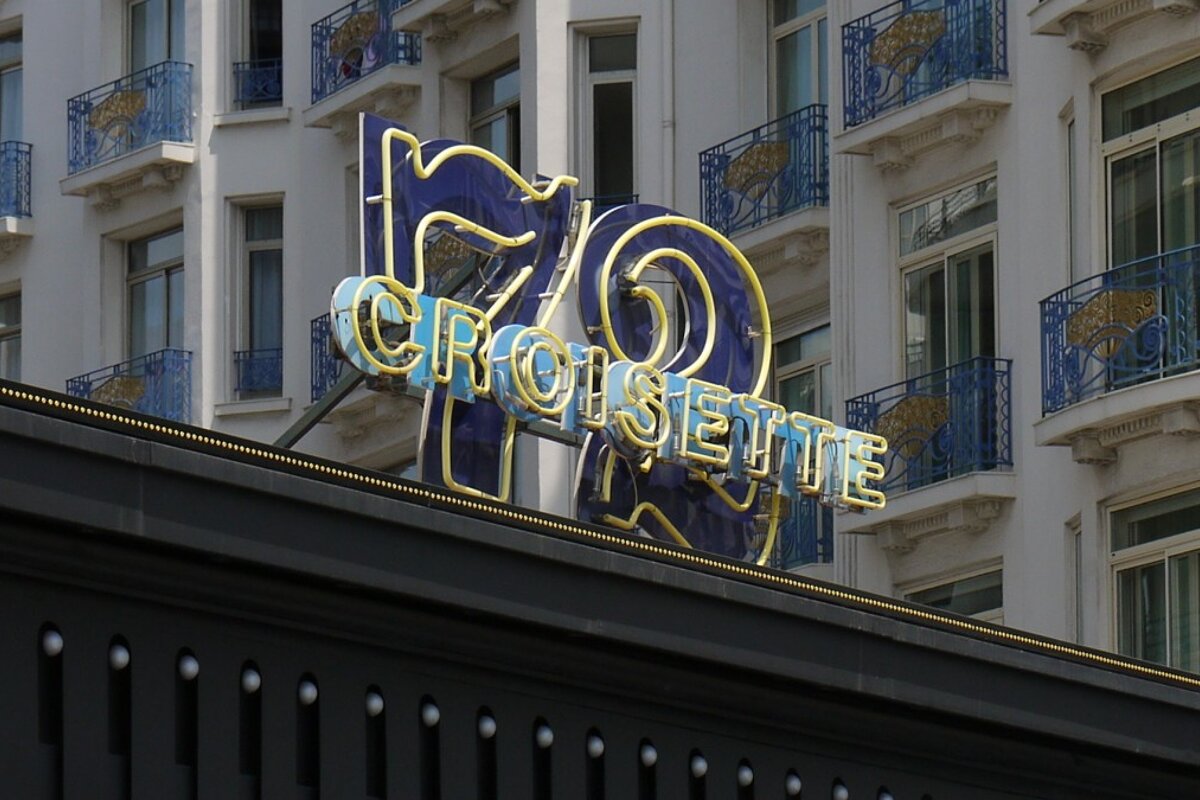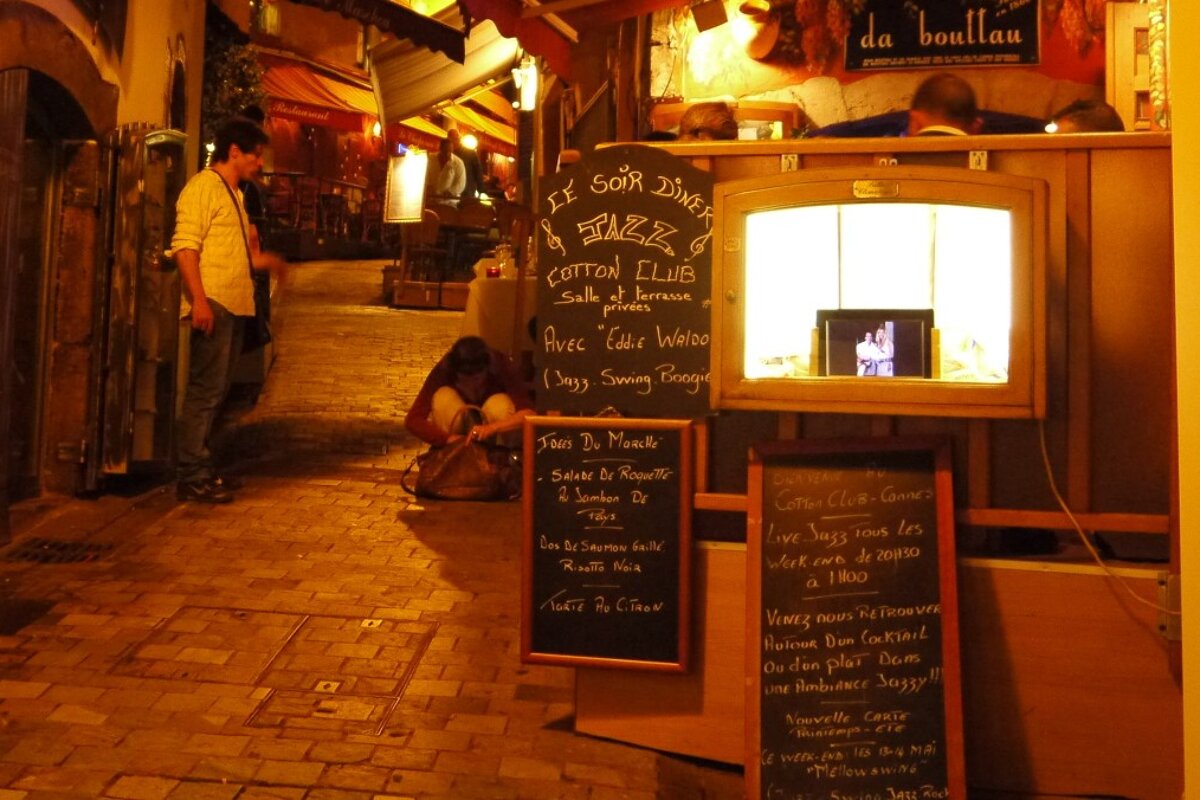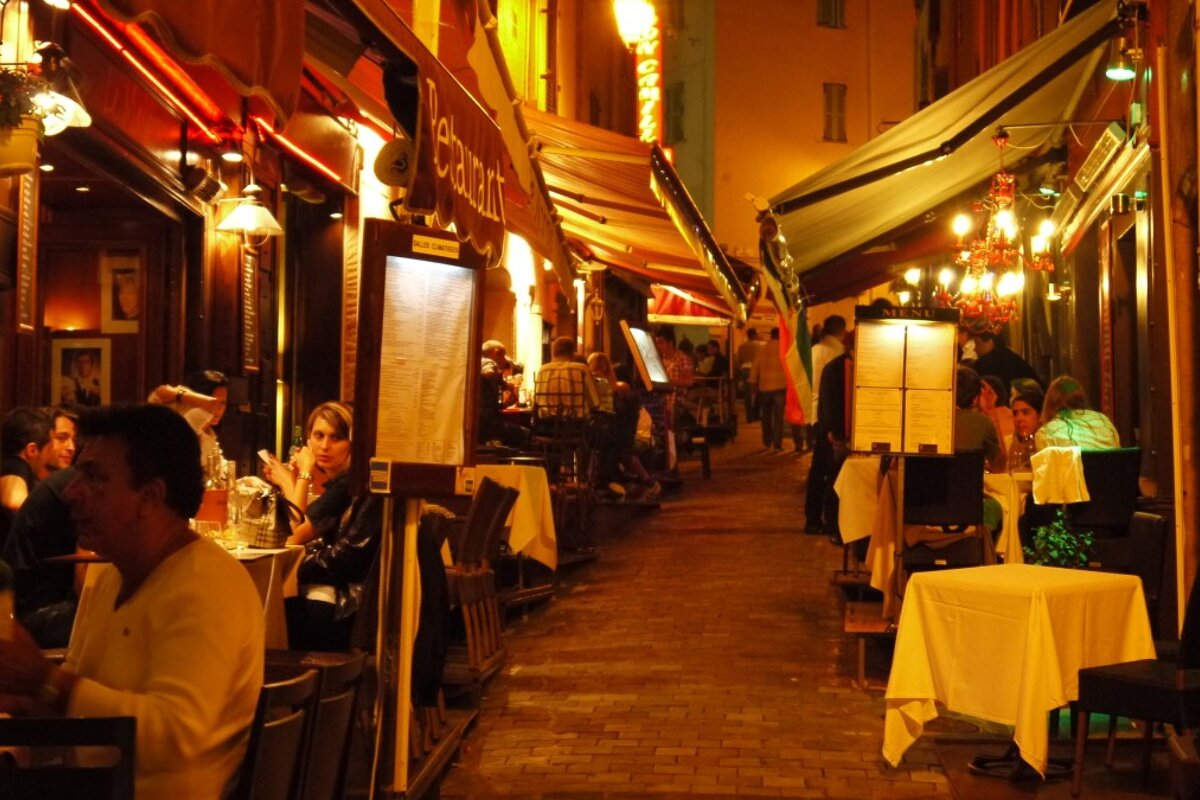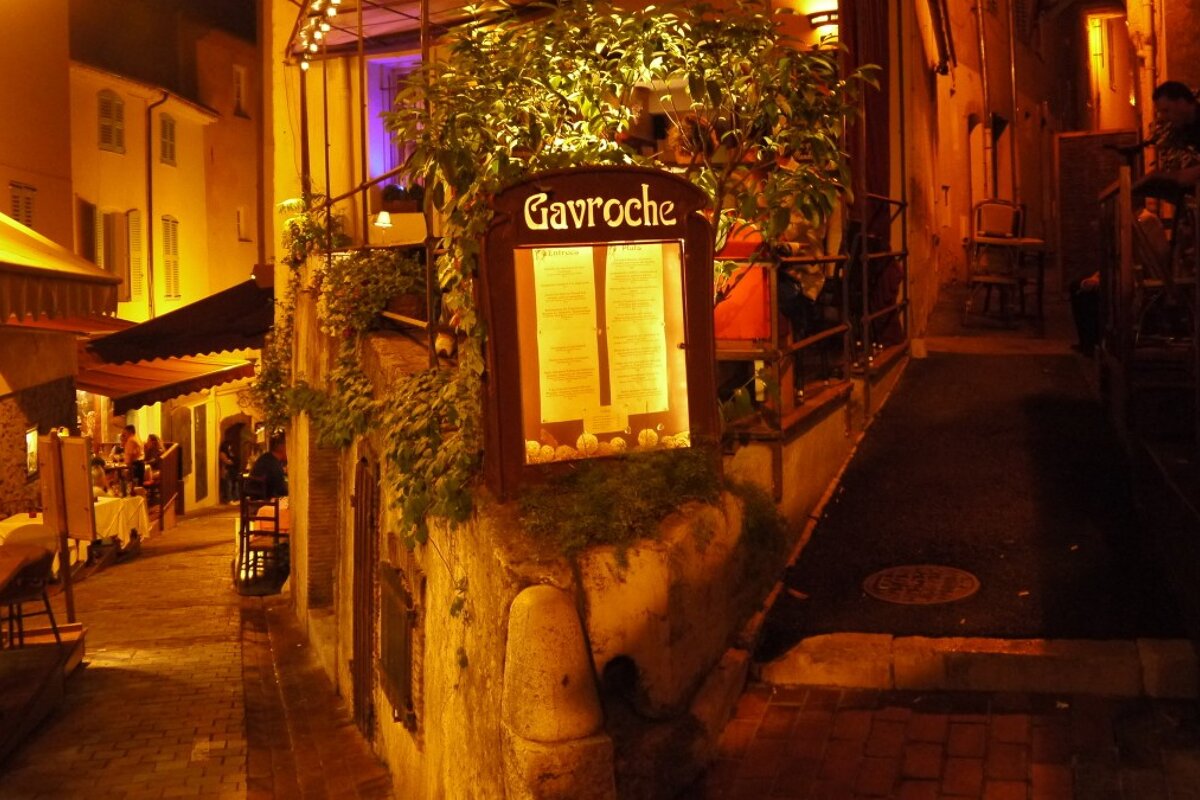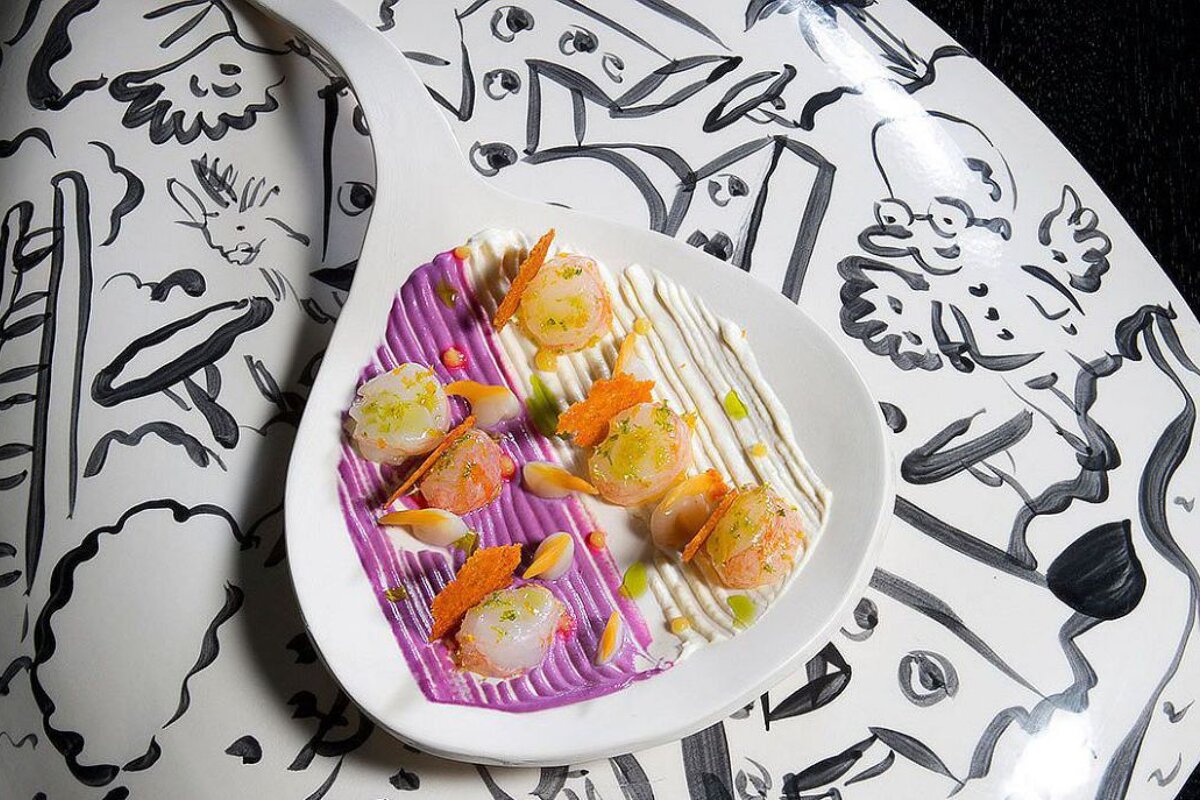 © Grand Hyatt Cannes Hotel Martinez
Where to Eat in Cannes
Discover the top Cannes places to eat
There's a wide range of restaurants in Cannes to suit all tastes, and budgets. Read our guide on all the best places to eat in Cannes and where to find your favourite style of cuisine.
French Restaurants
Happily it's not just the grand hotels and beachfront restaurants that will give you a memorable dining experience (the bill in itself will be memorable). For between the Michelin starred elegance and the overpriced tourist traps, there is also some brilliant, authentic and reasonably priced food to be found. You just need to know where to look.
La Potiniere, just opposite La Palais de Festivals is one of the best restaurants to be found in Cannes, specialising in Mediterranean cuisine at reasonable prices. Seafood is a speciality - try the tender, juicy roast cod - or just sit back and allow the chef to deliver the best fresh produce of the day with the plat du jour- you can get this for around 15, or a two course meal for less than €20. Brilliant service, nice décor; it's no wonder this place is popular and has been since 1948, with Pablo Picasso having considered it a favourite haunt.
A 'gourmand' in French is someone who is a connoisseur of good food, a gourmet (and incidentally, often someone who eats too much). Bistros, meanwhile, are where you will find the unpretentious and brilliantly flavoursome food that is at the heart of French cuisine. Le Bistrot Gourmand is an unfussy Cannes venue where these two concepts come together perfectly and any gourmand worth their salt will make their way here to enjoy real French bistro food at very good prices. Provencal classics with inventive twists like cod baked in fig leaves in an informal setting with decent service. And you can get meals for less than €15. Incroyable.
Aux Bon Enfants is a small, family run restaurant. The opposite of Cannes chic, yet its long-standing obsession with fresh local produce makes it an institution. The Giorsetti family has been serving up unfussy, delicious Provencal favourites for three generations in this spot with ingredients sourced from the market just next door. There's no menu, you just eat what you're given. You can't reserve a table on the phone and they only take cash. This is a haven for locals, tourists and foodies alike but don't expect pomp or ceremony, it's noisy and cramped and wonderful. Expect to pay from €25 for the menu of the day.
Michelin-Starred Restaurants
Let us present the superstars of Cannes cuisine, where you should not even be thinking the words 'reasonably priced.' Reason simply doesn't come into it, a true love of food does, no matter what the cost.
It is impossible to review Cannes restaurants without beginning with Le Palme d'Or at the Hotel Martinez (Grand Hyatt Cannes). For good reason too, its spectacular French gastronomy earned it two Michelin stars in 1991, and it has never lost them. This art deco restaurant in one of Cannes' grandest hotels, opens up its doors to give a jaw-dropping view across the Mediterranean. No matter how impressive the view though, it cannot compete with the quite extraordinary descriptions on the menu where famous chef Christian Sinicropi exhorts us to believe in, "a dimension of emotion and of sharing, a palliative reflected in a maiden voyage with the trappings of nobility and counter-intuitiveness, transporting us into a dance in 3 movements." What does that mean? No idea. The whole menu is immensely hyperbolic and passionate, and somehow quite sweet. But fear not that the food will all be frippery and nonsense, this is seriously impressive dining. The food is highly inventive (although not quite as inventive as the menu wording, for nothing could be) and includes items like 72 hour cooked lamb, wild grouse cooked with country soil, chateaubriand with crystallised shallots and tuna belly with aniseed. Mains begin at 75 euro, or you can have a lunch menu from 72 euro. A special, unforgettable experience.
Le Park 45 is another one at the top end that you really shouldn't miss. This restaurant is set in one of the most glorious settings in Cannes - in the grounds and dining room of the Grand Hotel, looking out across the lush gardens to the glittering sea. Young chef Sébastien Broda (who trained at Le Palme d'Or) uses fresh local produce to put twists on French cuisine, and was awarded a Michelin star within 12 months for his efforts. A delightful place with delightful food. And with mains starting at around 40 euros and a three-course menu at 55 euro, it actually turns to be pretty good value for money considering how much you can pay for rubbish in some of Cannes' tourist traps.
For a rooftop restaurant that just screams Cannes chic, go to Michelin starred restaurant Sea Sens on the fifth floor of the boutique Five Seas Hotel. Sit in the elegant dining room and look out across a stunning view of Cannes, while Chef Arnaud Tabarec impresses you with his astonishing gourmet menu using fresh market foods and spices from the five continents. Try the fois gras with mango and beetroot ravioli, or the blue lobster with combawa. Jérôme De Oliveira, World Pastry Champion, will then make your dessert. This is a glamorous place, and in the summer evenings the poolside terrace will fill up with the beautiful people drinking champagne and cocktails in the sunset. The food isn't too prohibitively expensive, with mains starting at €35 and menus from €55.
Modern European & International Restaurants
L'Affable; you are in good hands in this contemporary restaurant. Chef Jean-Paul Battaglia serves up excellent modern Mediterranean food - even with a few Asian twists to keep things interesting. The warm, modern décor and good service make it a really pleasant place to spend some time, while the prices aren't too bad either; lunch menus start at just over €20 and for food this good in Cannes, that's a bargain.
Had enough of French food? Head to l'Armenian on the waterfront for one of the famous mezze plates they've been serving up since the 1980s. Wondering what Armenian food is? It's Middle Eastern, so think hummus, dolmades, lamb and couscous, with its own national twists. This wonderfully decorated restaurant is definitely the place to give Armenian food a try and many a celebrity has done so over the years.
Vegetarian Restaurants
While there are no specific vegetarian restaurants in Cannes, there are are usually plenty of meat-free dishes to choose from. Provencal cuisine focuses very much on vegetables with ratatouille, courgette fritters and big colourful salads taking centre stage.
If you fancy a train ride to Menton, you'll should book a table at The Loving Hut, a 100% vegan restaurant overlooking the bay.
Best places to lay down a rug and enjoy some French cheese & wine
---
Perfect picnic spots in Cannes 2018
Whether you'd prefer a casual beach picnic with watersports, a tranquil island picnic in a pretty cove, or a picnic by an electric-blue lake in the hills of Provence, there are some stunning picnic spots to be found around Cannes.