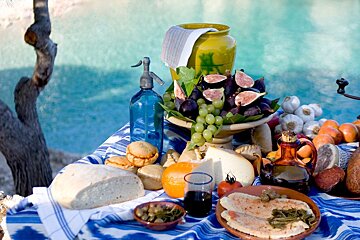 Perfect picnic spots in Cannes
Best places to lay down a rug and enjoy some French cheese and wine
Whether you'd prefer a casual beach picnic with watersports, a tranquil island picnic in a pretty cove, or a picnic by an electric-blue lake in the hills of Provence, there are some stunning picnic spots to be found around Cannes.
Year round, you will find both locals and tourists gathering for big picnics with families and friends on Cannes' beaches, surrounding hills and natural parks. Although you can bring a picnic blanket and plonk it down wherever you like, there are some designated areas too. For the ultimate picnic experience, here are some handpicked locations.
Port Palm Beach
There are so many good beaches in Cannes, with much of the shoreline lined by glamorous private beach clubs. However, there are stretches of public beaches or municipal beaches where you can't bring food, so it's good to have a bit of inside info before setting off lugging a picnic basket.
For families or people looking for a more casual place to relax with their picnic, Port Palm Beach is a good choice.
This small beach tucked away on the western side of La Croisette is generally much quieter than other Cannes beaches, and its basic facilities make it the perfect spot for a relaxed picnic. This is also a top spot for watersports, the sand is nice and clean, and the beach slopes gently away into the water making it a good place for the young kids to have a paddle.
There are a few shady trees at the back of the beach if you fancy getting out of the sun, and the view across the Bay of Cannes to the Cannes Islands and Esterel hills in the distance is pure magic. As mentioned, the facilities are basic, with a car park, toilet and a snack kiosk on site but no lifeguards, showers or cafés.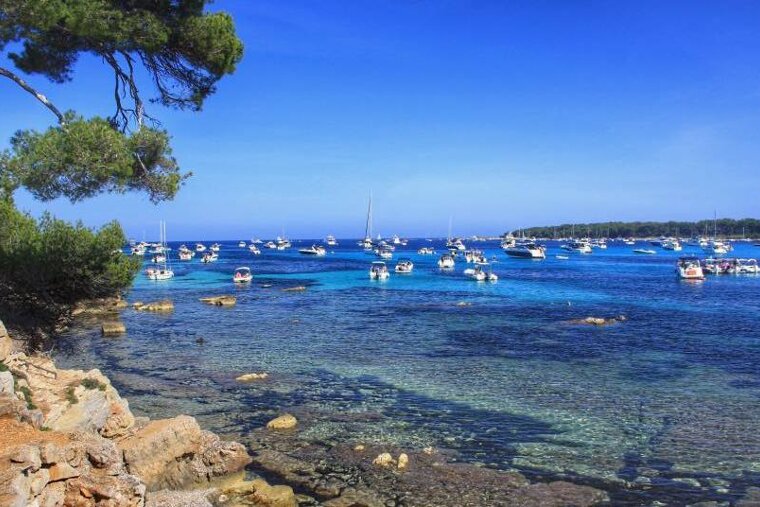 Ile de Sainte Marguerite
For those who love tranquil Mediterranean beauty, a picnic on Saint Marguerite is an absolute must.
With only a handful of inhabitants and even fewer cars, this beautiful island just off the Cannes coast is a quiet place of pine forests, crumbling forts and crystal clear coves. Stock up for your picnic at Marché Forville on the mainland before heading to the dock and boarding a 15-minute ferry ride to Ile de Sainte Marguerite. Visit Fort Royal where the Man in the Iron Mask was imprisoned, then take a gentle walk through the forest and meander along the island's shore, looking for your perfect picnic spot.
There is a sandy beach on Sainte Marguerite near the ferry terminal, but the rest of the island is riddled with secluded pebbled coves with rock pools just perfect for snorkelling. There's only one snack bar on the island, so do try and buy everything before you come. If you do run out of supplies, you can probably count on a visit from the little boat that floats from cove to cove during the summer selling wine, beers, cold drinks, pizza, ice creams and sandwiches. You just have to wade out and get it.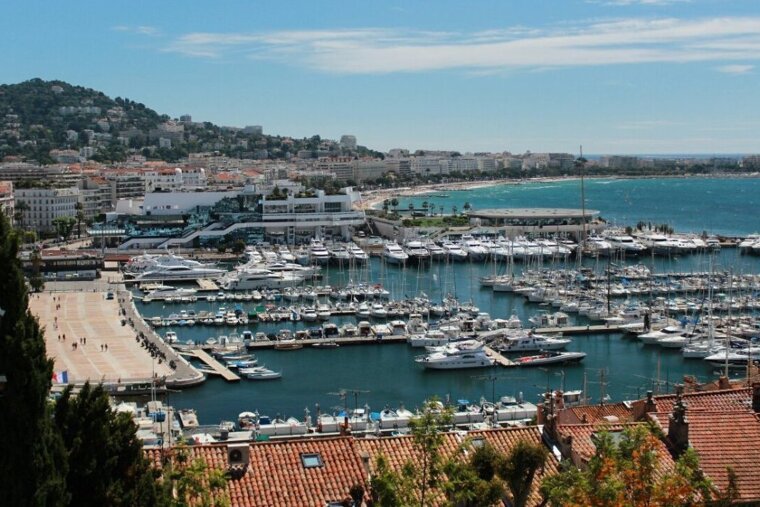 Le Suquet, Cannes
No visit to Cannes would be complete without climbing the hill of Le Suquet, and it's up here that you'll find one of central Cannes' best picnic spots.
The church and museum at the top are both worth a look, but the real appeal for picnickers is the stunning view of the Bay of Cannes from the lovely grounds. Set up your picnic and drink in the panorama of the Mediterranean, the Lerins islands and the distant Esterel mountains.
The atmosphere of this picnic spot is particularly good in the late afternoon when you'll often see people coming up to enjoy the twilight, and buskers play music in the warm summer air.
Gorges du Verdon
You will need a car for this one as it's over a 90-minute drive from Cannes, but this magnificent picnic spot is every bit worth the drive (and then some).
The Gorges du Verdon almost burns into your mind as one of the most visually spectacular things you'll ever see; a river of blinding aquamarine water flowing through a 25km 'Grand Canyon' cut into the limestone hills of Provence. Above, medieval villages perch on rocky outcrops as if defying the laws of physics, and birds soar above sheer cliffs that rise 700m above the valley floor.
A drive through this mesmerising landscape is enjoyable enough, but when you stop for your picnic you'll be glad you did. You could work up an appetite by white water rafting down the more rugged parts of the canyon or do things a bit more peacefully with a kayak or pedalo on nearby Sainte Croix Lake (also blessed with that staggering blue colour).
You can either picnic up high at the Balcons de la Mescale with a view overlooking the Gorges and the highest bridge in Europe, the Pont de l'Artuby, or carry on to Sainte Croix for a peaceful picnic by the water and a stroll through Castellane village.
We recommend that you stop somewhere local overnight to truly enjoy this breathtaking place, as it's a fairly long (but very achievable) day trip from Cannes. And you are unlikely to want to leave so soon anyway.