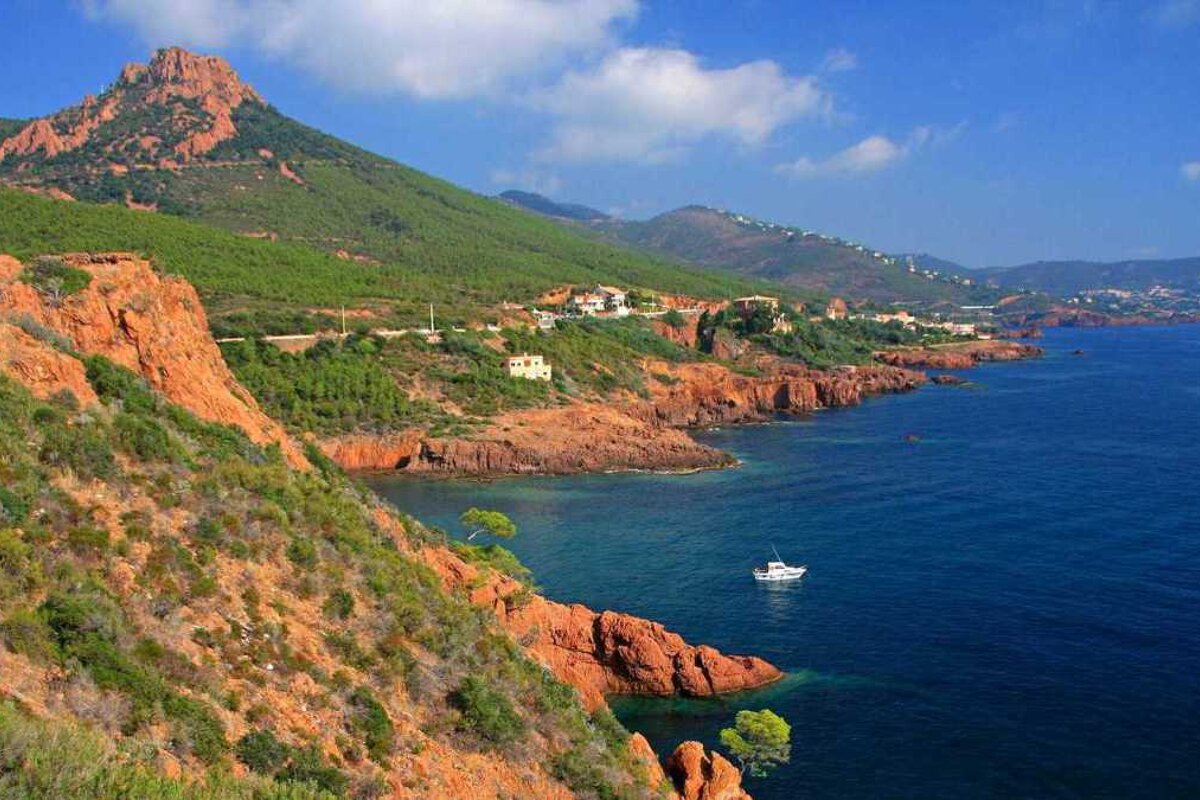 Corniche Esterel Beach, Cannes
Rocky coastline south of Cannes
The stretch of coast between St Raphael and Cannes is known as the Corniche Esterel. There are many small beaches and coves along this route, some better than others.
The best way to explore this part of the coast is on one of the boat trips that take you directly from Cannes, hiring a boat for the day, or better still chartering a yacht so that you can moor up in one of the tranquil coves and spend a few days enjoying this magnificent scenery.
This area is so spectacular, thanks to the backdrop of the Massif Esterel and its forested hillsides. The Massif Esterel was produced by volcanic activity in the area and the end result is bulbous red rock mountains that thrust up against the Mediterranean sky. The vivid contrast of green forest, red rock and blue sky is reminiscent of Utah, USA and Uluru, Australia.
The beach area is made up of sand at the rear and (very) large rounded pebbles at the waters front. There is a picnic area and watersports and free parking. Around the corner from Drumont is the small resort town of Agay. Pleasant enough, it has several sandy beaches and calm, clear waters.
On the other side of the bay, you'll find a very pretty small beach - Plage Baumette - with its wonderful blue-green sea and lush vegetation. Beyond Agay is where you'll see the red rocks of the Massif Esterel. The beaches become rocky coves, accessible via steps cut into the cliffs. The Plage des Anglais has a tiny beach and pier where you can sit and enjoy the blue-green sea, the red cliffs in some peace and quiet.
Cap Antheor provides more accessible sandy-pebbly beaches, shaded by palm trees with the stunning red mountains as the backdrop. The terrain then becomes more rugged and it's back to climbing down steps to discover hidden coves where sailing boats often drop anchor. the area around Vila Dani is particularly recommended if you are lucky (or early) enough to bag a parking spot.
The final resort town at the north end of the Cornich is Theole sur Mer - a rather charming and pretty town with a couple of sandy beaches and a cute marina.
Setting & Location
The beaches that start from St Raphael are small and sandy (coarse, gravelly sand) and sit right next to the coastal road. Plage du Veillat, Peyguiere Plage, Plage de la Pescade and Plage de Poulouris all fall into this category.
Further up (north) from St Raphael, you'll find Plage du Dramont. This is where the Allies disembarked in 1944 with 900 boats and 450,000 men.
Water Safety & Clarity
The clear water is stunning but there are quite a lot of rocks in the water. Good for snorkelling but not so great for young children or less confident swimmers.
Beach Quality
The beaches here are made up of a mixture of sand and some rounded pebbles.
Location