Markets in Cannes
Discover the top Cannes markets
Market days are a way of life in Provence and the Côte d'Azur. They originated in the 12th century, when farmers and craftsmen would come to nearest town to sell their wares, or engage in bartering agreements.
Not much has changed since those days - the market is still the place to come for locally grown produce of all shapes and sizes.
These three local markets are very popular.
Popular markets in Cannes

Gambetta
Every day (mornings only), closed on Mondays in winter.
La Bocca
Every day (mornings only), closed on Mondays in winter.
Forville
Every day, all year round.
Check our Events Calendar to find out the dates and times of markets and other events throughout the year.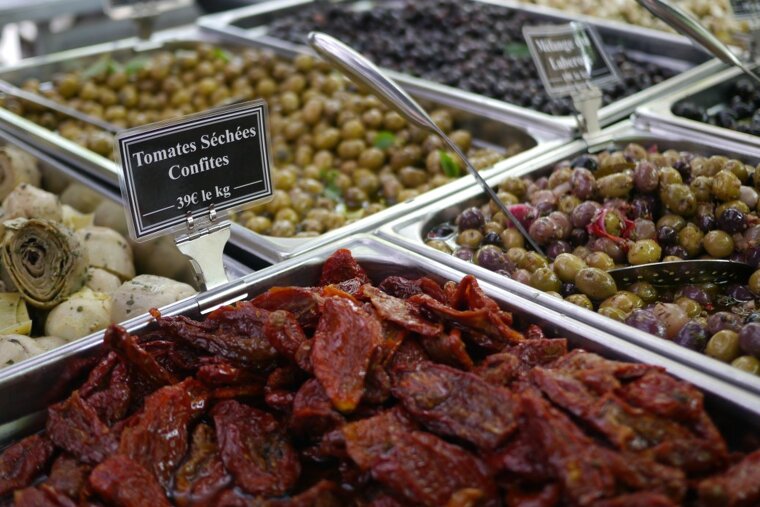 Types of Market
You can expect to find two common types of market in the Cannes region, the farmers market and the Provençal market.
The farmers market
This is where you'll find the fruit and vegetable of the local region on sale, plus meat from the butcher, bread and cakes from the baker, cheeses, herbs and spices. Anything to do with food really! This is the kind of market that all the larger villages offer. Prices tend to be higher than you would find in the supermarket, but the taste and the quality of market-bought goods simply does not compare. The climate in Provence lends itself so beautifully to farming that much of the produce in the market is organically grown and likely to have been picked the day before.
The Provençal market (Marché Provençal)
These markets tend to be much larger, with all the fresh produce described above, with the addition of clothing, fabrics (napkins and tablecloths are most popular), ceramics and other local crafts, costume jewellery, leather goods, the list goes on...
Flea markets
Flea markets are also popular - they are known as Marché aux Puces or La Brocante (secondhand goods). They tend to occur once a month at selected locations, usually on a Sunday.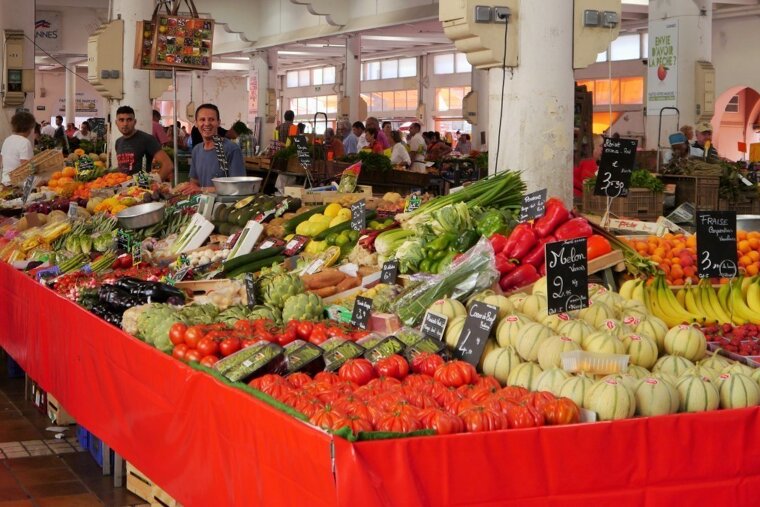 Where and when
Popular markets in Cannes

Gambetta Market

Held daily in Place Gambetta, popular for its fine selection of clothes, jewellery and leather goods, alongside the usual wonderful Provençal and Côte d'Azur deli specialities such as herbs, olives and local dish, Socca.

Open daily: 07:00 - 13:00 (closed Monday during winter).

Marché Forville

Covered market at the bottom of Le Suquet district and one of the best in the Riviera.

The hall becomes a flea market (Marché Brocante) on Mondays and offers endless rummaging through fantastic stalls.

Open daily: 07:00 - 13:00.

La Bocca

Fish, flowers, fruit and veg, and delicious deli counters hosted in neighbouring Cannes la Bocca. There are also butchers, bakeries and a great chocolate shop, as well as bars and restaurants.

Open daily: 07:00 - 13:00 (closed Monday during winter).

Marché de la Truffe

An annual truffle market hosted in the nearby village of Grasse. Organised by the union of the truffle of the Maritime Alps and the city of Grasse, it takes place every year at the Bastide Saint Antoine and welcomes all lovers of truffles.

A weekend of gourmet meals and truffle markets, alongside agricultural shows and demonstrations from the truffle-hunting dogs. Check our events calendar for dates.

La Grande Braderie

Another annual event is Cannes is this market of a completely different style. The streets become a sales market, with stores from all around the town bringing their end-of-summer bargains out.

It takes place once a year, normally in October/November and is the perfect place to bag a bargain.

Marché Nocturne

During the summer months many of the towns around Cannes will also host a night markets, selling local produce, handicrafts and providing plenty of food and drink.

The main ones to look out for during July and August are Les Nocturnes du Quai Saint-Pierre Market and Les Nocturnes Boccassiennes Market.

Normally open from 17:00/19:00 until midnight.

Check our Events Calendar to find more markets in Cannes.