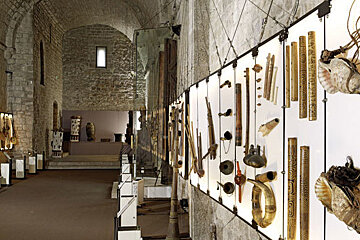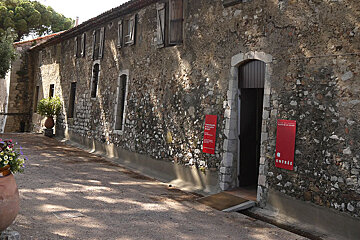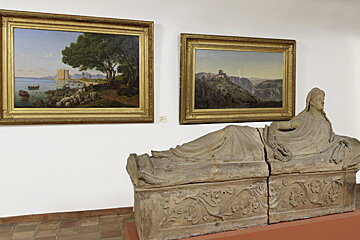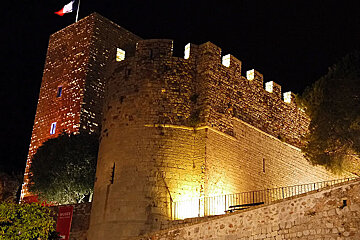 Castre Museum, Cannes
Museum within a medieval castle, situated in the heart of Cannes Old Town, Le Suquet
The Castre Museum is located on the Suquet hill, dominating the city of Cannes. From the top of the medieval tower the views across the bay and the Lerins islands are fantastic and not to be missed.
Inside the castle and the nearby chapel is a brilliant collection of paintings, art and archaeological artefacts. The Castre Museum is home to a wide collection of antiquities, particularly from the Mediterranean and the Middle East.
The 11th century Saint Anne Chapel houses a remarkable collection of musical instruments from Asia, Africa, America and Oceania. A few rooms dedicated to 19th century Provençal paintings of Riviera landscapes open out onto the courtyard and a square tower displaying spectacular views.
It's surrounded by a beautiful Mediterranean garden with pine trees.
Who should go
The chateau itself is a historical monument, and the collections housed within will be of particular interest to art lovers and ethnographers.
Visitor comments
"Excellent little museum stuffed with ethnographic relics from around the world, including a Persian permanent exhibition. Outside is almost more delightful, with a panoramic view of Cannes, the Alpes on a good day and the most delightful sea breeze. Heaven with a busker too." - Trip Advisor
"With a leisure walk up along the Suquet old town about 10 minutes from Cannes. Special rate for group size over 10 pax. Climb up the tower for a beautiful bird eye view over pretty Cannes. Quite many world ethnic collections and paintings on display." - Trip Advisor
"The castle sits at the top of the old town in Cannes (le Suquet) and the views from there are fabulous. The Castle is interesting - it houses art collections and antiquities from around the world. Even if you didn't actually enter the Castle it is still worth a visit for the views. Also at the top of the hill it opens out to a street with a park and bars where you can sit and have a meal or drink then wander up the winding streets to the Castle. Lovely way to spend a few hours without having to use transport." - Trip Advisor
Location