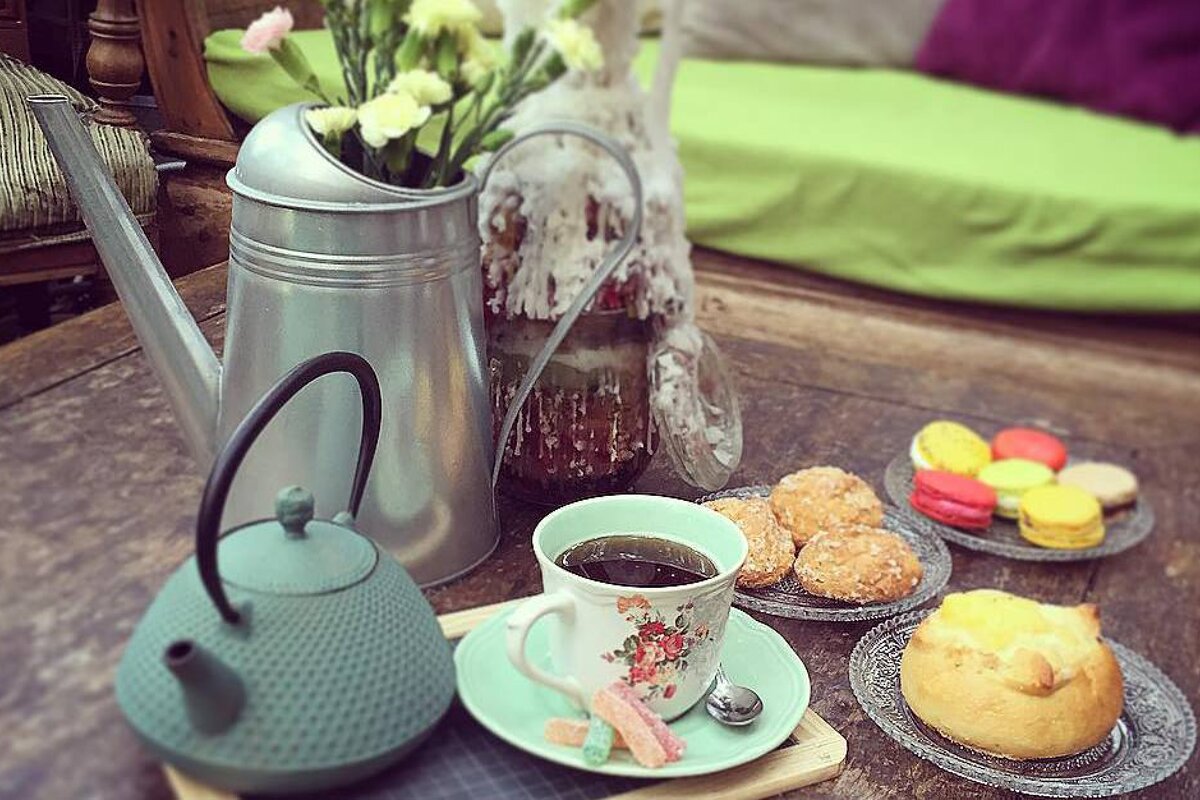 Top 5 brunch & breakfast spots in Cannes 2018
Where to bag a good breakfast & soak up the atmosphere
A freshly baked buttery croissant and a good coffee is a real treat when you are on holiday in France - for some reason it makes us feel almost 'French' as we sit back and relax at a cafe on La Croisette, watch the sun come up over the Palais des Festivals and check out the morning joggers as they trot past.
But to be honest, as good as croissants and coffee can be, nothing beats a long and lazy Sunday brunch with family or friends where you can eat good food and enjoy great company. We have a few favourites, but this is just scratching the surface of the great places to eat in Cannes.
L'Ecrin Plage Beach Club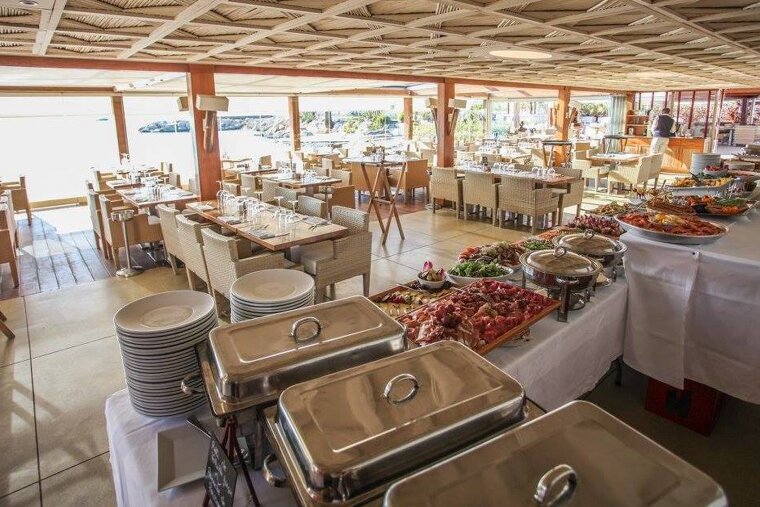 Open all year during the day, the restaurant of L'Ecrin Plage beach club serves up a delicious brunch each and every Sunday. Served up buffet style you can eat as much as you want of entrees, main course and dessert for 45€ (drinks not included). All of this with your feet in the sand, the sound of the waves lapping and views over to the stunning Lerins Islands. What more could you ask for?
Armani Caffé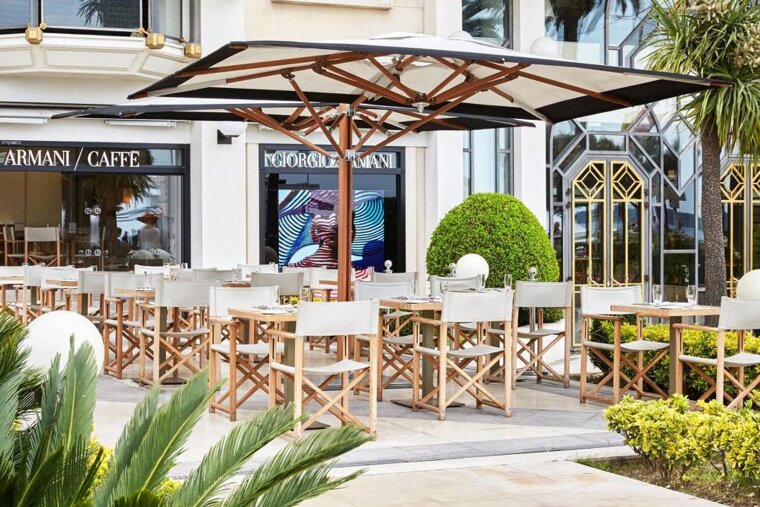 What could be more glamorous than having breakfast in front of the Armani boutique on La Croisette in Cannes? The chic Armani Caffe restaurant serves food Monday to Saturday from 08:30 until 20:00 offering you the perfect start to your day of shopping and sightseeing. The service here is impeccable and the ambience as chic as you would expect from anything Armani. Sit outside on the terrace to truly appreciate the early morning rush hour of Bentleys, Ferraris and Maseratis in the calm lush gardens on the Croisette.
JW Grill at the JW Marriot Cannes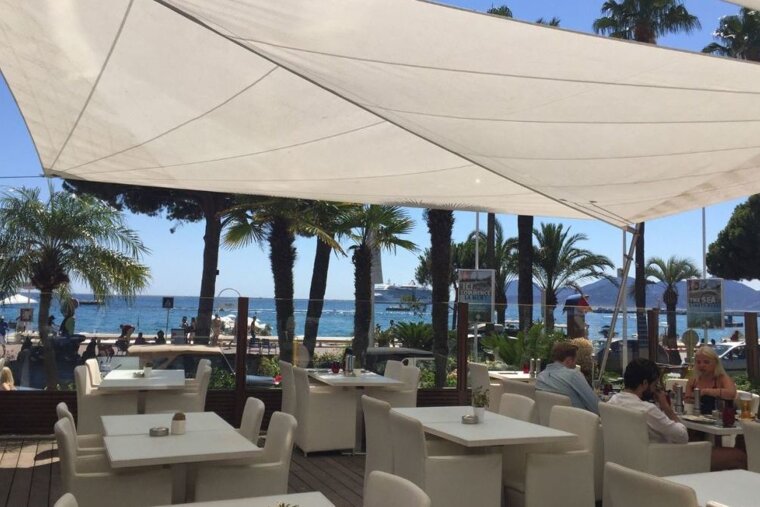 The name might be suggestive of a steakhouse but, to our delight, the JW Grill in the JW Marriot Hotel is open for breakfast Monday to Friday from 06:30 until 11:00 and on Saturday and Sunday from 07:00 until 11:00. The restaurant's terrace, situate on the first floor, offers perfect views over La Croisette, the beach and pontoon of the Baoli Beach Club. You can enjoy your coffee with a view!
Le Roof at Five Seas Hotel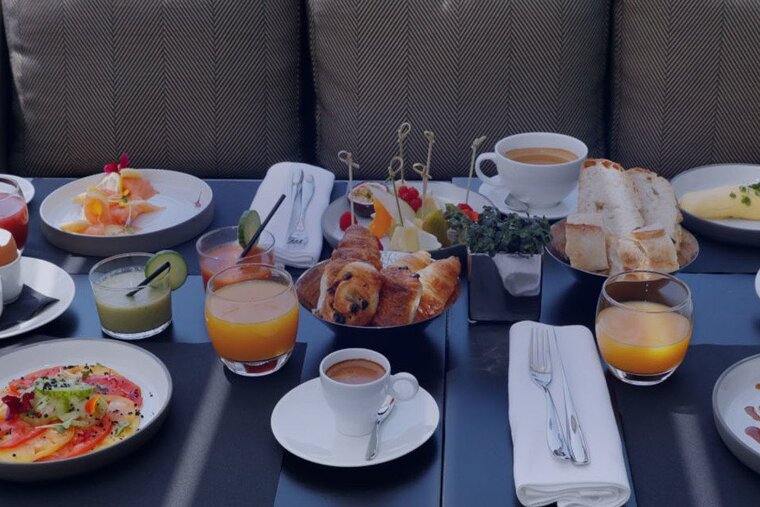 Weekends at Le Roof restaurant of the Five Seas Hotel mean only one thing, Le Brunch. On the fifth floor of this hotel, overlooking the rooftops of Cannes and the Eglise Notre Dame de Bon Voyage, you can enjoy a delicious brunch with family and friends. Both buffet and à la carte are on offer and you can have your eggs done to perfection, just as you like them. Served Saturday and Sunday from 12:00 until 15:00.
Noisette Cafe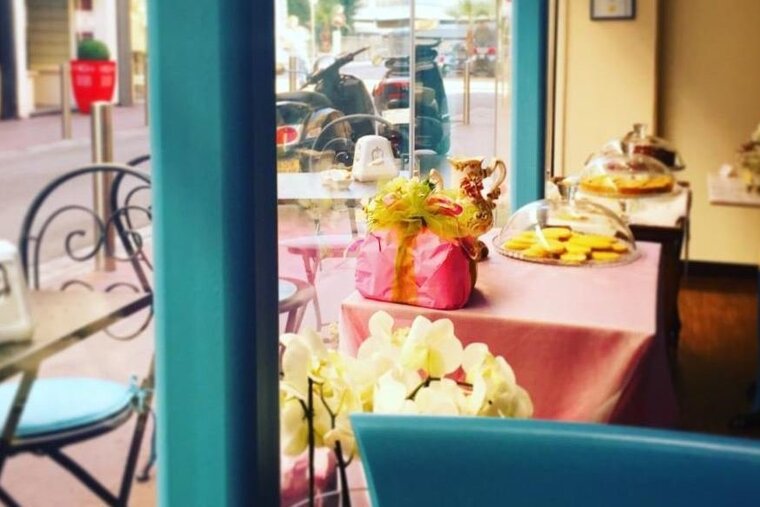 Noisette Cafe, which means a coffee with a drop of milk in French, serves Italian-inspired breakfasts. Thy claim that they prepare authentic cappuccino and we have to believe them as the couple that manage this cafe are from Italy! At this family-run eatery, you can enjoy not only real coffee but also yummy hot chocolate, homemade cakes and pastries for breakfast... buon appetito!
Location