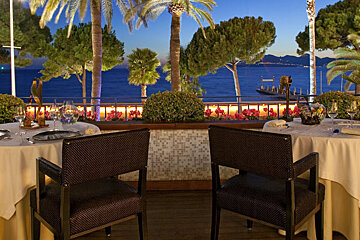 La Palme d'Or Restaurant, Cannes
2 Michelin-starred restaurant with view over the Bay of Cannes
This 2-Michelin-starred gastronomic restaurant offers an innovative cuisine by Chef Christian Sinicropi, served in an exceptional setting with an unrivalled view over the bay of Cannes.
Expect a creative menu, incredible food preparation and a superb wine list in a gorgeous location. The perfect recipe for a successful night in town.
They open on Tuesday to Saturdays from 19:30 to 22:00. Open for lunch on Saturdays from noon to 14:00.
Visitor comments
"The best of the best! The service is exceptional. Dining room delightful...especially if you are lucky enough to have balcony seating as the view is spectacular. I cannot recommend highly enough." - Trip Advisor
"The attention to detail is amazing the staff are so professionel but also friendly and keen to explain the food and clearly they are as proud of the dishes as the chef himself must
be. It really is a full pleasure to eat here and we will again." - Trip Advisor
"Every course was beyond my expectations. The food and the service was perfect and the lunch menu was actually great value. The staff even went to the trouble of bringing me a fresh peppermint tea (as I don't drink coffee) which they hand cut from a herb garden at our table. Delicious." - Trip Advisor
Location