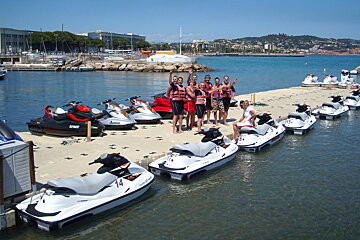 © Cannes Yachting Festival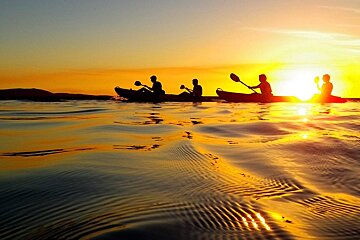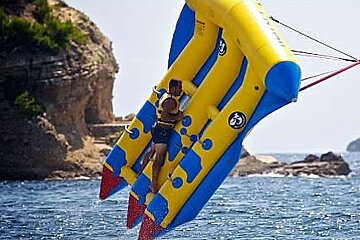 Watersports to do in Cannes
Discover the top Cannes watersports
When it comes to jetskiing among superyachts or kayaking along a coastline lined with palm trees and art deco hotels, Cannes has to be one of the most glamorous and fun places along the Riviera to indulge in a day of watersports.
With long sandy beaches lined with watersport rentals and pontoons offering wakeboarding, parasailing and jetboat activities, Cannes has a huge range of watersports to choose from. You could also head off the coast for a bit of kitesurfing, learn to sail with a local club, or rent a boat to visit the nearby stunning Cannes islands. Under the water, there are several dive clubs and good snorkelling opportunities.
Most of the watersports operators open every day in summer, with weekend operations in June and September. Things get a lot quieter over the winter, although you will still find paddleboards, kayaks and boats to rent in some places. The wind really picks up as of October, bringing good conditions for kiteboarders and windsurfers.
Canoeing / Kayaking
There are plenty of places to rent canoes, kayaks and paddleboards along the beaches and pontoons of Cannes, and there are some good excursions with qualified instructors and guides too. One sea kayak company offers excursions to the Cannes Islands for a day of swimming, picnics and even a wine-tasting at a local vineyard run by monks.
Otherwise you can very happily spend an hour or two paddling along the beaches lined with glamorous clubs, or out among the gathered superyachts.
Diving & Snorkelling
The best snorkelling around Cannes is to be found at the beautiful Isles de Lerins- commonly known as the 'Cannes Islands'. These forested islands are fringed by sandy beaches and rockpools and you'll find crystal clear waters to explore.
You might see sponges, red coral, sea slugs and sea hares, octopus, cuttlefish, lobsters and stingrays – and possibly even dolphins in the deeper waters. You can either go on a designated snorkelling trip with one of the boats running from Quai Saint Pierre, or rent your snorkel gear from a local operator and jump on one of the regular ferries that run across to the islands.
There are several diving operators running out of Cannes, visiting sites off the Cap d'Antibes, Golfe Juan and Les Isles de Lerins (Cannes Islands).
There are some really good dive sites around this area, including half a dozen off Cap d'Antibes, and the fascinating underwater village 15m below the surface at La Formigue near Golfe Juan.
There's also a fantastic dive site here called 'L'Enfer de Dante, with pinnacles and drop offs to 55m - you'll find schooling fish, gorgonian fans and soft coral here. There's a wonderful cave nearby called Grotte de Miro with a statue inside - it has colourful sponges, soft coral, nudibranch and scorpionfish.
There is some good wall diving at Sainte Margherite Island off Cannes, as well as a wreck dive in the Baie des Anges.
Flyboarding
The new craze in motorised watersports is the flyboard, or jetpack, where you strap on a jetpack which is connected to a jetski, which provides propulsion for you to fly 15m up in the air or 2.5m below the water's surface.
Jet-skiing
Under French law you will need a license to operate a jetski, or you can ride with someone already qualified. You can gain your jetski license in Saint Tropez through the RYA, but it takes a day. If you have your license, you will need to wear a life-jacket and follow all local speed limits and regulations, the water police really are cracking down after some nasty accidents so be aware.
Other surface watersports
There is an abundance of towed and motorised watersports operators in Cannes, particularly off the pontoons at La Croisette, Boulevard Jean Hibert and the Plages du Midi. Remember, the best time for these sports is early in the morning before the sea breeze picks up and ruffles the water.
Donuts, flying carpet, sonar, torpedo, flying fish, no matter how you like being pulled behind a speedboat, Cannes has all the latest in inflatable fun.
You can also rent seabobs – a kind of handheld underwater jetski to cruise underwater. You could also use a seabob with scuba gear if you don't want to keep coming back up to the surface.
Parasailing
You can parasail in Cannes, enjoying the view of the yachts, the palm lined boulevards and the sparkling sea below.
Sailing & yachting in Cannes
Whether learning to sail in a dinghy, racing around the bay in a speedboat or chartering a luxury superyacht for a week, being on the water around Cannes is a very special experience. With the Cannes Islands just offshore and famous Saint Tropez an easy cruise away, there are many gorgeous places to drop anchor, dive overboard…or just enjoy the view as you float along the French Riviera.
Popular activities for those chartering out boats are onboard parties, sailing around the Cannes Islands or watching the spectacular fireworks displays that light up the coast of Cannes in summer. You can also charter a yacht to follow the fantastic sailing regattas along the Cannes coast, getting a close up view of the action.
Sailing
Those wishing to learn to sail in Cannes have several options, with sailing schools offering lessons year round, including specific classes for children. For experienced sailors wanting a thrilling experience, you can charter out a classic sailing yacht, or even become 'race crew' during one of the regattas. Contact a yacht broker for more details.
Day boat rental
There are plenty of day charter experiences. You can hire out a small dinghy or speedboat to explore this sensational coastline, or hire out a 'party boat' for group events catering to up to 100 guests for parties, weddings, corporate events etc.
Weekly yacht charter
For those with a healthy bank balance, a yacht charter on the French Riviera is one of life's great experiences. Prices vary immensely, starting at around 4,000 euros a week for a bareboat (without skipper), ranging right up to a million euro a week.
For information on chartering yachts and planning boat trips along the Riviera, see our guides and get in contact with a yacht broker.
For those who don't have the budget for boat rental, you can still get out on the water by taking one of the regular ferries running to the Cannes Islands. It's a nice trip over to the islands, taking about half an hour - and it's a cheap way to enjoy the view of the coast and get access to these glorious islands. You can also do tours of these islands.
Waterparks
The closest waterpark is the Aquasplash waterpark at Antibes/Biot, which is part of the larger Marineland complex. The Aquasplash centre has waterslides, kids pools, obstacle courses, Magic Rivers and Pirate's Island - while the Marineland Park has live animal shows to keep the kids entertained. There's also an Adventure Golf park and a Kid's Island, but be aware that all of these parks are separate entry (although special deals apply).
Further down the coast towards Saint Tropez, Sainte Maxime offers the newest of the Aqualand waterpark franchises. This is reportedly a park better suited to younger children; if you have teenagers they will likely be happier at the larger Aqualand Park at Frejus.
Watersports Safety Advice
The waters around Cannes get very busy, so whatever watersport you're doing, keep an eye out for others in the water as well as yacht tenders which are zipping around like crazy between the yachts and shore in the high summer.
Happy splashing!
Windsurfing & Kiteboarding
There are plenty of windsurfer rentals available along this stretch, and a couple of kiteboarding hire companies. As of October, the beaches are fairly deserted and the Mistral wind screams through, meaning the fun definitely picks up and the sails and kites fill the sky as windsurfers and kiteboarders skim across the water.
Kiteboarders in Cannes are lucky to have an official spot for kiteboarding at Palm Beach, as most of the Riviera closes its beaches to kitesurfers in the summertime due to the crowded waters. This kitesurfing spot is for those at intermediate level and is best in N/E, E, and S/E winds.
Just further along the coast at Mandelieu-la-Napoule is another beach kitesurfing spot – although the watersports centre offers lifts offshore to experienced riders. The kitesurfing conditions at Mandelieu are suited to intermediate riders and is best in E, S/E, S, and S/W winds.