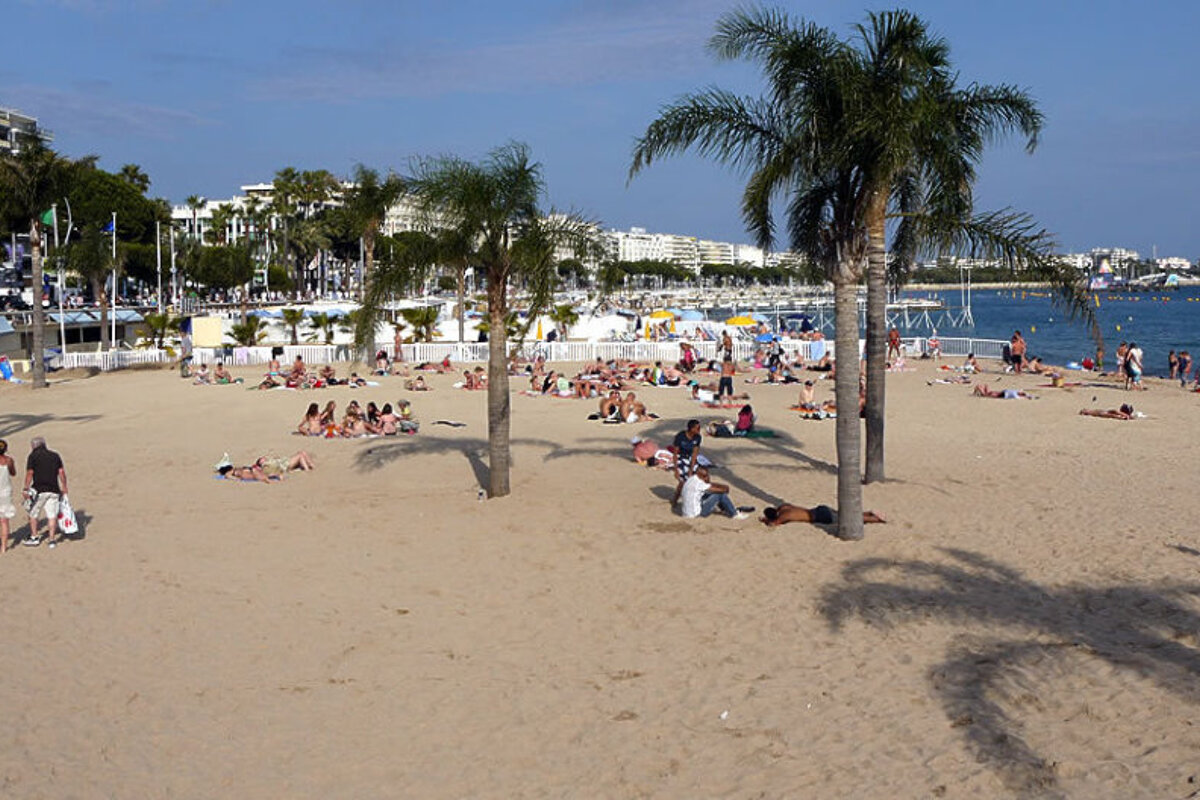 Plage Mace Beach, Cannes La Croisette
Public municipal beach within main hotel district of Cannes
Enjoy the calm waters and amazing views without paying through the roof for a private beach area!
This stretch of sandy beach is run by the municipality, meaning that there are certain services provided, including lockers, toilets, changing rooms and showers. In addition to the this the chairs and umbrellas are available at a reduced cost and a lifeguard is on duty. However, there are no snacks, food or alcoholic beverages allowed on the beach area, other than the ones you can buy from the nearby snack stand which sells soft drinks and sandwiches.
There is also a non-paying area right next to it where you can just lay down your towel and spend the day. There are also showers available here. During the famous Cannes Film Festival there are nightly film screenings here and the area is renamed 'Salle de Sable'.
Beach Bars & Beachclubs in Cannes
There are several private beach clubs nearby that serve up restaurant style meals and offer a relaxing bar atmosphere.
Setting & Location
Situated at the west end of a long cove that is sheltered from the wind, the sea here is shallow and makes it an excellent area for swimming. Within an easy walk from the Cannes train station, parking can be scarce in the area but there is paid parking at the Palais des Festivals or in several of the underground garages.
Water Safety & Clarity
There is a lifeguard on duty here during the summer months. There is also no need to worry about jellyfish in this part of the sea as they put up a netting that protects this beach from such creatures. Open from June to September from 08:30 until 18:30 daily, there are two sessions for those wishing to hire a chair or umbrella - morning from 08:30 to 13:30 and afternoon from 13:30 until 18:30, so you may want to consider that when planning your day.
Beach Quality
A wide section of golden sandy beach that has the occasional palm tree planted that offers a small amount of shade on those hot days.
Location
Cannes - La Croisette, Cannes