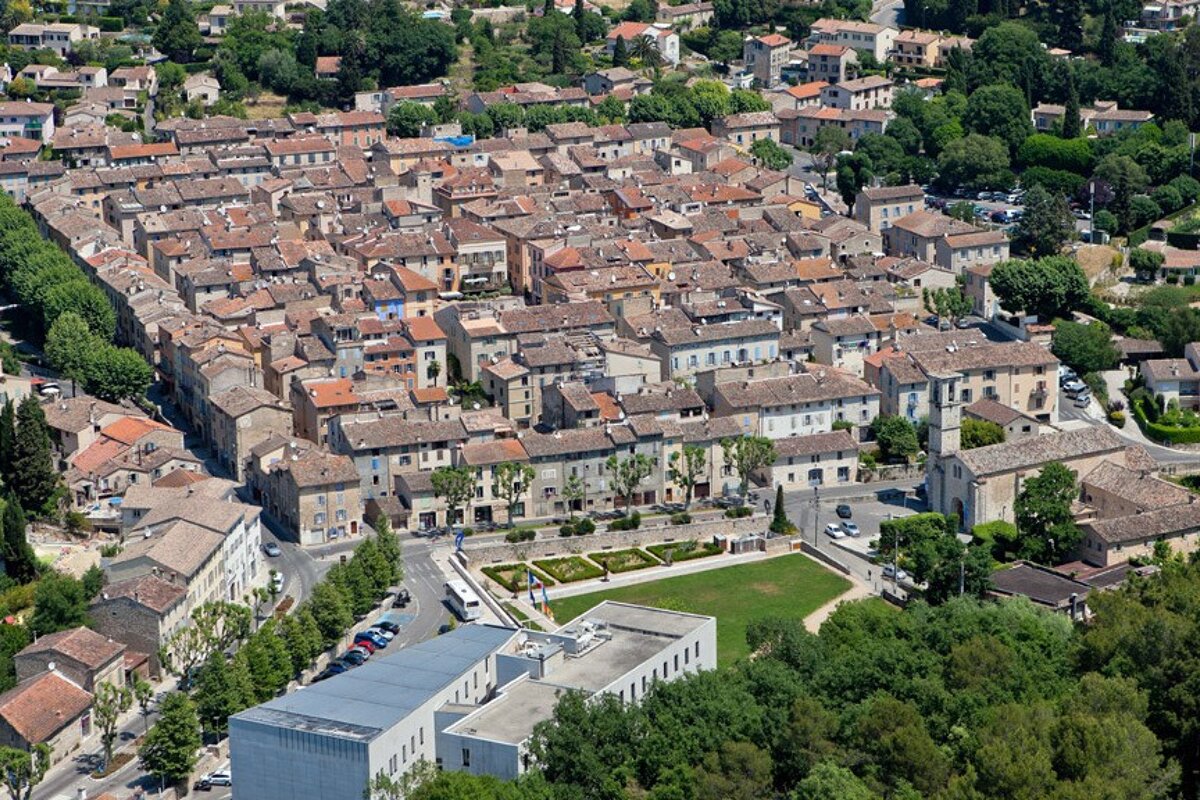 Valbonne, Alpes-Maritimes
Provençal town designed in the traditional Roman grid system
Situated along the Brague river, the town consists of two separate areas - the old town/village and the technology park of Sophia Antipolis.
The town was built in 1519, based on a grid Roman street plan - a refreshing change from the dark winding streets of many other Provençal villages. As with many towns along the Côte d'Azur excavations carried out in the surrounding hills bear witness to the presence of man going back an extremely long way, even to prehistoric times. While it has quite a lot of boutiques and chic cafes to keep the tourists and resident Brits occupied, it has the feel of a living village rather than being a tourist attraction.
The village is a charming 16th century village of cobbled streets, pastel buildings, colourful shutters and antique markets, all set up around a simply gorgeous central square filled with café tables in the sun. In extreme contrast the neighbouring technology park of Sophia Antipolis, built in the 1970's, has evolved into a highly recognised international community, with more than 1,000 companies hiring more than 25,000 people and specialising in research and development.
History & Culture in [locality]
Valbonne was built in 1519, based on a Roman street plan of a central square with streets running perpendicular to the square and each other. Before this it was a small area called Vallis Bona (good valley) which was formed around the monastery of the Abbey of St Mary (it went on to become the parish Church of Valbonne) which was built by Benedictine monks in the 13th century.
The abbey and surrounding villages were deserted in the middle ages, due to war, drought and the plague. The village known as Valbonne was then founded in 1519 by Augustin de Grimaldi, the bishop of Grasse and abbot of Leyrins. Construction of the Roman influenced grid system (10 streets crossing 10 streets) took over a century and was progressively added to but remained relatively unchanged until the middle of the 20th century.
Although the town and population size have increased dramatically since then, the centre has managed to remain much of its charm and is well preserved.
Sights & Attractions in [locality]
The 16th century Place des Arcades forms the centre of the village and is lined with lovely cafés and boutiques that you can easy spend a few hours wandering around. There's an ancient mill down by the river, and outside Valbonne there is the extraordinary Roman aqueduct traversing the landscape at Clausonne.
Other sights include the Chalaisan Abbey, built in the Cistercian style, and the church of Valbonne which dates from the 13th century.
The village market is on Fridays, with a second hand market on the first Sunday of every month. Local crafts are well represented, with artisan studios and art galleries displaying traditional pottery and glass works.
Events in [locality]
With such a rich and vibrant history the town cannot fail to host a wide range of events that reflect its heritage, from weekly markets with local produce, to craft specific markets selling pottery and glass products.
The main summer festival is the 'Rue(z) & Vous', Festival of Street Art. Celebrating arts and culture in the town and bringing the whole place to life with shows, music and exhibitions. This is normally hosted at the start of July.
In September they host the 'Fest'in Val' event which brings together and celebrates the variety of local communities in the area, plus the technological park is open to all!
October sees the International Festival of Salsa, showing once again this is a multi-national community.
Things to Do in [locality]
The low hills around Valbonne are golf country, and the Opio-Valbonne Golf Club lies just near the village. This par 73, 18-hole course is not particularly challenging but is set in an area of incredible natural beauty, with lovely views and a few tricky shots. There are several excellent courses within an easy drive of Valbonne; see our golfing pages for more details.
There are also numerous walking trails that are marked around the village countryside, where you'll also find many smart villas - home to the employees of the extensive Science Park in neighbouring Sophia Antipolis.
Dining in [locality]
There are plenty of restaurants and pavement cafés in this lovely town - including a Moroccan, Indian and Italian if you ever need a break from French cuisine (sounds crazy, but I assure you that it happens eventually.) Meanwhile, a slice of pizza, a pain bagnat or a fresh salad in the sun in one of the cafés in Place des Arcades is always a pleasure.
Hotels in [locality]
There are several chain hotels that serve business travellers who are visiting the technology park at Sophia Antipolis. There are also a couple of charming hotels in the area for holiday makers searching for something a bit more Provençal.
Directions
If taking the bus make sure yours is going to Valbonne village rather than Valbonne Sophia Antipolis, as some terminate early. Buses run from Antibes (10) from Nice (230), or from Cannes (630).
Location