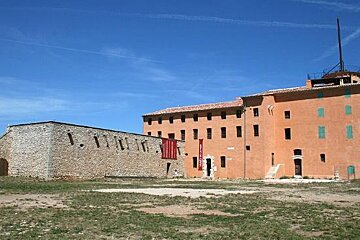 © Musee de la Mer, Ile Sainte-Marguerite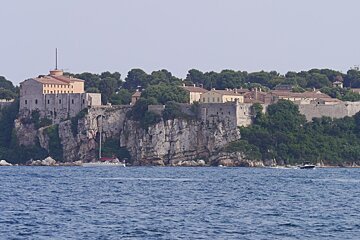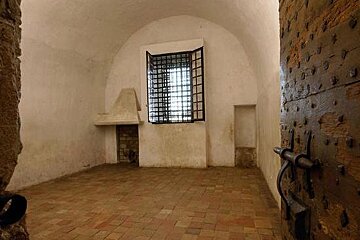 © Musee de la Mer, Ile Sainte-Marguerite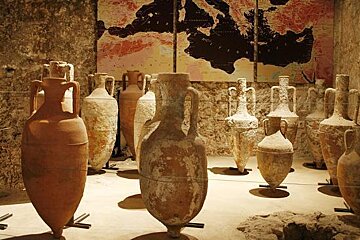 © Musee de la Mer, Ile Sainte-Marguerite
Musee de la Mer, Ile Sainte-Marguerite
A museum of underwater archeology & land
Situated within the Royal Fort on Ile Sainte-Marguerite in the Bay of Cannes, this museum is a place not only of learning but also of rich history.
This historical monument overlooks the sea and is home not only to the Musee de la Mer, but you can also visit the old state prison cell and the famous iron mask, where the mysterious prisoner was imprisoned for eleven years. In addition to this, you can see the Huguenot Memorial and murals by Jean Le Gac on the theme of the imprisoned artist.
On the first floor, you will find archaeological materials that were discovered in the sea and originate from Roman and Saracen wrecks. Tradelière Batéguier (ceramics, cargo of amphorae, glasses...) and fragments of Roman wall paintings from land excavation of Île Sainte-Marguerite are also on display. A space for temporary exhibitions opens on a wide overlooking the sea facing terrace Cannes coastline, the Southern Alps in Cap d'Antibes and the Esterel.
Watch out for
Dogs are allowed inside the museum but a word of warning... you must carry them at all times! So probably not good for any large breeds!
It also closes for lunch.
Who should go
A visit to this museum is a great addition to a day trip to the Island of Saint Marguerite. A good family museum it has plenty of factual information along side interactive educational exhibits. This is also a good place to visit as part of a school excursion and host specific children's workshops, and even host children's birthday parties.
Visitor comments
"This museum houses ancient Roman artefacts from the 1st century AD, which was very cool to see. The price of admission is free if you have a student ID. This is also where the prison museum is located. We enjoyed our visit!" - Trip Advisor
"Musée de la Mer has a nice collection of ancient jars found off the coast of Sainte Marguerite Island. There is the prison cell of the famous Man in the Iron Mask. If you can manage to get a guided tour, it is worth the information and historical facts you will learn about the Island and Cannes." - Trip Advisor
"This small museum housed in the Royal Fort on Sainte Marguerite Island offers interesting information and exhibits about the history of the site." - Trip Advisor
Directions
Access to the Island is only by boat, either on a tour or a local ferry. See our boat trips page for more details.
When to come
Opening times are:
October to March open Tuesday to Sunday from 10:30 to 13:15 and 14:15 to 16:45. Closed on Monday.

April & May open Tuesday to Sunday from 10:30 to 13:15 and !4:15 to 17:45. Closed on May1st.

June to September open every day from 10:00 until 17:45.
How to get passes
Tickets can be purchased at the venue when you arrive. Guided tours are also available during the summer months. Enquire in advance or at the venue on the day.
Tickets cost 6.50€. There is a 3€ reduced ticket (18 to 25 year old and locals). Free the first Sunday of the month from November to March for under 18s and students under 26.
Location