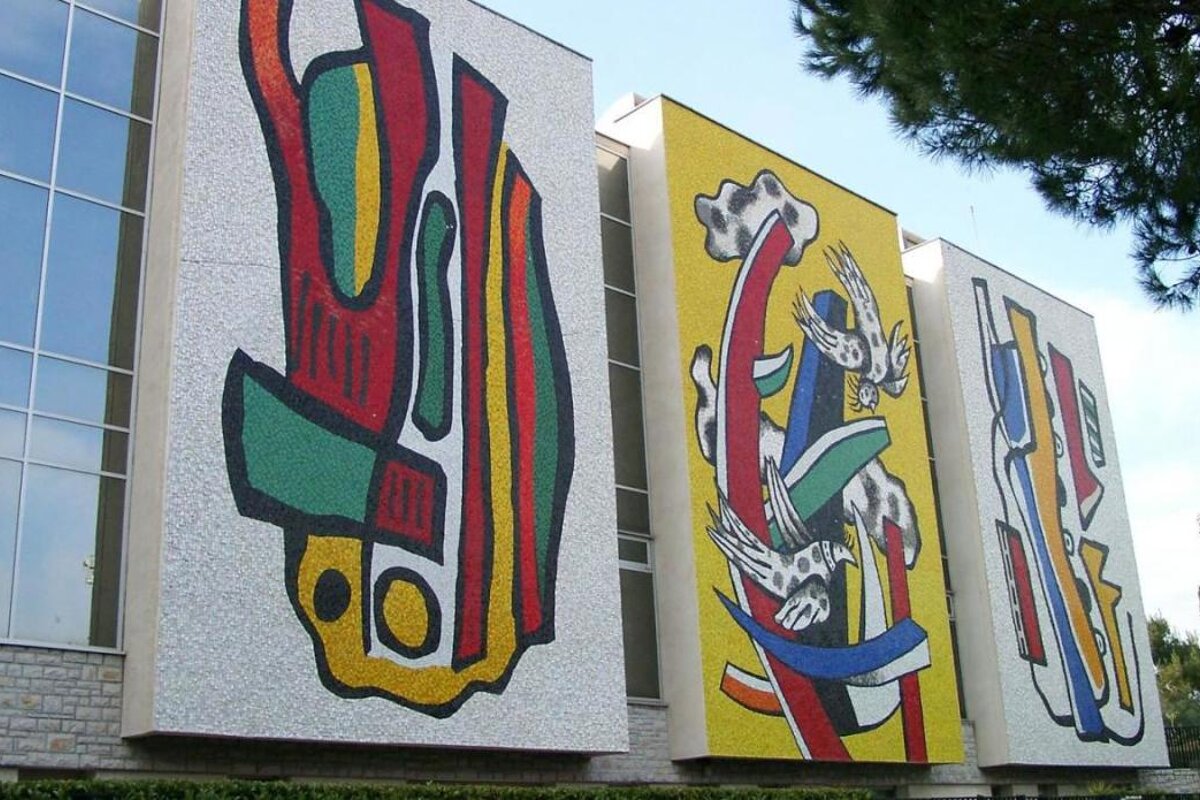 Musee Nationale de Fernand Leger, near Biot
Museum dedicated to the life and work of Fernand Léger
A few months before his death in 1955, artist Fernand Léger acquired a farmhouse at the foot of the village of Biot. It was here that his widow Nadia Leger, decided to create a museum to honour him and showcase his life's work.
On the evening of May 13, 1960, a unique event inaugurated the Fernand Léger Museum in Biot. More than five thousand guests flocked to the opening of the first monographic museum in the region. Under the patronage of Picasso, Braque and Chagall, the inauguration brought together celebrities from the literary and artistic world, film stars and politicians.

In 1987, the museum was the subject of an expansion, a new wing of the building with a double the exhibition area. The space was then modernised between 2004 and 2008, which allowed a better presentation of the permanent collection.
2010 was the 50th anniversary of the museum. After more than half a century of existence, the Fernand Léger National Museum is a place of reference for the work of this artist. Throughout the year a rich program of exhibitions, lectures, film screenings and educational workshops was offered to visitors.
The building itself incorporates a huge mosaic facade, originally planned by Léger for decorating the stadium in Hanover, which was never realised. Inside, you can see paintings, drawings, ceramics, mockups of his monumental projects, sculptures and films made by this colourful artist.
The audioguide is available in seven different languages.
Worth knowing
There is a small kiosk in the garden where you can have a drink or a snack. Open from May to October.
Visitor comments
"Our visit to the Fernand Leger museum was amazing. I hadn't realised that he was so prolific. The ceramics are fab, and all set out in a beautiful purpose built gallery. The outside mosaics are stunning, as are the stain glass windows. Will go again next time" - Trip Advisor
"One look at the building with its huge outdoor mosaic murals and you know that you're in for a treat. The museum displays paintings, ceramics, and mosaics across Leger's lifetime, and an excellent audio guide helps you understand Leger's thinking at the time. Our visit was both intellectually and artistically satisfying." - Trip Advisor
"The recently restored mural on the façade really sparkles in the sunlight. Kudos to this museum too for its informative "audioguide," available in several languages, which places Fernand Léger in context with other artists and explains how he changed his style over the years. A buvette on the museum grounds is a quiet spot for lunch or a cool drink." - Trip Advisor
When to come
Open 10:00-18:00 from May to October, and 10:00-17:00 from November to April. Closed on Tuesdays.
Contact
Address
Chemin du val de Pome
06410
Location
Biot, Cannes