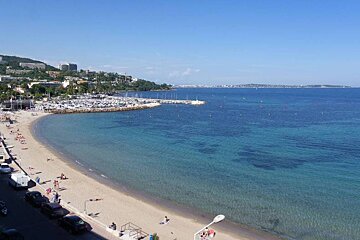 Le Moure Rouge Plage Beach, Gazagnaire
Free public beach with a local feel along the eastern coast
A long and narrow stretch of sand on Cannes' eastern most beach and coastal area. Quiet and relaxed, this beach is a favourite with locals as there are no large hotels nearby.
Although it's unmanaged and has no private beaches or beach clubs, it's still well maintained, clean and there are beach showers available.
Drinks and snacks are available from the well-known brasserie across the street, Le Moure Rouge. You'll also feel safe here since there is a first-aid station.
Beach Bars & Beachclubs in Cannes
There are a smattering of cafés and restaurants along the back of the beach, but for the best food you should head back towards the Promenade de la Croisette and the private beach clubs that line this stretch of water. They're popular for a reason.
Setting & Location
To one end of the beach, you'll find the Port Moure Rouge, hence the name of the beach.
At the other end, it meets the neighbouring public beach of Gazagnaire Plage.
Both beaches have a clear view of the horizon as they look out between the Cap d'Antibes and the island of Sainte-Marguerite.
Water Safety & Clarity
The water is clear and a beautiful azure blue colour. It remains shallow until quite far out so is good for a quick paddle or a bit of lap swimming. There are lifeguards and a first aid station here.
Beach Quality
Fine white sand, long but fairly narrow, this is a good beach for sunbathing and a bit of sand castle building closer to the water's edge.
Watersports Nearby
A watersports centre rents out paddleboards, windsurfing boards, catamarans and sea kayaks from June to September.
Directions
Parking along the beach can be difficult but it is worth circling around and heading along the side streets. The nearest bus stop is Esprit Violeton on the no.8 bus.
Location