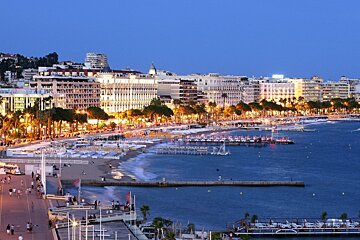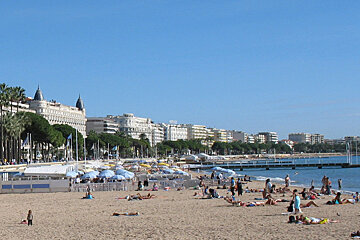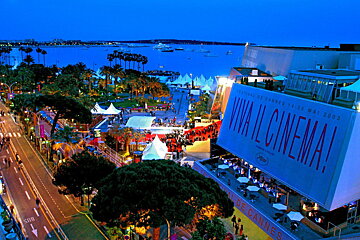 Promenade de la Croisette, Cannes
Iconic boulevard along the Mediterranean sea
The Promenade de la Croisette is the true heart of Cannes. Under the shade of pine and palm trees, this boardwalk stretches for over three kilometres. A great place to soak up the sun and the sea breeze while you check out the best luxury shops and hotels.
The Croisette promenade was born in the second half of the 19th century, although its current image owes more to the 1960s when it was renovated. Its name comes from the cross that once stood at the promontory between Cannes and the bay of Golfe-Juan, which attracted many pilgrims.
This wide pedestrianised walkway runs between the sandy beach and the coastal road, on which you'll find all the fancy hotels and posh boutiques. The French love to 'promenade' - you'll find romantic couples taking a stroll after a meal and chic French ladies walking their dogs with their husbands. La Croisette also has play areas for children at either end - a small funfair lies at the Palais des Festival end. You'll find many free events and activities such as music concerts here during the summer months. Plenty of bars and restaurants can be found along both sides - beach clubs on the beach, and swanky eateries on the shopping side.
Its fame comes mostly from the Palais des Festivals, where the Cannes Film Festival is hosted every year with a red carpet that reaches the boulevard. But you cannot leave Cannes without walking the Croisette and enjoying the beautiful views over the sea and Isle Sainte Marguerite. It is the best place to witness how this city came to be one of the luxury capitals of France. The street is dotted with luxury shops such as Chanel or Louis Vuitton, as well as five-star hotels like the Le Canberra Hotel, the Splendid Hotel, the iconic Carlton Hotel or the oldest one, Le Grand Hotel.
Of course, you can just take a seat on the Croisette itself - there are blue metal seats for this purpose, and you can position yourself under the palm tress to enjoy some shade on sunny days. It's fantastic for people watching, and for admiring the sports cars that glide along the boulevard.
This promenade is also the gate to some of Cannes best beaches, both public ones such as Plage Mace or Plage du Casino, and private like the Croisette Beach, or the chic Baoli Beach. The exclusive Pierre Canto Marina, located at the far end of the boardwalk, is where all the A-list stars drop anchor during the Film Festival, while the smaller Port de la Pointe Croisette, a marina for sailing boats, stands at the tip of the boulevard.
Check out our webcam at La Croisette to see what is going on live at Cannes' most famous spot.
Visitor comments
"See and be seen strolling along the Croisette where all the famous Palace hotels are situated. There are luxury shops to browse in, and for the less affluent enjoy the stunning rose gardens towards Port Canto and sit and enjoy the views whilst eating an ice cream... perfect!" - Trip Advisor
"Always plenty to see from extravagant hotels to stylish shops and people, not to mention the opulent ocean going boats!" - Trip Advisor
"I just love this walk along the promenade with beautiful views of the sea the mountains the beaches the hotels the boats and the beautiful people! Must be one of the best promenade walks in the world and you can even stop and watch chess being played and partake in Italian ice cream or French crepes. Roundabouts and arcades for children too and play areas... wonderful!!" - Trip Advisor
Location