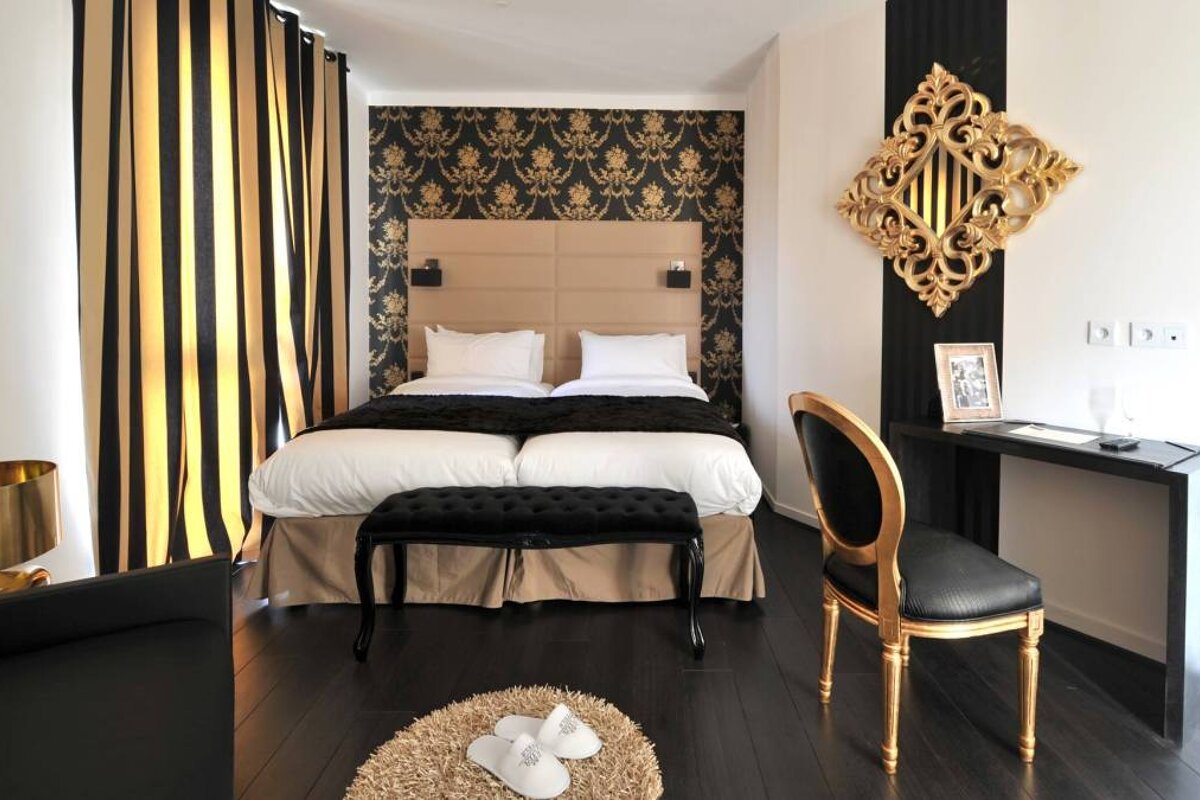 © Hotel La Villa Cannes Croisette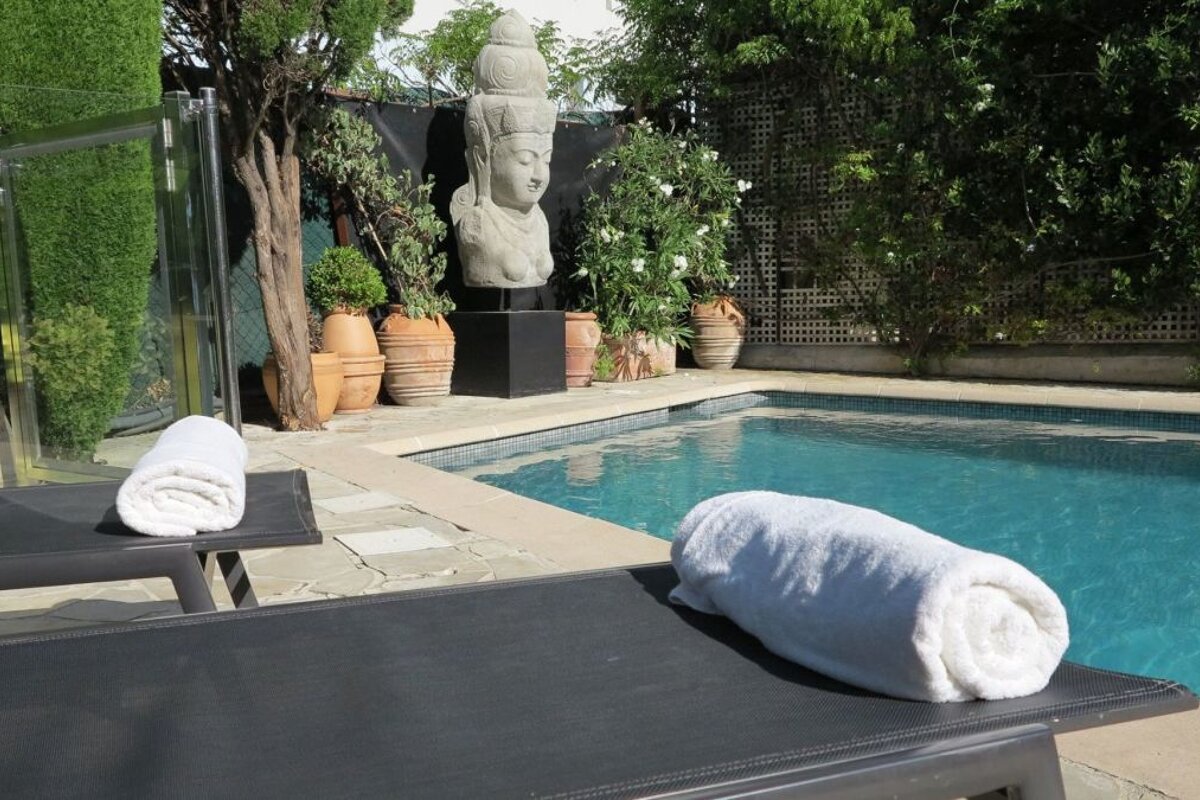 © Hotel La Villa Cannes Croisette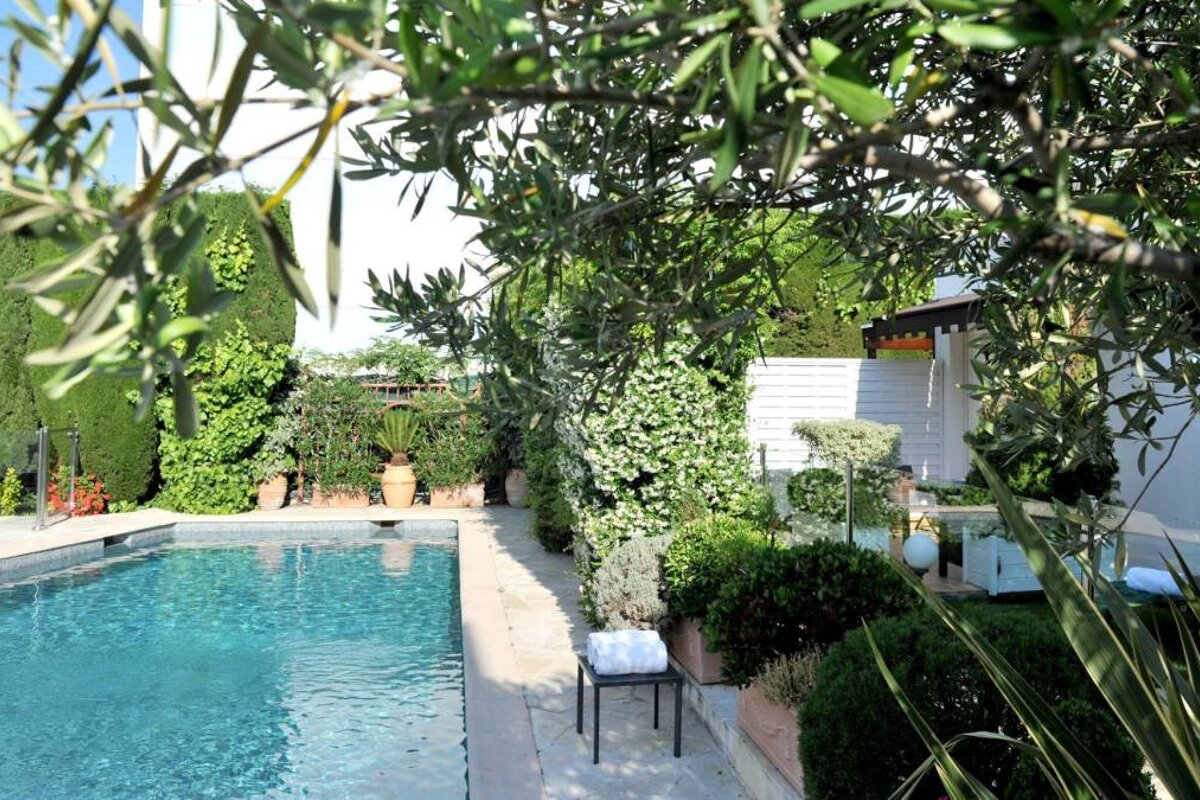 © Hotel La Villa Cannes Croisette
La Villa Cannes Croisette Hotel, Cannes
Located 50m from the beaches of La Croisette
A 20-minute walk from the Palais des Festivals, the hotel is in the heart of the city of Cannes. Gold, black, fur and cinema have all influenced the new baroque-style refined decor of the 30 guest rooms.
From your boudoir, fit for a star, to the Mediterranean flowered garden, you will enjoy the luxury that this hotel offers in the centre of Cannes. The outdoor heated pool is open from April to October and your breakfast is served here, under the trees. In the afternoon or evening, you can also indulge in a glass of champagne in the sumptuous lounge bar.
Stripes and arabesques on the walls and curtains, chic parquet, glitzy mirrors and Louis XVI armchairs, the 30 guest rooms are elegantly decorated in gold and colours of the night. Quality materials, such as leather and fur, give the rooms an aesthetic glamour and glittering style reminiscent of Hollywood. The hotel offers air-conditioning as standard, soundproof rooms as wells as family and disabled accessible rooms.
Each guest room is equipped with flat screen TV, free Wi-Fi, safe, minibar and a contemporary and private bathroom, they also feature queen to king size beds for your greatest comfort.
Reviews
359 verified reviews by
The Pool
The outdoor swimming pool is heated between April to October for your comfort. It is surrounded by a Mediterranean garden and has comfortable sun loungers and towels. In season, breakfast will be served here by the swimming pool, in the shade of the trees,
The Bar
The elegant bar area is perfect for a pre-sinner cocktail or a night cap.
Visitor comments
"The rooms were richly appointed with soft towels, luxurious bathrobes, and great colour schemes. The bathtub had modern fixtures and the bathroom mirror had a beautiful gold-finished frame." - Trip Advisor
"Nice hotel, very close to the Croisette but a little further from the very centre of the city. Rooms were clean and personalized, with almost no noise. " - Trip Advisor
"A very positive experience all round. Cannes was lovely, and whilst the location is a little away from the action it is all very comfortable" - Trip Advisor
Contact
Address
8 Traverse Alexandre III
06400
Location
Cannes, Cannes