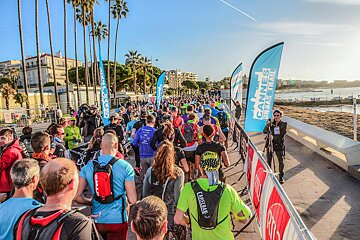 Cannes Urban Trail, Cannes
Cannes Urban Trail (CUT) event between snow-capped mountains and the bay of Cannes
Discover the most iconic areas of the city and its surrounding area while participating in running races.
There are four routes to choose from. The longest is Le Grand Cannois (27km, 500m D+) which goes through the streets of Cannes as well as some surrounding trails. There is also the Petit Cannois (14km, 250m D+), the Cannes Discovery Run (8km, 100m D+), and a Kids 1km Urban Trail.
Starting at the Palais des Festivals, the routes take in the beach, paths, stairs, roads, you name it - you'll run on it. Expect unbeatable views of the Lerins Islands, the Massif de l'Esterel and the Mediterranean sea.
You can sign up online for this race, click on the web link.
Watch this
Venue
Cannes city centre and the surrounding area.
Location