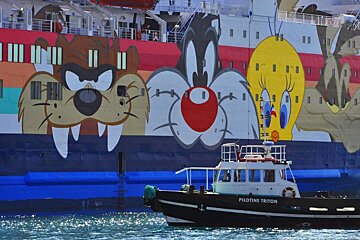 Moby Lines Ferries, Nice
Regular ferry services from the port of Nice to Corsica
Moby Lines offers ferry services between the islands and mainland of Italy and the south of France. The most recent addition to their routes is a ferry from Nice to Bastia in Corsica.
MOBY Lines ferries are the most comfortable and convenient way to get to Sardinia, Corsica or Elba Island, Sicily and Tremiti on dozens of routes.
With a capacity of 1400 passengers the ferry 'Moby Zaza' has an obvious presence in the port of Nice with its Looney Toons logo. The route between Nice nad Bastia takes approximately 7.5hrs during the day or if you choose a night time crossing then it will be around 9hrs.
The crossing is operated throughout the year and is a new route for 2016.