Quintessential to Quirky, Cannes Hotels for any Budget
Our pick of some of the best hotels for summer 2016
About
This Mediterranean city of grand Art Deco hotels and palm-lined boulevards has a global reputation for glamour due to its glittering film festival, but despite its well-deserved image of celebrity sparkle and superyachts, it is definitely open for business when it comes to luxury accommodation.
Of course, Cannes does have an outrageous number of hotels catering to the jet-set, with an astonishing six hotels receiving the ultimate five star rating, among them some of Europe's finest establishments.
Cannes also offers a staggering 23 four star hotels, and it's this high level of competition in this bracket that will often bring you some surprisingly attractive deals- as long as you avoid the peak seasons of the Film Festival and high summer, when prices skyrocket in a less-than-amusing manner.
Five Star Hotels in Cannes
As you'd expect, these very plush hotels come with a hefty price tag, but when you're having a dip in the rooftop pool or drinking a dirty martini in a piano bar, you probably won't mind all that much.
Carlton Intercontinental
Oh, if the walls could talk. The ornate façade of this vast Art Deco beauty rises over the Croisette like a grand old dame- one who still remembers the swinging jazz parties of the Belle Epoque, the dark wartime days of the German occupation, and the steady stream of movie stars, royalty and world-shakers who have walked through its doors into the opulent lobby. The Carlton Intercontinental hotel famously features in the iconic 1955 film To Catch a Thief with Carey Grant and (soon-to-be-princess) Grace Kelly. The film star legacy has carried through to today, where it is still considered the place to stay during the Cannes Film Festival.
The décor plays on this legacy of classic French glamour from days gone by, with French doors leading onto sea-view terraces as well as its piece de resistance: a truly grandiose lobby of soaring pillars and white marble. A mere stone's throw from the Palais des Festivals and every flagship boutique you could throw a Hermes handbag at.
Why stay here? The Carlton Intercontinental is where Hollywood glamour meets the French Riviera… and finds itself entirely at home. This is proper 'golden age' stuff- and those looking for a modern 21st century vibe should probably look elsewhere.
5 Seas Hotel
For those seeking a more modern kind of Cannes glamour, the Five Seas Hotel delivers. With 5 stars under its belt, a lavish spa, and a coveted Michelin star granted to its rooftop restaurant, this luxurious boutique hotel speaks to a clientele who may find the refined air of the Carlton Intercontinental a wee bit stuffy. Perched on the Croisette with stunning views of the superyacht marina and the jumbled roofs of the old town, 5 Seas Hotel is the place to dress up and stroll up to the rooftop restaurant, where you can dine in the warm summer air by the illuminated infinity pool. With the world pastry champion in the kitchen, you may want to spend a while here, as you gorge on award-winning gastronomy and 'oh my god I've never tasted anything like this' desserts.
Back inside, the décor of the Five Seas hotel is designed to take you on a journey around the globe, with each space defined by certain pieces of art and furniture sourced from five continents.
Why stay here? This hotel is bang up to date and has a deeply relaxing feeling of decadent glamour about it, while also having personality due to its unique design. This is a rising star in the Cannes accommodation scene.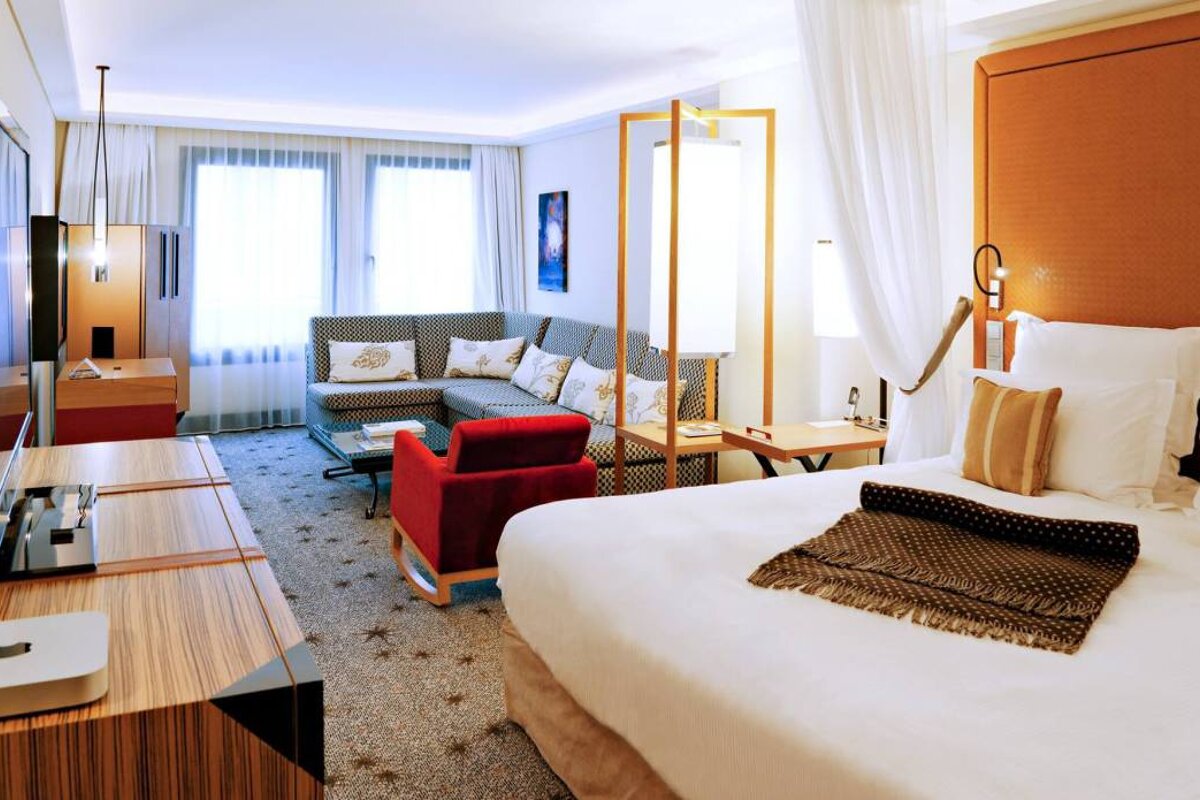 ---
Four Star Hotels in Cannes
There are plenty of very good 4 star hotels in Cannes, yet the two that appear on this list have something special: an exceedingly happy clientele and a sense of history that is both ever-so-slightly faded and wonderfully atmospheric. Even better, you can find great off-season rates at these wonderful properties, and a wonderful welcome.
Hotel Le Cavendish
At the time of writing, Hotel Le Cavendish occupies number 2 spot on Trip Advisor for all of the hotels in Cannes. That's quite a feat in a town so full of hotels offering all sorts of splendid things, yet it's easy to see why this hotel grabs at the heart of so many who stay here. For this old girl has class.
It starts with the belle epoque façade, where wrought-iron balconies curve around a narrow rotunda. These rotunda rooms are without question the most superior in the hotel, with a wonderful sense of romance and great views. Inside, you'll find a cosy, luxurious setting of dark wood and a spiral staircase made of prized Carrera marble.
Another great feature of this hotel is that each evening you can congregate in the lounge to mingle and enjoy the excellent free drinks and snacks put on (yes, free) by the hotel. So civilised and so utterly 'of a time', that you can't help but we swept along and feel that you should be 'dressing for dinner'. The service here is just splendid.
Why stay here? This gorgeous boutique hotel has definitely escaped the mass homogenisation- the sameness- that plagues so many modern hotels, and long may she continue to do so. If you enjoy a sense of time travel to an age of bygone elegance then this is the place for you.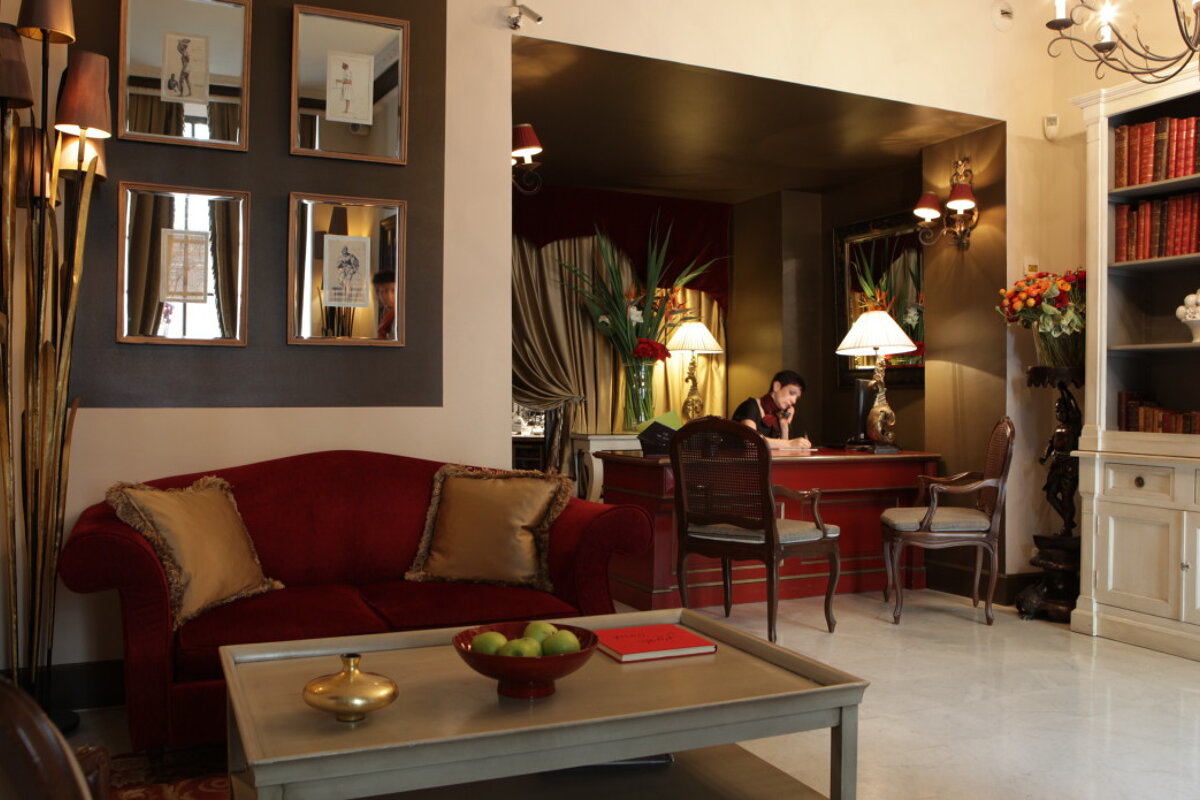 Hotel Splendid
As the oldest hotel in Cannes, the Hotel Splendid is positively dripping in local history and is just one in the long procession of Art Deco hotels that grace Cannes' waterfront. Lined with balconies, contented guests can sit and eat croissants, look out to sea, marvel at the huge yachts and watch the crowds bustling along the boulevard far below. Quite wonderfully, guests have now been sitting on these balconies for 140 years- since long before Cannes was a summertime resort, since long before the Cannes Film Festival arrived with its red carpet and flashing bulbs- and long before superyachts even existed; when only horses and carriages passed along the sandy Croisette. Many things have changed in Cannes, but the Hotel Splendid has remained.
The rooms are quite lovely, unpretentious and with great views either over Le Suquet (the Old Town) or the sea. Another great feature of this hotel is the private beach.
Why stay here? It's not over the top luxury, and it's probably got its 4 stars largely by virtue of its location, history, and wonderful view. But are they things to argue with? If you're the kind of hotel guest who appreciates history and good service but doesn't need every frippery, then this hotel is a wonderful place and you'll almost certainly have a jolly good time.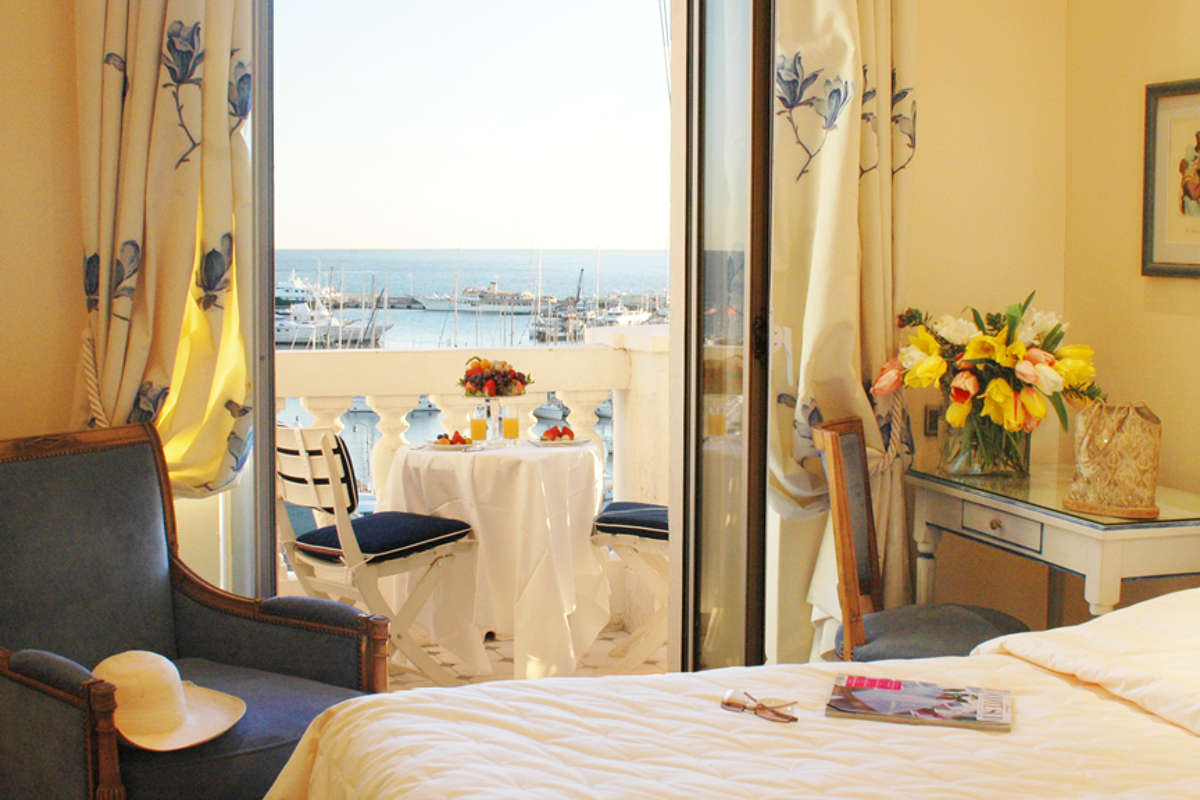 ---
Three Star Hotel in Cannes
It can sometimes be a bit of a bruising step down from four star properties to a three star, but that doesn't have to be the case. There are some lovely three star properties in Cannes offering bright and friendly accommodations, good inclusive breakfasts and a charming Provencal feel. You might even get slippers.
Hotel de Provence
A firm favourite of nearly everyone visiting Cannes, according to the reviews. Hotel de Provence is one of those tall and narrow Provencal buildings rising high over a lush garden, this charming apricot and blue-shutter boutique hotel is decorated in a contemporary Provencal style.
Renovated very recently, it is immaculately clean, with modern bathrooms and bright, airy rooms. Many rooms offer French doors opening up onto shady balconies overlooking the garden, while you can choose to eat breakfast either in the cheerful Provencal breakfast room or at a table in the garden under the palms.
Why stay here? Boasting an excellent location just off the Croisette, this three star hotel makes you feel that there really should be a 3 and a half rating available, or even a 3 and three quarters. It's a charming place to have a holiday, and it is really setting the bar at present for 3 star hotels in Cannes.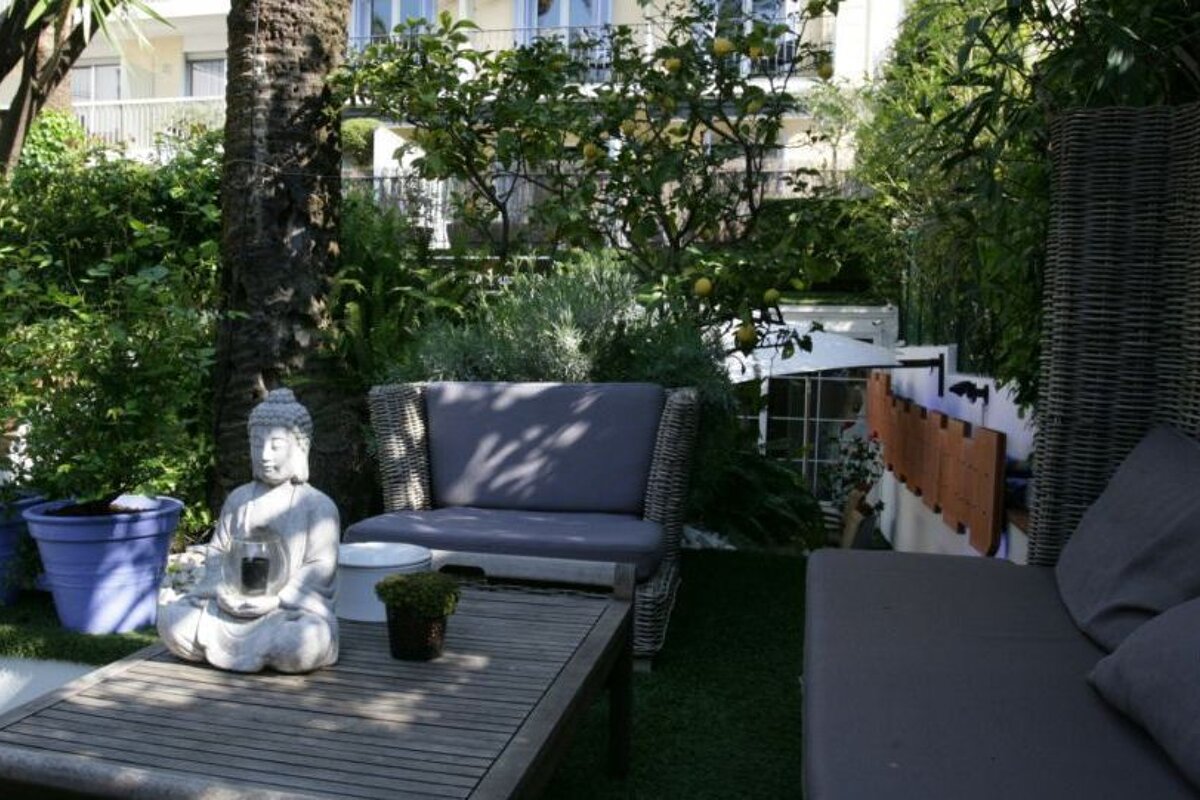 Best Two Star Hotel in Cannes
There are, of course, two types of 2-star hotel. There's the basic four-walls-and-a-cramped-ensuite approach that is thoroughly lacking in personality, which has no place on this kind of list. (Or on the planet, preferably.) Then there's the other, far superior kind- the kind of place where a local has transformed their home into a hotel- with all the colour and care that that implies.
Ideal Sejour
This is a classic white-painted Provencal villa with French doors and pale green shutters opening up onto a tranquil garden. The Ideal Sejour Hotel is owned by a woman whose obsession for books led her to transform her private library into a hotel- and each room is named and decorated for one of her favourite books or authors, from Jules Verne to LA Confidential. This is a hotel for the somewhat quirky at heart, with each room having its own distinct literary and visual personality. Each morning you'll be greeted by the friendly staff with fresh orange juice and flaky, buttery home-made croissants. Long afternoons can pass lounging on sofas in the exotic, fragrant garden, before enjoying a cocktail in the bar and retiring to the soft couches in the private library to curl up and read one of the thousands of books lining the walls.
Why stay here? The secret of this hotel in particular is that it was only narrowly pushed off the three star list quite recently, meaning it is of very high quality in its category. This homely, affordable and serene hotel is a true retreat from the bustling streets and glitter of Cannes.
---
Of course, this list is just scratching the surface of the wonderful hotels of this waterfront city, and I feel quite remiss for not including some more. But this is a good a beginning as any, and the rest of the Cannes experience is now yours to discover. Please let us know what your favourite Cannes hotels are and we'll try them out for our next review.