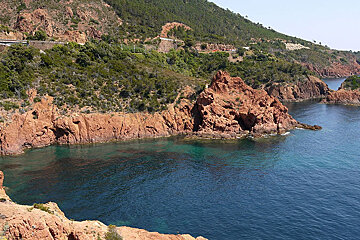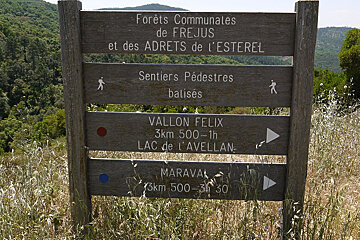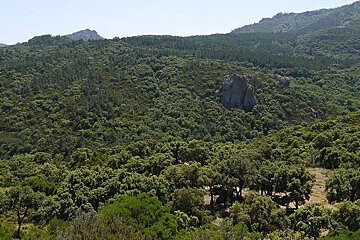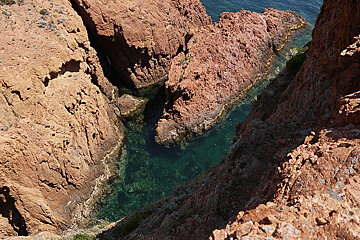 L'Esterel National Park
Rugged landscape of red rock stretching from Provence to the coastline
A volcanic range of mountains covering around 32,000 hectares and stretching between Saint Raphael and Theoule-sur-Mer.
The protected National Park area covers an area of 14,000 hectares where you can get both guided or self guided tours to learn more about the area. The cliffs and mountains rise steeply from the coast, the deep red colour of the rock comes from Rhyolite, an igneous rock formed in the Paleozoic era. If you decide to take a walk to one of the higher peaks then each has its own attractions, and most have impressive views stretching far out along the coast and across the Mediterranean.
There is a coastal road which follows the southern edge of l'Esterel National Park and could be considered to one of the most scenic coast roads in France. Small coves are formed as the cliffs reach the sea, with more jagged rocks emerging dramatically from the sea.
Watch out for
With much of the Massif d'Esterel itself, being thick with forest there is a very real danger of wildfires and all types of outdoor fire are prohibited year round.
Who should go
Vehicles are prohibited in the park during the hours of 09:00 and 18:00 which makes it a popular area for walkers, runners, mountain bikers and horse riders.
There are plenty of walking trails to follow and signs to keep you from getting lost. Many of them will have distance and time on them to give you an idea of how far or how difficult a walk may be. In addition to the many walking paths there are numerous biking trails too. Mostly unmarked, but as the sport gains popularity you should easily to be able to spot the areas that are more popular with mountain bikers! As there are roads and paths throughout the area it is also suitable for road and touring bikes.
Visitor comments
"Wild and peaceful - great for walking,hiking, boar spotting, cycling and climbing (I imagine!). The deep red rocks are stunning against the greenery. Lots of loose rocks around so you must wear good footwear." - Trip Advisor
"Great place for hiking with several different walks. Fantastic views on the scenery over the sea or the mountains." - Trip Advisor
"The three main colours of these mountains. Orange rocks, blue sky and green for nature. Very beautiful, need to walk to discover secret place about history or secret nature and small rivers or lakes. If lucky, can see deer otherwise, boars" - Trip Advisor
How to book
Alongside the guided or self-tours that are available year round, there are also walks available at daytime and at twilight as well. You can book these at the Tourist Office of Saint-Raphaël and at the Tourist Office of Agay.
Location