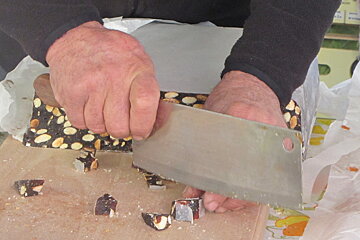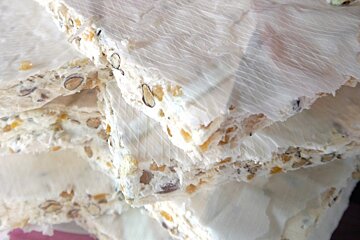 Nougat
A traditional local confectionery made with almonds & honey
Nougat has been made in this region since the 17th century when almond trees were first planted in the area, in the northern part of Provence.
The sweet & sticky mix of almonds and honey remain hugely popular. You can find a nougat stall in almost every Provencal style market throughout Cannes...and even better, you will find that most of them will give you a little taste before you buy!
The products history is as interesting as it's delicious flavour! The story goes that when they were on the road coming back from Spain on horseback, Louis, Duke of Bourgonne, and Charles, Duke of Berry stopped in Montélimar. They were offered one quintal of Nougat (equivalent to 95 lbs). From this point on, the Nougat has always been considered as a gift. But above all the success of this sweet treat is due to Montélimar's mayor, Emile Loubet, who governed from 1899 to 1906. During this period of time, he undertook a huge promoting campaign for the Nougat. He offered nougats to all crowned persons in France, as well as to foreign Presidents coming to the Elysée Palace (the French president's official residence). Through these efforts, the reputation became international.
Location