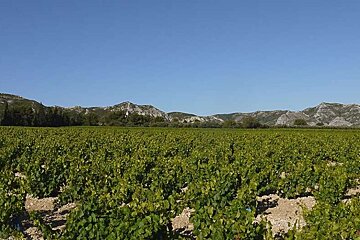 Wine from Les Baux Vineyards
85% organic wine produced in the Alpilles region of Provence
This small wine growing region is leading the way in the production of organic wine (85% is produced biodynamically, and the vitners are pushing for the figure to be 100%). There are about 15 estates that produce mainly red wines (syrah, cabernet sauvignon, grenache & mourvedre), and some white & rose wines (grenache blanc, roussanne). The terroir produces elegant & rich red wine in the more rustic tradition which goes wonderfully well with food. The local wine is celebrated in an annual festival held in May.
Regional wines
Les Baux is renowned for its excellent quality red wines, unusually for Provence, over 75% of the wine produced here is red. They are made with the Grenache, Syrah and Mourvedre grapes and have a deep red/purple colour. They are powerful wines thanks to the warm climate, and you can expect notes of black fruits and mountain herbs. The red wine is often aged in oak, making it possible to lay down for a up to 10 years.
The rose wine makes up the rest of the appellation. As you may expect, they are pale pink in colour, have notes of red berries with some floral and mineral aromas.
Notable vineyards
Mas de la Dame produces both wines and olive oils. The vineyard lies at the foot of the village of Les Baux de Provence and you can try their wines and olive oils throughout the year.
Mas Sainte Berthe offers signposted walks through their vineyard with information points telling you about the grapes and the wine making process. The cellar is open every day, and you can also buy olive related produce.
You can learn how to taste wine at the Domaine Dalmeran, in addition to simply purchasing it. Cooking lessons can also be booked, no doubt using olive oil that is also produced on the estate. The vineyard lies to the west of St Remy.
Chateau Romanin offers high quality wines and a walking trail through the vineyards. You can expect to pay a small sum for tastings. It is located to the east of St Remy de Provence.
All these vineyards are open throughout the year and tend to be closed on Sundays and public holidays. It is always best to contact the vineyard before your visit to make sure they can accommodate you, particularly if you would like to take a tour. Groups are catered for by appointment.
Location