© Radisson Blu 1835 Hotel & Thalasso
© Radisson Blu 1835 Hotel & Spa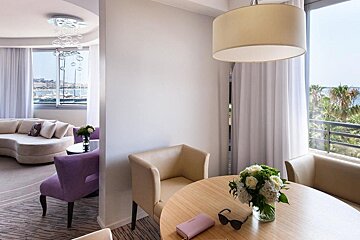 © Radisson Blu 1835 Hotel & Thalasso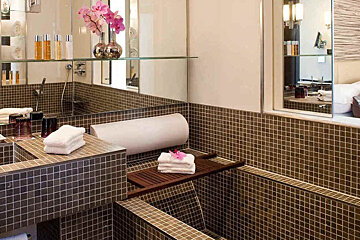 © Radisson Blu 1835 Hotel & Thalasso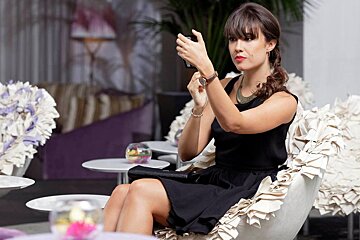 © Radisson Blu 1835 Hotel & Thalasso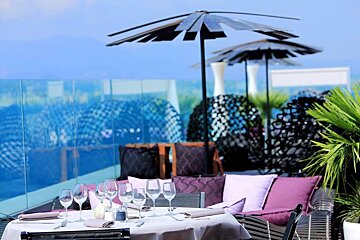 © Radisson Blu 1835 Hotel & Thalasso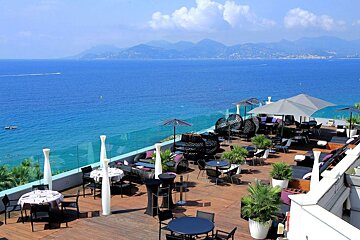 © Radisson Blu 1835 Hotel & Thalasso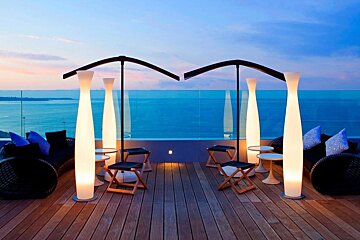 © Radisson Blu 1835 Hotel & Thalasso
Blu 1835 Hotel & Thalasso, Cannes
Next to the city's charming old quarter & in front of the port of Cannes
This hotel offers proximity to the area's top attractions, including the Palais des Festivals et des Congrès, the cobblestone streets that lead to boutiques and cafés, and the white beach of the Cannes Croisette.
Nestled in front of the port of Cannes, the Radisson Blu 1835 Hotel & Thalasso provides stylish accommodation with unforgettable views of the Mediterranean Sea. Guests can look out over the Old Harbour and La Croisette from some of the 134 guest rooms.
While savouring Mediterranean cuisine at the hotel's own Le 360 restaurant, you can relish panoramic scenes of the turquoise water from the most beautiful rooftop of the city. The exquisite Les Thermes Marins de Cannes, the Spa & Thalasso, serves as a decadent urban oasis spanning over 2,700 square metres. In this retreat, you can relax in the indoor and outdoor heated seawater swimming pool, Turkish bath, sauna or sea view Jacuzzi before indulging in a healthy snack at 'Le Bio' restaurant.
In addition, this premium Cannes hotel features five state-of-the-art meeting rooms spanning over 500 square metres in total.
Sleek and sophisticated, the rooms and suites feature views of the city, hotel gardens, Old Harbour or Mediterranean. A soothing neutral colour palette creates a tranquil ambience, while comforts like light-therapy alarm clocks and free high-speed, wireless internet ensure a relaxing stay .
The hotel's other facilities include private parking, beach access, a panoramic restaurant, bar and terrace, indoor-outdoor heated seawater swimming pool, sauna, hammam, fitness room, Japanese bath and multi-sensory shower.
Reviews
1051 verified reviews by
"Good"
Good to know
"Hotel could use some updating"
"Poor"
Good to know
"Wellness & sports facilities could be improved"
"Fair"
Good to know
"Good restaurants & bars in the area"
"Entrance area is not particularly attractive"
"Good"
Good to know
"Housekeeping can be a problem"
"Hotel facilities could use a good clean"
"Fair"
Good to know
"Value for money could be better"
"Could use a good cleaning"
"Wellness & sports facilities could be improved"
Who should go
This is a great hotel for business travellers as well as families. All needs are considered and catered for by hotel staff.
The pool
There is an outdoor seawater swimming pool as well as an indoor heated freshwater pool at the Spa.
The Bar
The panoramic lounge bar on the top floor offers a 360 degree view over tot he Lerins Islands, Esterel Massif and the Bay of Cannes. Open daily from 10:00 until 23:00.
The Restaurant
The hotel's rooftop is home to Le 360, a distinctive restaurant with panoramic views of the bay, Old Town and Esterel hills. The head chef welcomes you to sample culinary delights in this memorable locale.
A haven of replenishment, Restaurant Le Bio stays true to its thalasso setting, serving cuisine designed to restore nutrients and eliminate toxins in front of the swimming pool. For a fun alternative to the traditional meal, you can opt for Le Bio's special O' Bento Box concept.
Visitor comments
"The most Beautiful hotel location, spa & staff. Ideal location in Cannes. Enjoyed running along beach each day." - Trip Advisor
"We love this hotel as much as we love Cannes, once again a wonderful stay at the Radisson. I would recommend this hotel to anyone looking for a relaxing stay." - Trip Advisor
"Room was nice, really liked the bathroom, bidet and nice shower. Great view of the marina. Breakfast in the hotel was included and had good options. Definitely would go back." - Trip Advisor
Check-out Arrangements
Check out from Radisson Blu hotels as late as 18:00 (subject to availability) instead of the normal check-out time at no extra cost. For guests in a rush, they offer Express Check-Out to save valuable time and ensure an efficient and accurate check-out by offering the options of sending your invoice by email, mail or a quick pick-up at the reception desk.
Directions
By plane - 1 hr 20-min flight from Paris to Nice Airport, then a 30-min drive to the hotel; all major European cities connected to the Nice Airport
By train - 5-hr Paris-Cannes ride, with railway station a 10-min walk from the hotel
By car - 2-hr drive from Marseille by A8; A7 from Lyon, then A8, exit 42 Mougins, Cannes, Grasse
The hotel is near a helicopter landing pad, the bus station and an airport shuttle drop-off.
Location