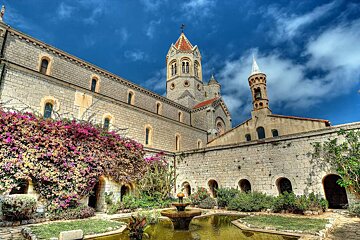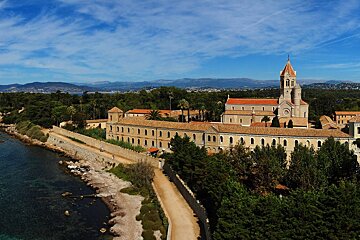 Abbaye de Lerins Monastery (Lerins Abbey), Ile Saint-Honorat
Visit this charming 5th century abbey which is still a working monastery
Located on the island of Saint Honorat, the abbey is still occupied by monks. It's possible to receive a guided tour and re-charge your spiritual batteries.
The present community of monks have inhabited the island since the arrival of the first Cistercian monks from Senanque (near Avignon) in 1869.
There are many ancient chapels surrounding the monastery, plus stunning flora and fauna for you to stroll in and around whilst you discover the beauty of the site. You can visit the historic monument of the fortified monastery and discover the ancient chapels dotted around the perimeter of the island. The island itself is maintained, cultivated and ecologically preserved.
It's also possible to participate with the monastic community and, although there are parts not accessible to the public, the church is still open. If you want to visit for longer to really recharge, enjoy the silence, and pray... there is the opportunity to stay on the island, in the hospitality of the Abbey.
Worth knowing
The vineyards of the Abbaye, where the monks produce wines from a rigorous selection of the best grape varieties: Pinot Noir, Chardonnay, Mourvèdre, Syrah. The careful work of the monks allows the production of seven great vintages: St Salonius, St Lambert, St Césaire, St Sauveur, St Cyprien, St Honorat and St Pierre which are recognised as one the best and finest of French wines.
Visitor comments
"Just a short boat journey or ferry ride from Cannes. The island is unspoilt and is such a relaxing place to walk around & visit the old fortified ruin by the working monastery" - Trip Advisor
"Lovely walk around this small island with the vineyards. A must see, thoroughly enjoyed the walk, little shop with the local made alcohol and teas. Very friendly and welcoming and the water is so clear!!" - Trip Advisor
"The Ile St Honorat where the Abbey is located is a beautiful and tranquil island with 16th century Abbey. Roam around the beautiful woods, enjoy the view of the vineyards, climb up to the fortified tower, visit the church still in use, and end your tour at La Tonnell restaurant. Make a reservation if you are going in high season -- the food is locally produced and the wines made by the monks. The view is of St Margarite island and back to Cannes. Or take your own picnic and eat on one of the walls overlooking the sea. It was a little difficult to find the ferry -- but head towards the Radisson Hotel and you'll see the signs." - Trip Advisor
When to come
Boats depart from Cannes approximately every hour, check locally for times and prices.
Location