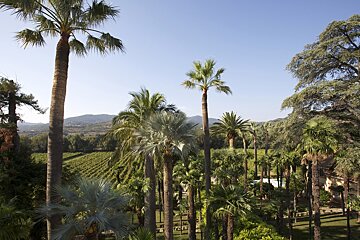 Chateau de Palayson, Frejus
Internationally recognised estate in Roquebrune sur Argens
Their goal has consistently been to produce a high quality red wine based on a Syrah-Cabernet Sauvignon blend that makes it comparable to a cross between a Bordeaux and a Rhône style wine. There is also a full bodied rosé wine and one white.
The estate has a long history that was unearthed during the recent renovation works. They found ruins that include the ancient walls of the Roman Villa Palaio, dating back to ca. year 200BC, and the foundation of a Roman mausoleum from the beginning of the first century.
Additionally, there are twin Chapels from the 11th century well as the Chateau and wine caves that were converted from the estate's time as a monastery. Formal gardens have been created throughout the grounds, and recent renovations have also included the estate's luxury Villa Palaio that is available for rent.
When to come
The estate is open for business almost everyday of the year. From Monday to Saturday from 09:00 to 12:00 and again from 14:00 until 19:00.
How to book
Tastings with a guided tour of the caves and property, along with a gourmet buffet lunch of local delicacies can be arranged for groups of 25 – 40 guests. Events such as weddings, receptions, concerts or other special occasions and also be planned there. You should contact them in advance using the phone number above or by making an enquiry.
Location