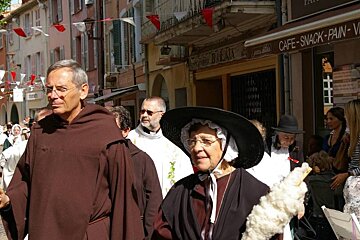 Bravade de Fréjus
Feast day celebrations on the third Sunday after Easter
The 'Bravade' is a feast day celebrated in honour of Saint Francis de Paule.
In the town of Fréjus, located to the south west of Cannes, the festivities last for three days and include parades accompanied by flutes and drums, with locals dressed in traditional costumes. There are musical performances from the young inhabitants of the town, classical music concerts, blessings and traditional services in the cathedral and churches of the area, and of course the feast itself.
Dates vary each year depending on when Easter falls so keep an eye out for more information closer to the event.
Location