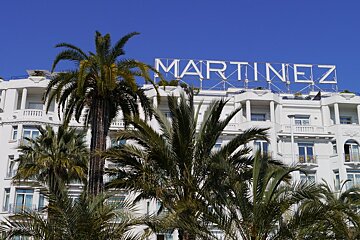 Make-over for Cannes Hotel Martinez
The infamous Croisette hotel will shut for renovations
Home to the stars of the silver screen during the Cannes Film Festival, the Cannes Hotel Martinez has a history dating back some 88 years.
Opened on 20th February 1929 by its founder-owner Emmanuel Michele Martinez the hotel's art deco style has attracted the rich and famous throughout the years. The Cannes Martinez hotel's long history, culture and timeless architectural beauty, elegance and sophistication continue to ensure it is one of the top European luxury hotels. The 5-star hotel consists of 409 luxury guestrooms, including 27 suites and one of the largest suites in Europe, the Penthouse Suite.
As part of their renovation program, the hotel will be closed to the public from 30th October 2017 to 4th March 2018. The entire property, public areas, rooms, restaurants and bar, meeting rooms and spa will be closed during this period.
In order to 'clean house' before the renovations begin the exclusive hotel will be hosting an auction of its furniture on Tuesday 31st October 2017, with proceeds going to the Association Le Rayon de Soleil de Cannes, a charity that supports children and families in difficulty. Hundreds of lots will be up for grabs, including armchairs, sofas, chairs, tables, light fixtures and paintings. The unpublished auction will be held at the hotel on 31st October from 11:00 to 13:00 and from 14:00 to 18:00. For more information visit the auction website.
If you would like to own a little bit of Cannes history then make sure this date is in your calendar! We look forward to the unveiling of the all-new Cannes Hotel Martinez in March 2018.