Top spots to drop anchor on the French Riviera
Best places to reach by yacht charter from Cannes
The French Riviera ranks as one of the world's premier destinations with luxury superyachts, Belle Époque hotels and casinos, magnificent health spas and sumptuous restaurants.
Year after year, the Mediterranean climate attracts visitors for days of leisurely rounds of golf, world-class events and lounging at beach clubs. Where else can you enjoy breakfast in St Tropez, an afternoon of designer shopping in Cannes finishing with Michelin dining in Monaco, all in the same day?
If you're planning on traveling to Cannes, chartering a private yacht and exploring the coastline then here are some of the highlights of this wonderful region.
Saint Tropez
Saint Tropez is known as a playground for the rich and famous, yet has a traditional vibe to it. There are many excellent restaurants, plenty of great night spots and fantastic weekly market at Place des Lices.
Nearby you will find the most infamous stretch of beach on the French Riviera, Plage de Pampelonne. Choose from a wide variety of beach clubs at Pampelonne, each with their own décor and atmosphere for a seaside lunch and a glass of chilled Champagne – we like Le Club 55, Tahiti Beach or Bagatelle.
Saint Tropez welcomes many exciting events annually including Les Bravades and sailing regattas with top attractions in the town including the Citadelle, the Annonciade Museum and Église Notre-Dame de l'Assomption. On the water, the Gulf of St Tropez is ideal for leisurely days at sea with yacht charter cruising possible further afield to the Îles de Porquerolles and the Calanques of Cassis and Marseille.
Antibes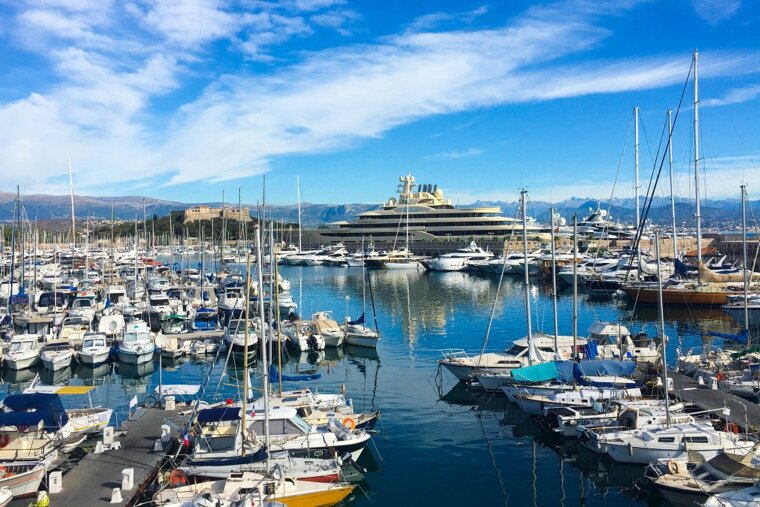 Antibes is a picturesque town with medieval ramparts and a major port that hosts the world's largest superyachts, Port Vauban. With a backdrop of the Mediterranean and mountains in the distance, Antibes is one of the French Riviera's most popular places to visit.
It's easy to understand the charm of Antibes with flower-bedecked narrow streets, fountains and the excellent Marché Provençal at the Cours Massena. Many artists lived in Antibes including Picasso, who now has a museum here that houses many of his artworks.
Nearby, the Cap d'Antibes is a headland of fine villas and mansions with a splendid coastal walkway. The world-class Hôtel du Cap-Eden-Roc welcomes celebrities and royalty and is well known for luxury accommodation, an iconic swimming pool, a fabulous Champagne bar and many star-studded events.
Nice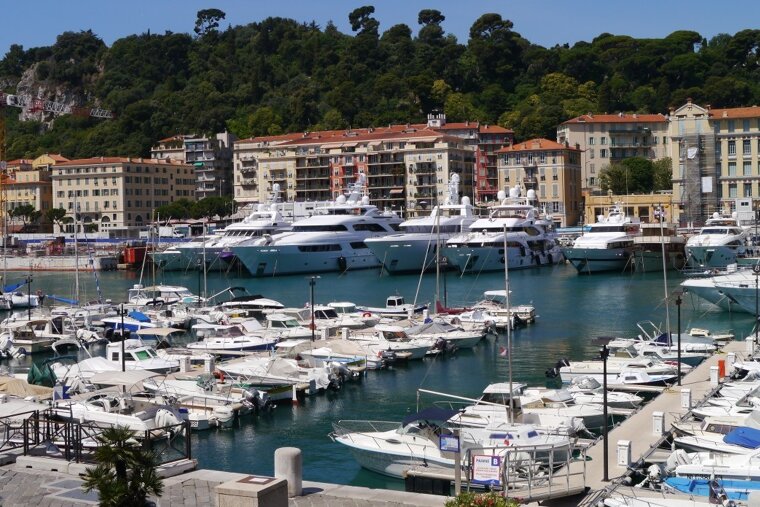 Nice is the largest city of the French Riviera with a diverse range of cafés, bars and restaurants. The city has a truly continental vibe with French, Italian, Middle East and North African influences.
Top attractions in Nice include the market at Cours Saleya, Castle Hill, shopping in Vieux Nice and wonderful museums including MAMAC, Musée des Beaux-Arts and the Matisse Museum. The Promenade des Anglais is ideal for sunset strolls and admiring the beautiful turquoise sea, though it should be noted that unlike other parts of the French Riviera to the west that the main beach in Nice is stony rather than sandy.
Throughout the year, an entertaining calendar of events make Nice a thrilling destination including opera concerts, Nice Carnival and Nice Jazz Festival. Don't miss the luxurious vintage charm of palace hotels including Hotel Negresco and admiring the yachts beside the fishing boats at Nice Port.
Villefranche-sur-Mer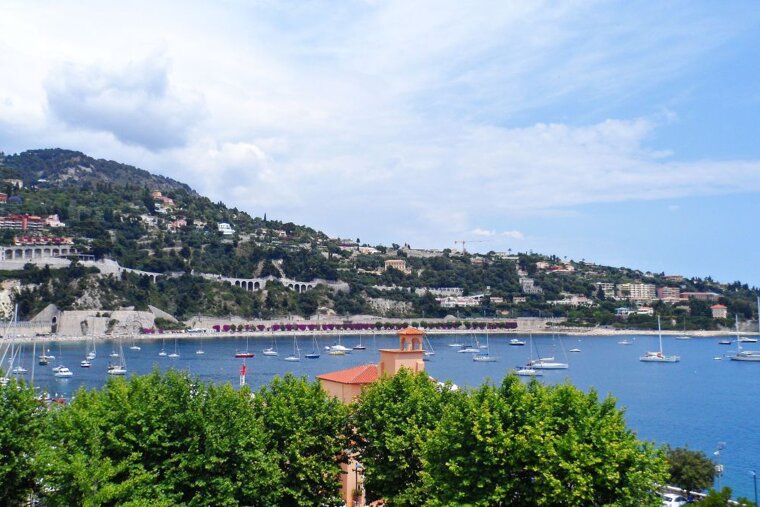 Villefranche-sur-Mer is a harbourside town set in a beautiful bay between Nice and the Saint Jean Cap Ferrat peninsula. The harbour has some excellent seafood restaurants with some of the prettiest views on the coast that have played backdrop to many movies including Bond films.
The town has a lot of history and interesting sights such as the Citadelle, rue Obscure and Chapelle St Pierre that was painted by artist Jean Cocteau. Popular in summer with cruise ships, you can easily rent a private yacht in Villefranche where the views across the bay are spectacular.
Monaco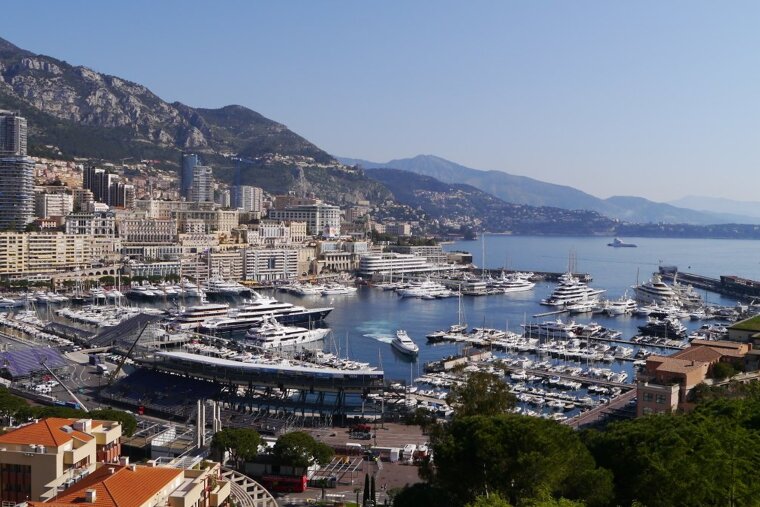 Monaco is a bucket list destination with elegant shopping, premium restaurants, and excellent sightseeing as well as top events such as Monaco Grand Prix and the Monte-Carlo Rolex Masters tennis competition.
To flex your credit card with the crème de la crème of luxury shopping in Monaco, head to Metropole Shopping Centre, the Carré d'Or and Les Pavilions where you'll find everything opulent and haute couture.
Famous Monaco landmarks include Place du Casino and the immaculate Casino de Monte-Carlo, Monaco Oceanographic Museum and the magnificent Palais Princier sandwiched in-between Port Fontvieille and Port Hercules.
212 Yachts
Thanks to 212 Yachts for the top tips on where to drop anchor in the south of France. Founded out of a love for the sea, their goal is to provide an enjoyable and memorable experience. Whether a yacht charter holiday, day boat rental or the sale or purchase of your own vessel, 212 Yachts provides 'the extra degree in yachting'.
Location