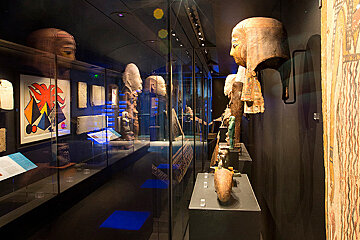 © Mougins Museum of Classical Art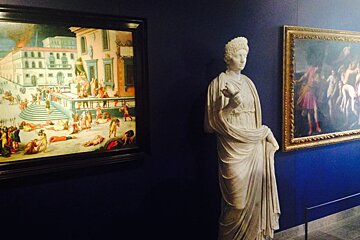 © Mougins Museum of Classical Art
© Mougins Museum of Classical Art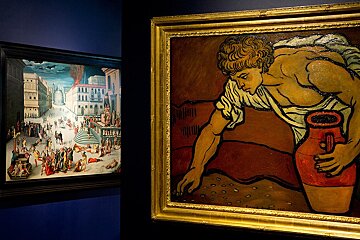 © Mougins Museum of Classical Art
Mougins Museum of Classical Art, Mougins
Diverse antiquities collection, including ancient arms, paintings and sculpture
In the heart of the old village of Mougins, discover how the beauty of the ancient world has influenced neoclassical, modern and contemporary art.
The museum's large and diverse collection of antiquities includes Roman, Greek and Egyptian sculpture, vases, coins and jewellery and also the world's largest private collection of ancient arms and armour.
These ancient artefacts are cleverly combined with a hundred classically inspired paintings, drawings, and sculptures by artists such as Picasso, Matisse, Chagall, Dufy, Cézanne, Rodin, Dali, Andy Warhol, Marc Quinn, Antony Gormley, and Damien Hirst.
Christian Levett, a British investment manager with a passion for ancient art founded the museum in 2008, when he decided to display his collection in Mougins, where he has a family home.
Watch this
Worth knowing
School visits can be arranged and tailored to suit relevant curriculums and the venue is available to hire for private events
Visitor comments
"A cultural highlight of the old village of Mougins. Set across 3 levels, this museum cleverly and unexpectedly blends the ancient with the contemporary. For example, a Damien Hirst skull tucked away in the Roman and Greek head sculpture section. And the soundtrack of horses galloping and sickening sword slashing vastly increased the impact of the armour and weapons section in a vivid way. The MAC displays work from Cocteau, Modigliani, Picasso and Rodin and many more, most impressive and very enjoyable." - Trip Advisor
"One visit is not enough. Try three days or more so that you have time to digest in between. To see the ancient world and too see the famous contemporary artist vision of the ancient art together, side by side, is an extraordinary experience. What an art collection. Mind blowing..." - Trip Advisor
"This place is the only way to revel in history with objects and art in their proper context. We stayed for 3 hours enjoying the priceless collection. It's substantive, to say the least for a museum of this size. Loved it to bits." - Trip Advisor
Directions
The museum is situated on your left as soon as you enter the village of Mougins, 10m after the tourist office.
How to book
You can reserve tickets via telephone or email and they can also arrange a package including a tour guide and/or lunch at a local restaurant.
How to get passes
You can purchase tickets at the venue, or if you wish you can reserve and pay for them in advance either by calling the venue or by emailing them. Please use the enquiry button.
Location