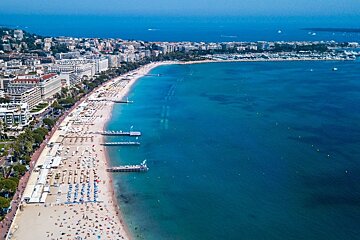 Blue Flag beaches in Cannes
Beaches and marinas boast the prestigious label
The FEE (Foundation for Environmental Education) is a non-profit organisation that awards the sought-after Blue Flag label. And if you're planning a visit to the Bay of Cannes and its beaches, you'll be pleased to know that it has some Blue Flag beaches and marinas.
Well-known for their crystalline turquoise waters, golden sand and wide range of facilities, the beaches in Cannes are among the most famous in the world so it's not surprising that some of them have been awarded the coveted Blue Flag. Le Moure Rouge, Gazagnaire, Chantiers Navals, the two beaches in Ile Sainte Marguerite, Plage du Midi, Riou (Plage de la Nadine), Saint Georges, Font de Veyre, Rochers de la Bocca, Trou, Sud Aviation and Gare Marchandises are currently or have at one time been Blue Flag beaches.
The beaches are evaluated each year based on 32 separate criteria, each beach or marina is judged on the quality of the water, safety and services (including lifeguards and first aid), information for beach users, environmental education and protection of the coastal environment. A beach / marina without a blue flag is not automatically less clean, some municipalities simply cannot afford or do not want to meet the strict requirements of the FEE.
Tips for making the most of Cannes' beaches:
The prime locations along the Croisette tend to be part of private beach clubs, which you can pay to rent a parasol and a sun bed for the day. It's not cheap, but a nice treat.
There is a public section of the beach west of the Majestic Hotel where you can rent parasols and chairs at a cheaper rate.
Further west is Plage du Midi, a long stretch of public beach.
For more alternatives you can hop on a boat to Iles Lerins, the coastline is rocky, but it's free.