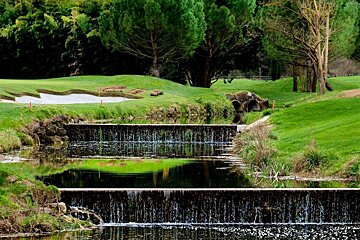 © Golf Country Club de Cannes-Mougins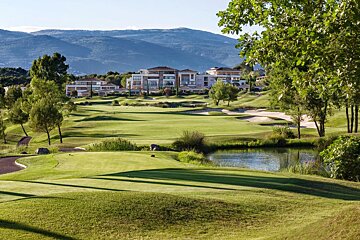 © Royal Mougins Golf Club
Swing into action, golf resorts in Cannes
Where will you be shouting FORE in 2017?
The countryside around Cannes contains some of the best golfing country along the Cote d'Azur. With green grass and blue skies, it's up to you whether you enjoy them with a club or a rosé in hand.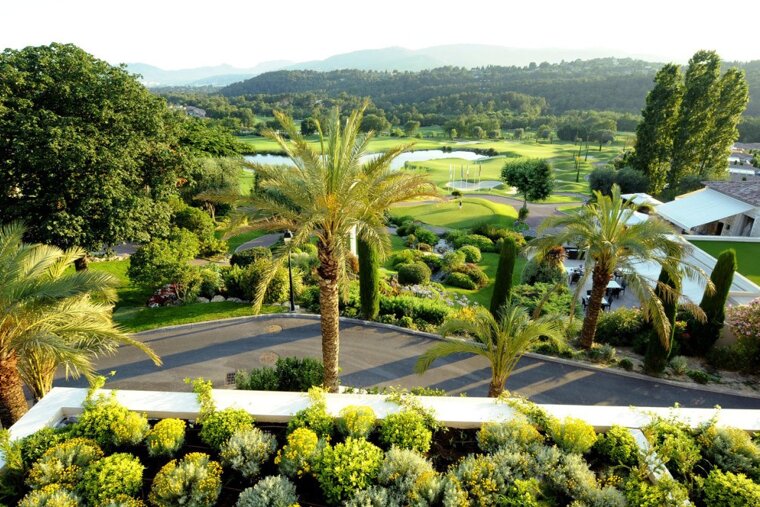 Royal Mougins Golf & Resort, Mougins
On par for sophistication and facilities
Mere minutes from Cannes' busy city centre is the Royal Mougins Golf & Resort, a wide expanse of softly rolling green hills that will take away the breath of any lover of the game. Those with an eye for beauty won't be disappointed either with the par 71, 18-hole course spanning over 6,000sqm of lush terrain broken intermittently with scented olive groves and ancient stone walls. Sweeping across Mougins' quiet Vallon de l'Oeuf, the course maintains a tranquil and dignified character year round, with prices beginning at 90€ for visitor and 80€ for guests of the hotel.
Very few can resist the temptations of the resort's popular The 18th Hole Restaurant & Terrace. Chef Philippe Artaud leads lunch with a wholesome selection of fresh produce from the nearby region, which changes frequently to reflect the best of the season. Come evening time, Chef Servé Vromen holds the fort over a distinguished menu of freshly caught fish, organic produce and premium meats and cheeses, complemented by an impressive wine list.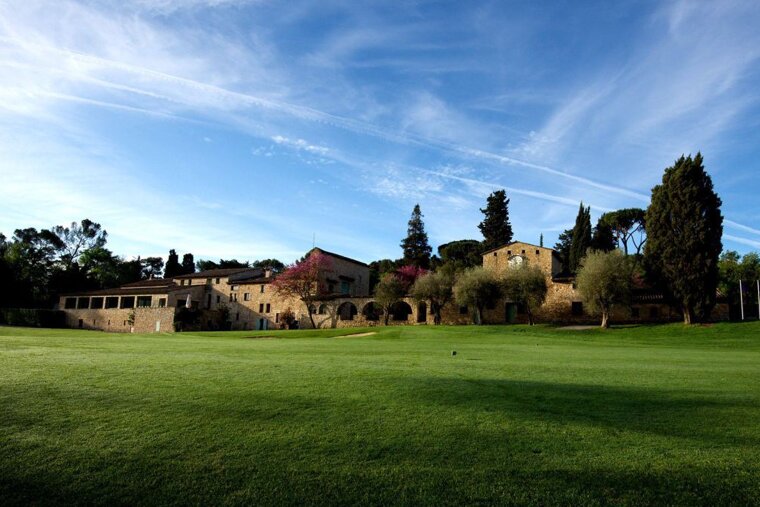 Golf Country Club de Cannes-Mougins, Mougins
300 days of sunshine every year for this private course
The only course in the region to be privately owned and managed by its members, the Golf Country Club de Cannes-Mougins is fiercely proud of its reputation as a modern course as well as its thoroughly international membership. A grandiose stone building (the club house and gourmet restaurant) is enclosed in dense forest, which opens up from the terrace area into a flowing river of greenery.
Day prices for non-members typically begin at 100€, but can double in peak playing months.
While there is no accommodation available on-site, the Golf Country Club de Cannes-Mougins works in close partnership with a number of luxury hotels in the immediate vicinity such as the five-star Le Mas Candille and the beautiful Le Manoir de l'Etang (both in Mougins). Further afield and guests can settle into the illustrious five-star Hotel Majestic Barriere or the five-star Five Seas Hôtel both on Cannes' La Croisette.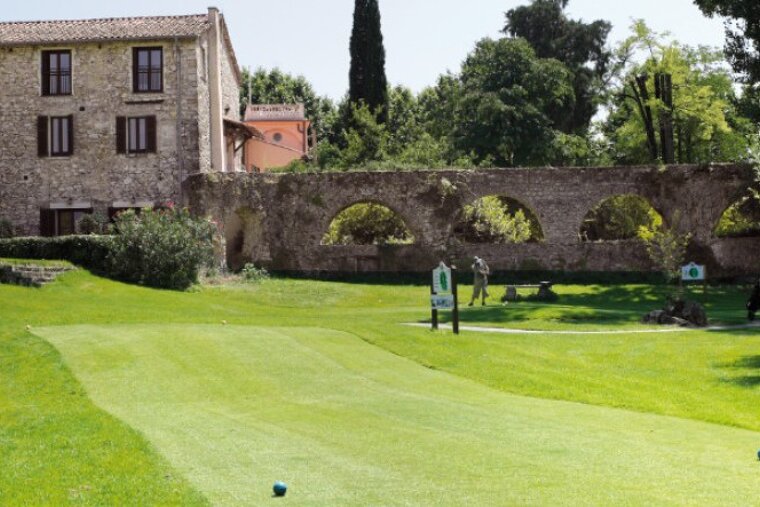 Château de la Bégude, Opio
Proud and Provençal to its 17th-century core
In a drive less than 20 minutes from La Croissette, golfers will discover the infinite charms of Château de la Bégude. Enveloped in ancient oaks and olive trees, this 17th century address is a beautiful location from which to play golf right outside your door, but also to use as a calming unfussy base from where you can discover any number of the great golf courses of the region.
A respectfully restored country manor or 'bastide' and 400-year-old barn make up the heart of this hotel, which is also home to the 18-hole Opio-Valbonne golf course. This course offers awe-inspiring views of its rural setting as well as some intriguing play; 'the front nine demands excellent approach shots and iron play, while the back nine tests players' skill with their drivers and woods' in a more natural environment. Green fee prices begin at around 60€.
Chef Gabriel Degenne proudly features ingredients from around the Mediterranean at the hotel's gourmet restaurant Le Ciste. For a more relaxed affair, guests can dine at the La Bégude brasserie or on the terrace and enjoy hearty and flavoursome meals of grilled sea bass, deer steaks and lamb shanks.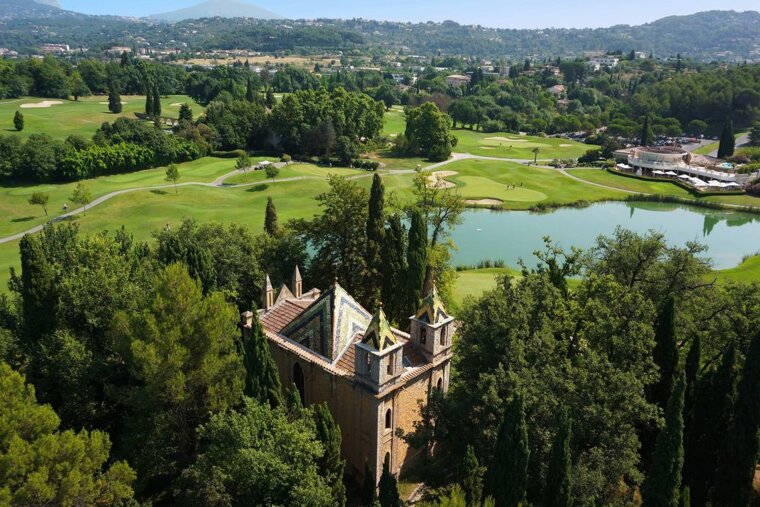 Golf Country Club de Saint Donat, Grasse
From easy to 'maddeningly difficult', this course will have you gripped
Straddled between the opulent, perfumed fields and terraces of Grasse and the town of Mouans-Sartoux, Saint Donat's golf club offers a par 71 course of over 6,000sqm of perfectly manicured, verdant greens dotted with spectacular palms and eucalyptus. With a full 18-hole course, a compact 9-hole course, a 24-post practise station as well as three driving ranges, there is more than enough here to keep any golfer happy.
Tended to by a specialist team, the course is consistently well-kept and maintained year round, allowing golfers to enjoy its greens whatever the season. The green fee typically starts at around 80€.
While there is no immediate accommodation at Saint-Donat, there are two fabulously luxurious hotels close-by that will please even the most particular of guests. The lavish La Bastide Saint-Antoine in Grasse has over five hectares of heritage Mediterranean flora and fauna with commanding views, while the boutique Bastide St Mathieu is set against the fragrant Grasse background in an 18th-century manor with private villa, both meticulously restored to embody that chic contemporary-classical vibe.
More inspiration...
There are plenty more golf courses, hotels and restaurants to visit in the Cannes area...but you have to start somewhere! That might as well be with a round of golf in the Mediterranean sunshine...