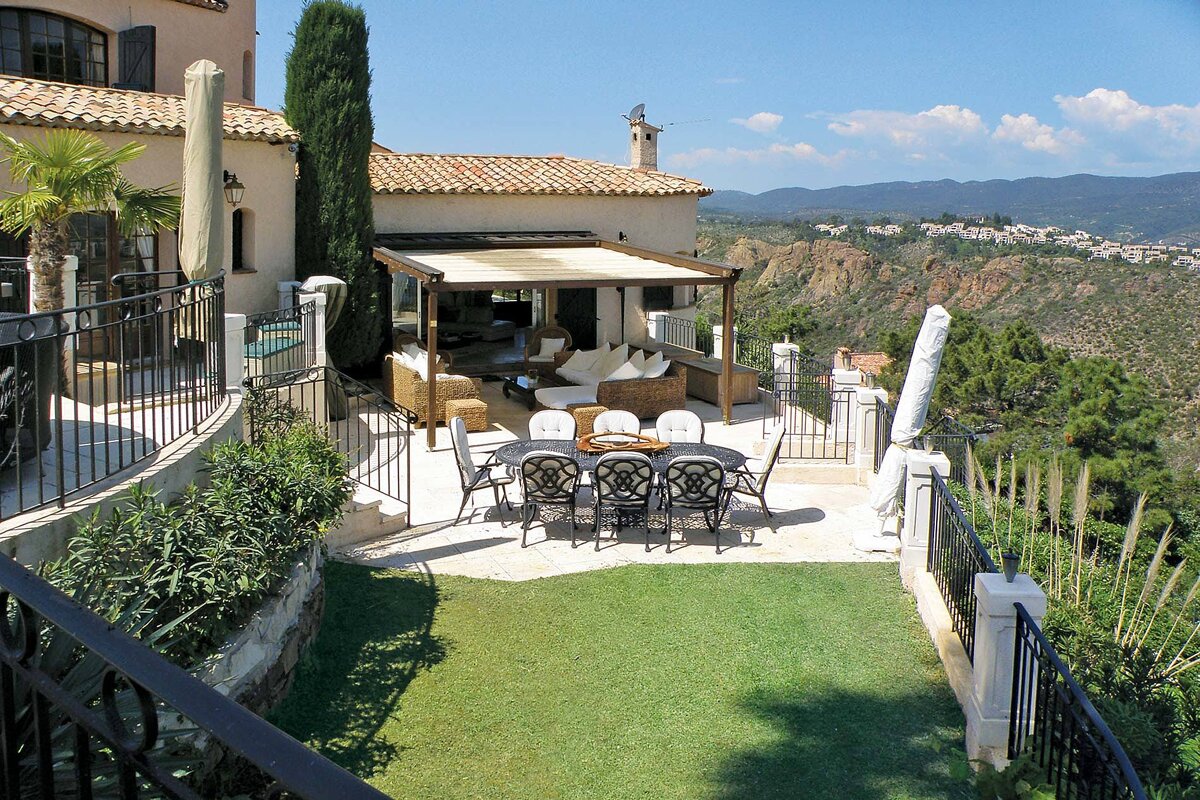 Cannes villas in vogue
From secluded luxury to family friendly villa holidays in Cannes
Thanks to famous residents such as Grace Kelly, F Scott Fitzgerald and more recently Bono, the south of France is a millionaires' playground. A villa holiday in Cannes ensures that you'll be rubbing shoulders with the rich and famous, or perhaps enjoying the seclusion that a private villa brings.
In and around the area Cannes you can find luxury villas that offer everything from private pools to private staff and concierge services, beachfront villas where you can moor a yacht on the private jetty, and family friendly villas in bustling holiday villages. Here are our top picks for the Cannes villas in vogue for 2017.
Joucadou Villa, Madelieu la Napoule
With breathtaking views across the surrounding countryside from every floor, the spectacular Joucadou villa allows you to enjoy a peaceful location looking out to the Cannes Golf Club, the Bay of Cannes and over to the Lerins Islands. This villa sleeps up to 10 people in 5 guest rooms, several of which have balcony access. The large semi-circular pool is set in front of the villa and has beautiful views of the countryside beyond.
Only 25 minutes from the centre of Cannes this villa is also just a short drive from the pretty Port la Napoule marina allowing you easy access by boat. This could be the perfect location during the Cannes Film Festival or the F1 Grand Prix in Monaco where you can make your entrance by yacht...
Julien Villa, Mougins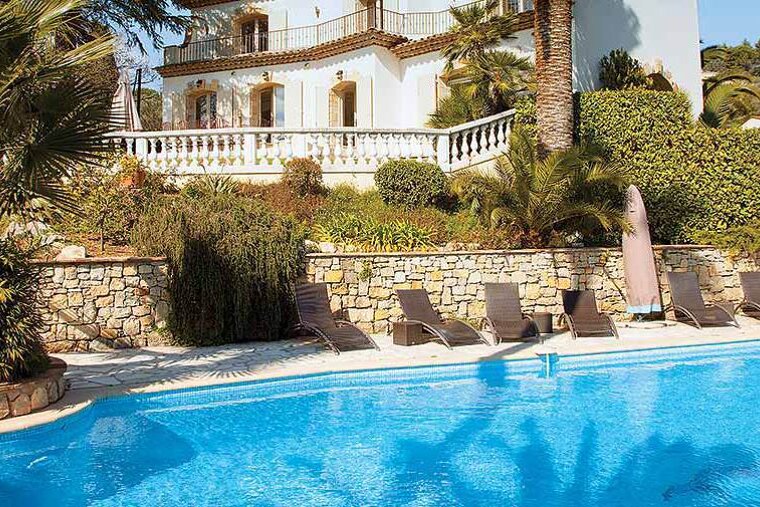 The gastronomic and arty village of Mougins is a must for any trip to the Cote d'Azur, and for an authentic French Riviera village experience, a holiday at Julien villa allows you to immerse yourself in the Provencal way of life. With Bohemian style decor, stunning terraces and a large swimming pool this villa is the epitome of French living. Enjoy a coffee and fresh croissant on the terrace, a gin and tonic by the pool and an aperitif in the atmospheric living room.
Only a short drive down to Cannes or over to the centre of Mougins means that you can be at some of the best restaurants and bars on the Riviera in moments. Alternatively, you may enjoy the seclusion that this villa offers and never leave the front door!
Cannes Villa, Californie Pezou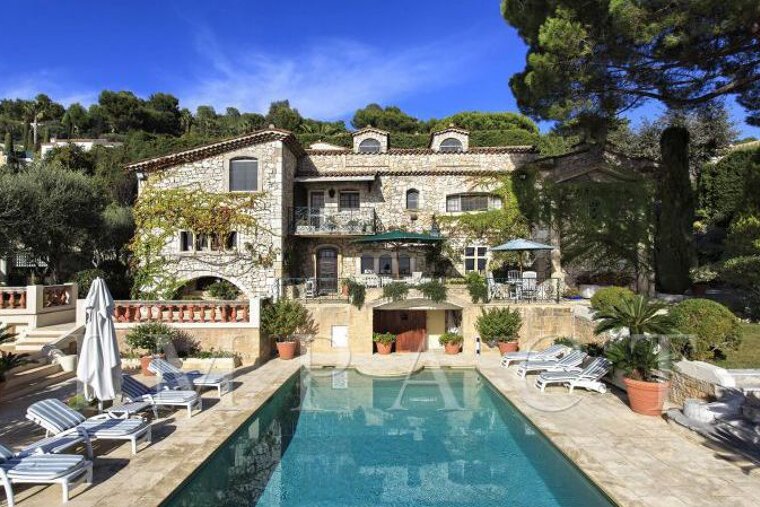 For the ultimate in luxury this Cannes Villa is located in the hills behind the centre of Cannes in the popular Californie Pezou area. Offering 180-degree views over the Bay of Cannes and the Lerins Islands the ground floor of the villa has a dining room for 12 people opening onto a south terrace with fitted bar and sofas, an ideal relaxing space. The interior decor is French classic style and mixes modern furniture with traditional architecture, feeling more like a chateau than a villa. The year round caretakers ensure that everything will be spic and span for your arrival, all you need to do is pack your sunglasses, bathing suit and a special outfit for that night out on La Croisette.
La Sarriette Villa, Theoule-sur-Mer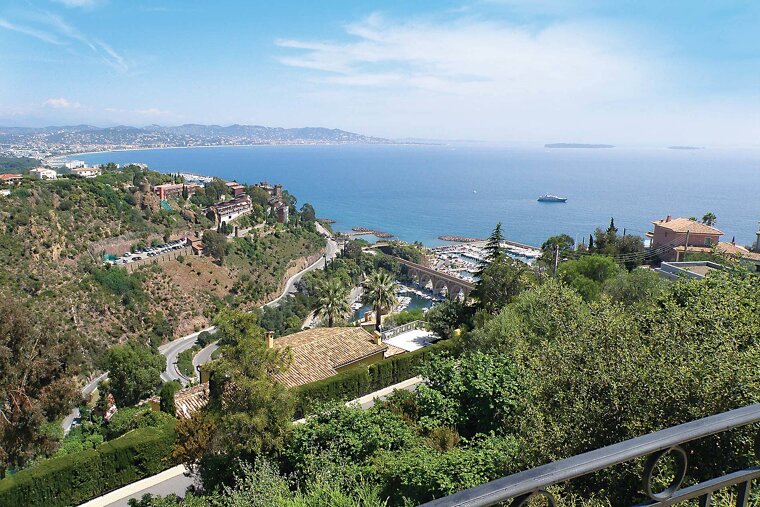 If a stunning view is at the top of your dream villa wish list then look no further! La Sarriette villa in the hills above Theoule-sur-Mer and the Port de la Rague marina overlooks the adjacent mountains of the Esterel and the spectacular Bay of Cannes.
The comfortable sitting room has access to two terraces perfect for al-fresco dining, taking in the sea views and sunbathing. The villa also has plenty to keep you entertained throughout your holiday with an outdoor swimming pool, access to tennis courts and table tennis. It'll be hard to find an excuse to leave this luxury pad.
Cap Esterel Villa, Saint Raphael
Cap Esterel villa is in a holiday village located on the heights of Saint Raphael and stretches over 210 hectares of natural park and gardens above the Bay of Agay. Exceptionally child-friendly, it offers great facilities for families and is based around a central square with many restaurants, bars and shops.
With a selection of swimming and paddling pools, you will be spoiled for choice. The fun pool features water jets, a wave pool, slides and a diving pool. A private relaxation area is provided for guests who would like to reserve tables, loungers and parasols and to enjoy some peace and quiet. For added convenience and to keep your luggage to a minimum, you can hire baby equipment including cots, high chairs, baths and even a baby back carrier for hiking.
More inspiration...
Check out the rest of our selected villas in Cannes and pick the best spot for your holiday in 2017.
Location
Cannes, Cannes