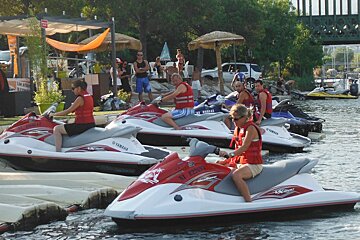 Jets'Cool Jet Ski, Theoule-sur-mer
Offering Jet ski hire & guided tours by qualified instructors
Discover the French Riviera in a new way and try out life on the open waters on a jet ski. A boating licence is not necessary to take part in this activity.
After comprehensive instruction you will experience the thrill of jet skiing! Whilst simple to use, they are very powerful so you must of course respect the instructors and make sure that you are a safe distance from other users. A great activity for colleagues, friends or family to come together and share the moment.
Who should go
This is an activity and area that is suitable for the whole family and for everyone to enjoy! Even without prior experience or a boating licence you will be able to take part and enjoy your time on the water.
How to book
As they are open all year there are only a few time throughout high season that it is necessary to book in advance. Between May and October it is advisable to reserve around 10 to 15 days before you wish you hire, especially if you wish to take part in one of the guided walks.
Advance booking is also suggested if you wish to bring a large group. You should contact them directly in this instance.
Child policy
There is an age limit for children, they can go on a jet ski with a parent from the age of 8 and above. They can go on a jet ski alone from age of 16.
They also have available some children specific jet skis that children 4 to 10 years of age. The area itself is very family friendly with a snack area and buggy park!
Location