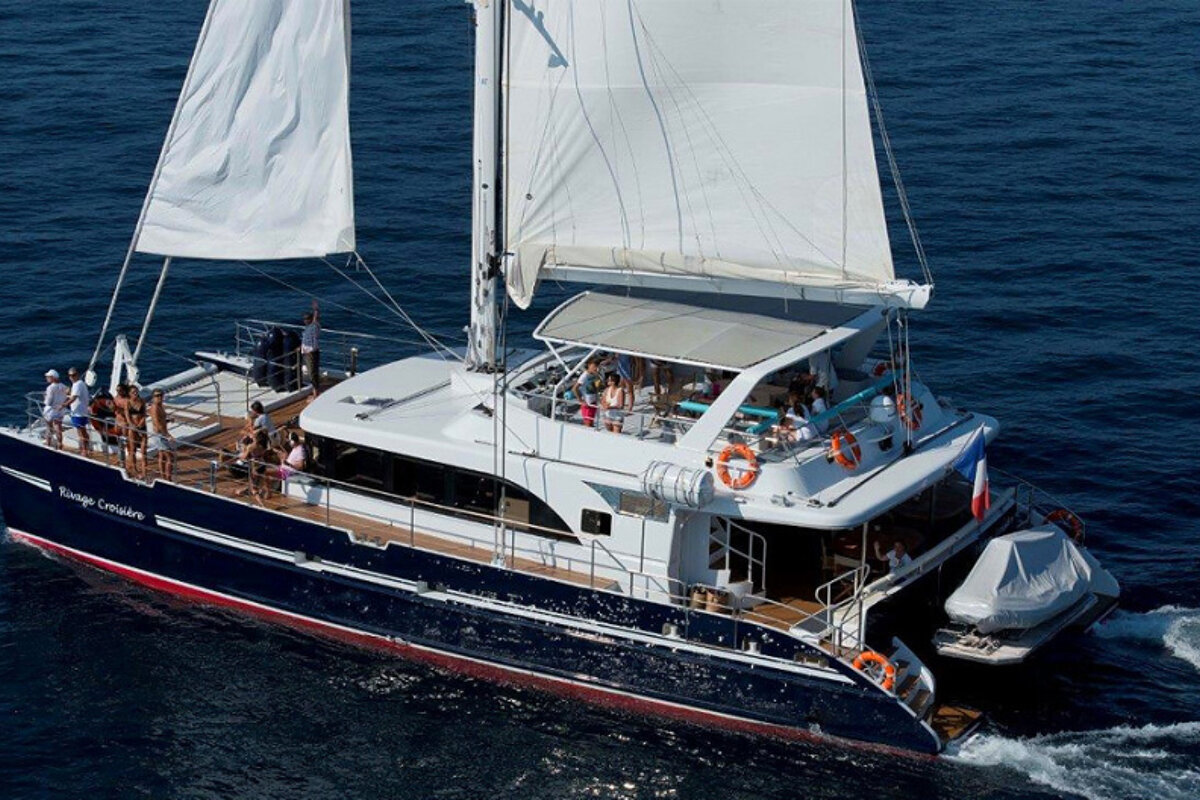 © Rivage Croisiere Catamaran
Boat Trip Ideas in Cannes
Discover how to arrange the perfect Cannes boat trip
With beaches and coves, impressive cliff edges and turquoise waters, there is no better way to explore the coastline of Cannes than from a boat.
The main ways of doing this are, depending on your budget, to charter a yacht or hire a boat; or take a boat trip with one of the many companies located all around the marinas. The latter is a popular option for being the most cost effective and easy to organise and, of course, you don't need a skipper licence; as they usually offer scheduled departures so you just have to turn up and enjoy your day.
Popular Boat Trips from Cannes

Lerins Islands
La Corniche d'Or
Saint Tropez
Whale Watching
Duration 4h
Duration 2h
Duration 7h30
Duration 9h
Round trip
Round trip
1h15 each way
5h in Saint Tropez
08:00 to 16:00
~€77/pers.
~€27/pers.
~€50/pers.
~€2950 / 10 pers.
Note that most of the boat trips around Cannes are seasonal, starting from April and finishing in October.
Boat trip options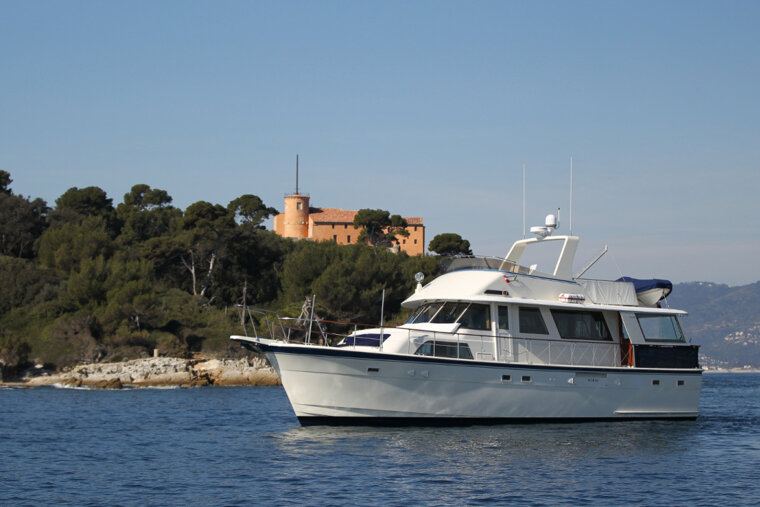 The majority of boat trips are day journeys and often anchor for a while so people can soak up the stunning scenery Cannes has to offer. There is also usually the opportunity to indulge in some swimming, snorkelling or kayaking on these excursions. Sunset cruises can be booked in the evenings, giving you the opportunity to enjoy the views with a glass of bubbly and sometimes even dinner. For thrill seekers, perhaps a speedboat ride will get the adrenaline flowing.
Cannes has a wide range of vessels available, including catamarans, motor boats and sailing yachts of different shapes, sizes and prices. Snorkelling, diving, fishing and specialist watersports boat trips are available, some even have glass bottoms so guests can discover the fish and sea vegetation below.
It's worth noting that some companies will pick you up from your accommodation and take you to the departure points. Food and drink are sometimes included in the price of the trip; otherwise, boats tend to have bars on board where you are able to purchase drinks.
Boat trips to Saint Tropez
The French Riviera technically begins at Saint Tropez, and this pastel-coloured fishing village is a perfect spot to spend some time in the summer months. Superyachts cram the port and famous DJ's play until dawn, so if you like the glitz and glamour then it is an absolute highlight. It's best to arrive by boat as you can just anchor off and go ashore to enjoy the excitement and a good meal and then float away again to enjoy the breathtaking surrounds of red rock against turquoise waters. The famed beach clubs along Pampelonne Beach are oozing in celebrity chic, although there are a few cheaper and family-friendly options as well. If you can get there in the quieter months you'll see Saint Tropez as the small and lovely town it really is.
While in this magical part of the world, visit the Les Isles d'Or (the Islands of Gold), the most famous of which is Porquerolles. This island is a favourite stop for superyachts as well as boats of every description- with beautiful harbours, national parks beaches and cliffs - perfect for exploring. Hire a bike to make the most of it, or just snorkel, swim and hike the day away.
Boat trips to Frejus and Saint Raphael
The town of Frejus is a lovely spot for spending a day at the wide sandy beach and exploring the Roman ruins. You can also berth up in nearby Saint Raphael, a bustling beachside town with a large marina.
Boat trips to the Iles de Lérins
Everyone just calls these the Cannes Islands, lying just a short way off the glamorous city of Cannes. Perfect for a dayboat trip, or anchor here overnight to avoid the high berth fees in Cannes.
The larger island is called SIle Sainte Margherite, a forested island rimmed by little beach coves and perfect clear waters. It is famous for being the place where the Man in the Iron Mask was imprisoned and you can visit his cell, or you can just roam around the island on dirt tracks, birdwatching at the small lake or looking for the hidden sculptures in the fragrant pine and eucalyptus forest. There are only a few houses on the island and no cars, so while it gets busy with tourists and yachts in the summer months it is a lovely place to get back to nature. Spend a day on the beach snorkelling and having picnics, or just float in the water waiting for the snack food boats that come and deliver pizza and sandwiches and wine. A glorious day out.
The other island is Ile de Saint Honorat, a small island that has been home to a colony of monks for over 1500 years, and where a Cistercian Abbey still produces its own wine. This is an island rich in history, a place that has been pillaged and passed between nations for centuries while remaining a place of pilgrimage and worship almost continuously. There is still a working monastery with 30 monks; the modern abbey is closed to the public but you can visit the Abbey of Lérins and the 15th-century fortified monastery. Please dress modestly when visiting the island and note that smoking is forbidden.
Boat trips to Antibes
Antibes has been a port since the time of the Ancient Greeks and Romans, and the Crusaders stopped here on their way to the Holy Land in medieval times. It's only been in the last 50 years that it has become a mecca for sailing yachts and vast superyachts, which line up on the International Quay like white palaces worth many tens of millions of pounds. You can rent a dayboat here very easily and spend a day pootling around the stunning Cap d'Antibes, where tremendous villas owned by oligarchs and old aristocratic families loom high over the sea. There are gorgeous coves and beaches and a lovely high coastal path on the cliffs that will take you to the grotto at Millionaire's Bay. Or you can take to dry land wander through the narrow cobbled lanes of old Antibes, taking in Provencal markets that smell of lavender and visiting the Picasso museum that sits high in a tower on the ancient ramparts.
Boat trips between Nice and Monaco
Nice is a large and exciting city with lots to see and do. Spend a day at one of the beach clubs along the pebble beach or wander along the famed Promenade des Anglais, passing the magnificent Hotel Negresco with its iconic dome.
Although it's what's around the corner that makes this stretch of coast so special for a boat trip or boating holiday.
Cap Saint Jean Ferrat is a famous headland covered in grand villas with spectacular gardens and a lovely coastal path along the cliffs. There's an exceedingly posh hotel (the Grand Hotel du Cap Ferrat), a small beach and a whole host of yachts anchored off the point. Some superyachts spend weeks and even months anchored here in the summer as their guests flit between villa and yacht. It's all rather refined, and very, very pretty.
Villefranche-sur-Mer is probably our favourite of all the small port towns along the coast. Clinging on to the cliffs that run all the way from Nice to Monaco, this splendidly pretty medieval village and its stunning bay will really catch your eye. It gets quite busy in the summertime, but there's enough room for you and the fleet of boats and even cruise ships that come to anchor in this little yachting paradise.
Eze is a medieval village perched high on the cliffs 426m above the sea. An extraordinary sight and one well worth adding to your itinerary. There is a coastal path leading from the pretty pebbled beach (also with a good beach club), but be aware, the trail is very steep and quite slippery. It will take an hour going down, plus an hour and a half to come back.
Cap d'Ail is another gorgeous spot just before Monaco. Plage Mala is one of the best beaches on the Riviera and good to anchor off. It has a couple of good beach clubs (one very fancy, one very fun), and there's a brilliant coastal path that runs between the town of Cap d'Ail and Plage Mala. Thoroughly recommended.
Monaco is the final stop on the Riviera before you reach Italy, the towering, moneyed cliffs of Monte Carlo. Known for hosting the F1 Grand Prix, giant yachts, grand casinos and the royal family living in their palace on the cliff, Monaco is a sight to be seen. The port is full of giant yachts and restaurants with terraces for some seriously good people-watching, especially during the Grand Prix.
Fishing trips
There's some good deep sea fishing off the coast, with tuna, marlin, swordfish and sea bream, and there are some good tour expeditions running out from major ports along the coast.
To enjoy a day out on a family fishing trip then we recommend speaking to some of the specialist companies who offer guided trips and excursions or yacht charters for coastal or deep sea fishing. You have a few options for fishing charters with a range of budgets, from 50 euro per person for a casual affair to 2800 for 10 people for the day for the charter of a luxury sports fisher with professional fishermen. Most of the fishing excursions along this stretch of coast operate out of Golfe Juan or Mandelieu-la-Napoule, or in the other direction, out of Beaulieu-sur-Mer, a port between Nice and Monaco. If you charter the entire boat then they will pick you up in Cannes.
Around the ports and marinas of Cannes, there may be some small local operators who don't have websites - you'll see signs saying 'Peche au Gros' in the port and you can enquire with them directly.
Races & events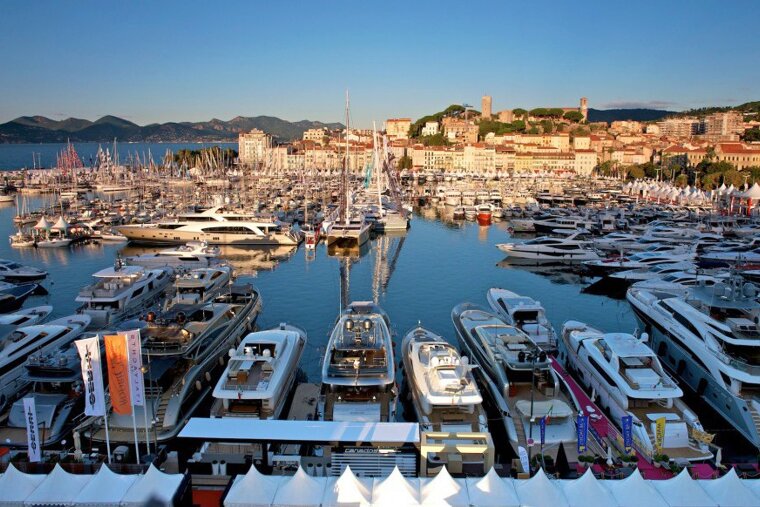 The yachting and boating scene on the Cote d'Azur is both wonderfully glamorous and extremely relaxing, and there are certain exciting events where the only way to do them justice is to hire a boat and watch them from the water. If your budget allows, charter a yacht for a week, these events tend to make hotel prices skyrocket ashore, so once you've factored in a few couples sharing accommodation on a yacht it can work out surprisingly well.
Some companies will run special boat trips during the major events that are hosted in the area each year, such as the Monaco Grand Prix. Even if your 'yacht' is just a small dayboat, there's something about being on the water among the megayachts, watching the tenders buzz celebrities about and hearing the whine of the Formula One cars as they race around the Monte Carlo track.
There are tremendous fireworks displays in the bay of Cannes in the summertime, and there are few more special ways to see them than anchored off shore, drinking champagne and looking up at the explosions in the sky. The water is busy out here for these events with yachts parked absolutely everywhere, so make sure you really know your navigation rules or get a qualified skipper. Dayboat rental companies require you to have the boat back by 6pm, so this is something to do if you charter a yacht for longer or go with a company who specialises in this type of boat trip.
The Cannes Film Festival which runs in May needs no introduction and is one of the biggest events on the global yachting calendar. Be aware that it is extremely expensive to get your yacht or boat into the port at Cannes during this time, however, this is a time when the superyachts and celebrities are out in grand force, so just being out on the water is an unforgettable experience in itself. The Monaco Grand Prix overlaps with the Cannes Film Festival in May, so you could charter a yacht for a week and enjoy both events.
Regatta season begins on the Cote d'Azur in June with the Voiles d'Antibes, and moves along the coast with regattas in Cannes and Saint Tropez in September, with Monaco Classic Week also in September.
Safety advice
While the coastal winds tend to be quite gentle in the summer months, the south of France is subject to the Mistral, a cold northwesterly wind that can reach up to 100km an hour. The mistral tends to visit in the winter and spring and is particularly violent in the transition between those seasons.
When heading out onto the water along the French Riviera, no matter how close to the coastline, be sure to keep a good eye on the weather and ask at your boat rental company for advice if in doubt. Always bring a waterproof jacket in case the weather turns or a wind comes up, it can get cool on the water at night. Due to lack of space on boats, it's better to pack light and only bring soft luggage, never hard cases.
The water can get very busy along the Cote d'Azur in the summer so be alert and watch out for other boats and people swimming at all times. If you notice any danger, notify the skipper of the boat as soon as you can. If you think you might get seasick, it's always best to ask for non-drowsy seasickness tablets at a pharmacy beforehand.
Sailing with Children
Make sure children wear a life jacket at all times. Never let them run around the boat or be unattended on deck and make sure they don't swim alone.