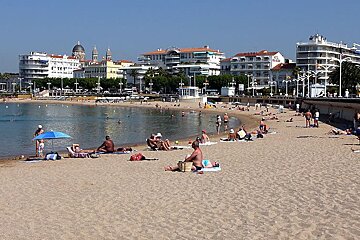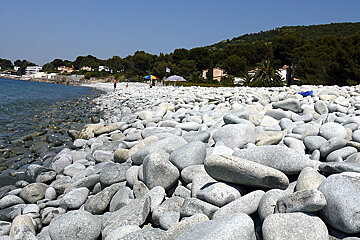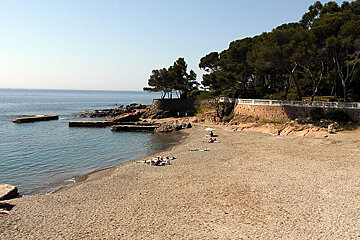 Saint Raphaël, Var
Traditional French beach resort, close to the town of Fréjus
At the beginning of the 20th century Saint Raphaël was a grand and glamorous resort that was sadly blitzed during the Second World War, destroying many of the Belle Époque buildings, so the atmosphere of the town is not exactly Saint Tropez.
The jet-setters loss is the family holidaymakers gain, as it's now far more affordable.
Situated in the Var department in the region called Provence-Alpes-Côte d'Azur, it remains an important sailing centre and is also renowned for its diving schools. Saint Raphaël hosts a daily food market, and arts and crafts stalls are on display during the summer.
There are a number (36 in total) of small beaches in the area, and plenty of walking trails and other activities in the countryside behind the town.
History & Culture in [locality]
Saint Raphaël is rich in history, dating back to its ancient past as a seaside resort for the Romans. You can learn all about the local area in the Museum of Prehistory and Underwater Archaeology, located in the San Rafeu church.
In 1799, Napoleon Bonaparte and his forces arrived by ship from Egypt, prior to his coup d'état in Paris, and landed at a fishing village that was the commune of Fréjus Saint-Raphaël.
The coastal rail link between Saint-Raphaël and Nice passes over a viaduct that sits right on the shoreline at Anthéor. These tracks were of strategic importance to forces during World War II for supplying materials to units in France. Three separate air raids by English air forces were carried out on the viaduct between September 1943 and February 1944, involving a total of 31 Lancaster bombers operating some 700 miles from base. All the raids failed in their objective and the rail link was not severed.
In the latter half of the 19th century the town developed into a seaside resort popular with artists, sportsmen and women, and politicians, who all flocked there for the beneficial climate.
Sights & Attractions in [locality]
In addition to his 1799 stopover, Napoleon Bonaparte also stopped here on his way into exile on the island of Elba and there's a small memorial in the port.
A walk around the town will reveal some stunning buildings from the 18th and 19th centuries, one of the most spectacular being the Basilique Notre-Dame de la Victoire - a 'must see' if you are in St Raphael.
The neighbouring town of Fréjus is renowned for its Roman ruins and is well worth a visit.
Beaches in [locality]
With numerous beaches along the St Raphaël coast you will not be short of places to sunbathe, swim, snorkel and explore the rockpools and cliffs.
The bay of St Raphaël and the marine nature reserve of Agay also have a host of dive sites and there are various dive schools you can use as a great way to explore the area further.
Things to do in [locality]
With so many beautiful place to visit, why not take a boat trip? There are many that can take you to St Tropez for the day, or perhaps the Island of Sainte-Marguerite, or even just a sight seeing trip along the coastal cliffs and caves.
With numerous beaches along the St Raphaël coast you will not be short of places to sunbathe, swim, snorkel and explore.
If you are into golf or tennis, or perhaps both, then you are in luck as there is a club for both in St Raphaël, situated just north of the town - Valescure Golf and Tennis Club.
Nightlife in [locality]
Saint Raphaël is overwhelmingly a family resort destination, so it's not a wildly exciting place at night. There's the Casino Barrière de St-Raphaël if you fancy a gamble, or the young crowd can be found at La Reserve Club or Coco Club.
Where to stay in [locality]
There are plenty of two and three star hotels in the town offering good value accommodation. Behind St Raphaël are several campsites, catering for families and the budget traveller.
Directions
Located halfway between Cannes and Saint Tropez, San-Raphaël lies is on the main trainline that runs along the Riviera from Italy to Marseilles, and also connects the South of France to Paris.
It's also the train station you would have to stop at to get on one of the buses or boats that run to Saint Tropez.
If driving, Saint Raphaël is very accessible as it's just off the A8 motorway, whilst buses connect here for Nice, Saint Tropez and other Riviera towns.
Location